On Fridays, USGBC shares green home-related content curated from around the web. If you see a great article on aspects of environmentally friendly home living such as green building, renovation, energy use or cleaning, please send it our way.
If you're into DIY, check out this how-to video and list of steps involved in caulking your doors and windows, courtesy of Green Living Ideas. Seal those leaks ahead of the cold weather and save on energy costs.

Wondering how you can celebrate Thanksgiving in a greener way? The Nature Conservancy has some tips on how to go local and reduce food waste, as well as offset carbon emissions from long-distance travel to see family and friends.

Top 5 Green Insulation Options, from How Stuff Works, talks about sustainable insulation options for your home that you may not have considered before—from original sources as unexpected as sheep's wool, scrap denim and castor oil.
This article was originally published on Houzz on Sept. 10, 2014, as "Insulation Basics: Designing for Temperature Extremes in Any Season," and is presented here with permission. Read the original article.
When it comes to insulation, more is more. The more insulation you've got, the more efficient your house will be—not just in winter but all year. This year's summer in the Northern Hemisphere was a bit tricky to characterize. Thanks to a return appearance of the polar vortex, lower latitudes in North America reached chilly temperatures in the 50s (Fahrenheit), while Canada was left to endure scorching heat over 100 degrees. In Europe it was similar, with Baltic and Scandinavian countries receiving a blast of heat in July while the wineries in Italy complained of not enough sun to ripen the grapes.
In times of uncertainty, it's best to plan for all occasions. With extreme temperature swings becoming the new normal, the safest design response is a house that can handle whatever the weather has to offer. The best way to do that is by insulating as much as possible. Because when it comes to protecting your house, there's no such thing as too much insulation. That being said, there is such a thing as too much money! And insulation can be costly. So how can you balance costs and enough insulation to meet both winter and summer needs? Here's what to know.
Photo credit: BarlisWedlick Architects; original photo on Houzz.
The owners of many homes insulated for cold climates have had chances in recent years to see how well their insulation layers perform in extreme heat as well. Many homeowners in the north may have noticed this summer that their home lacks enough shading and heats up fairly quickly during the day. Then it holds that heat through the summer night, when it may have already cooled off outside.
This is why choosing insulation that also performs well in summer may be a good idea.
Not all insulation is created equal. Thermal capacity is the amount of energy needed to change a material's temperature. Insulation materials with a low thermal capacity allow heat to transfer through them faster than materials with a high thermal capacity. (This is a different measurement from the often-cited R-value or U-value of an insulation material.) Thermal capacity is a characteristic of insulation that is not usually discussed in the home building sector with the client, and your architect or contractor might not mention it to you.
Photo credit: In Situ Architecture; original photo on Houzz.
The less insulation you have, the more it matters what kind of material it is. This is similar to the idea that the less money you have in your project budget, the more you want it to really count. If you're going to have only a thin layer of insulation, for reasons we'll set aside for the moment, then it could be valuable for you to consider materials with a high heat capacity. In this way, not only will you be protecting against winter cold, but you'll also be using a material that will help you a bit more in the summer.
On the other hand, if you've got a thick enough layer (more than 10 inches, or 25 centimeters) of almost any kind of insulation, it matters less what kind it is. Winter or summer, it will take a while for heat to move through it.
A Passive House, for example, can be insulated with anything from polystyrene to sheep's wool and it will still perform relatively well in winter and summer, simply because the standard requires an insulation layer so thick that the heat takes a long time to get through it, no matter what material it is made from. This would probably be similar in a LEED-certified home with a high energy and atmosphere rating, or a home specified to any similarly high level of energy performance.
Photo credit: In Situ Architecture; original photo on Houzz.
The average house on the market, however, does not meet the passive or LEED energy-efficiency objectives with superthick layers of insulation, but instead has much thinner layers acting as a barrier for the transfer of heat and relies on traditional heating and cooling to meet comfort needs. In these situations (which are the majority), it can be useful to know the type of material used for the insulation layer, because it can have a fairly noticeable impact on comfort in summer.
So what kinds of insulation materials perform well in summer? Those with high thermal capacity. In other words, natural materials. At least for the time being, there is no synthetic material on the market that has the high thermal capacity of natural materials like wood fiber, cellulose and cork. This is because historically, insulation products have been developed for cold climates, where until recently homeowners have not had to worry much about summer heat waves.
The high cost of natural materials, however, makes them trickier to specify for the average home, and a traditional cost-benefit analysis may not accurately reflect the payoff.
Photo credit: Mariana Pickering (Emu Building Science); original photo on Houzz.
Strategies to use in combination with insulation
The subject of thermal performance, and insulation in particular, is pretty complicated, and there are many variables that are easy to overlook.
But if you decide to invest in a higher-cost natural insulation for the benefit of higher thermal capacity, then it would be a mistake to overlook some other basic characteristics of building envelope design that can help your house stay comfortable in summer.
A ventilation layer may be beneficial, for example, either as part of the facade or in the roof, to allow the external air to flow through and carry away the heat. Again, the value of this detail will be felt even more in homes with low to medium levels of insulation. Employing a ventilation layer, as well as reflective components (often called "radiant barriers"), can help counter a lack of sufficient insulation and can be quite effective when used in combination.
It's also important to remember the importance of the roof. Heat radiation from the sun affects this horizontally sloping surface most, especially the closer you are to the equator. The hotter the climate, the more priority should be placed on insulating the roof.
Photo credit: Kipnis Architecture + Planning; original photo on Houzz.
Shade, shade and more shade! Lastly, it's essential to remember that none of this matters at all unless you shade from the summer sun. You might as well throw money out the window—or use $100 bills as insulation—if you don't have proper shading devices that block heat from reaching your glazing, the weakest point in your building envelope. In the Northern Hemisphere, the west, south and east facades (usually in that order) should take priority when you're adding shading.
The ultimate goal is to maintain a comfortable temperature at a reasonable cost, allowing your house to gain some immunity against sudden swings in the weather's mood that would otherwise present you with unexpected energy bills.
Related articles
In recent years, Atlanta's Old Fourth Ward District—perhaps best known as the birthplace of Martin Luther King, Jr.—has experienced a revival in redevelopment and business, where abandoned warehouses have been flipped into lofts, old railroad corridors transformed into parks and trails and small shops have seen an uptick in customers.
That bustling spirit and historic quality caught the eye of AMLI Residential, a 2015 LEED Homes Power Builder. Old Fourth Ward is now home to LEED Platinum Ponce Park, a 305-unit apartment complex that's both energy- and water-efficient.
"For us, the Old Fourth Ward was a unique combination of drivers," AMLI senior VP Fred Schreiber told Curbed Atlanta in 2013. "A) a real identity as a neighborhood with an organized and passionate group of neighborhood leaders and a great mix of stakeholders, b) a world-class public green space in the Historic Old Fourth Park and the Beltline...and c) a transformative redevelopment of the old Sears building."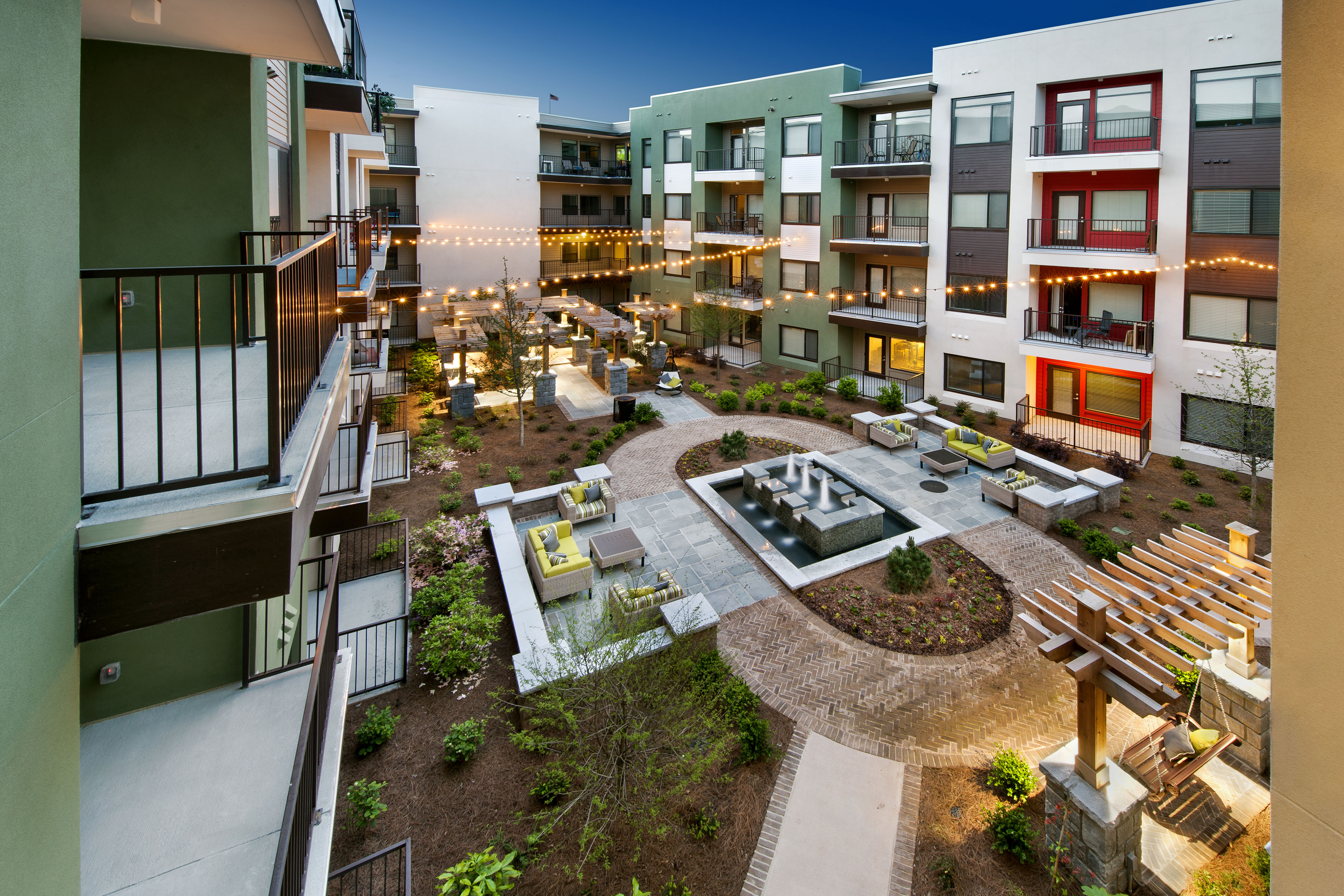 All photos credit Richard Lubrant.
The smoke-free apartments, also Energy Star-certified, use nearly 30 percent less energy and more than 20 percent less water than a conventional apartment. They use building materials that make indoor air fresher and have WaterSense plumbing fixtures, Energy Star-rated appliances and LED lighting. AMLI Ponce Park also has a bicycle repair shop and electric car charging stations.
AMLI's efforts go beyond design and construction. It encourages residents to participate in a green lifestyle by providing assistance with programmable thermostats and recycling education. On average, the community's recycling rate is over 50 percent.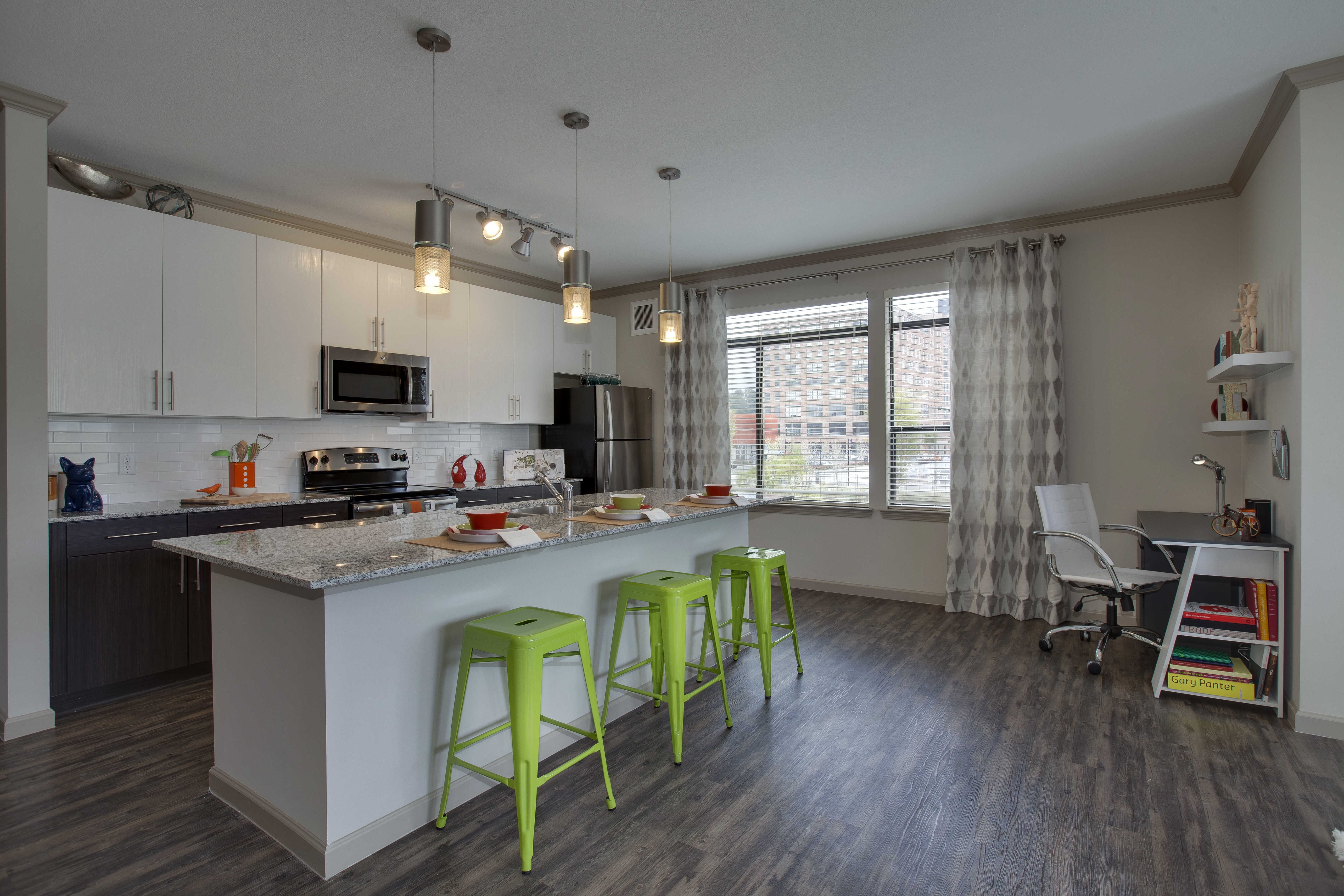 On Fridays, USGBC shares green home-related content curated from around the web. If you see a great article on aspects of environmentally friendly home living such as green building, renovation, energy use or cleaning, please send it our way.
Instead of learning about green buildings in a textbook, students at The Taft School in Watertown, Connecticut, can witness sustainability in real time, thanks to the school's faculty residence, the winner of the 2015 LEED® Homes Outstanding Single-Family Project.
Taft's colonial, two-story Hillman House has all of the green hallmarks of a high-performance building, including EPA WaterSense-rated fixtures, LED interior and exterior lights and Energy Star-rated architectural shingles.
The building is the first in the state to achieve LEED Platinum under LEED for Building Design and Construction for Homes using LEED v4, providing an excellent case study for sustainable buildings for Taft students.
Monitoring systems wired in the house transmit data back to a classroom, where students can analyze energy use and learn about the impact of passive homes. The home also has a vegetable garden, chickens and a rain garden as part of a comprehensive eco-site.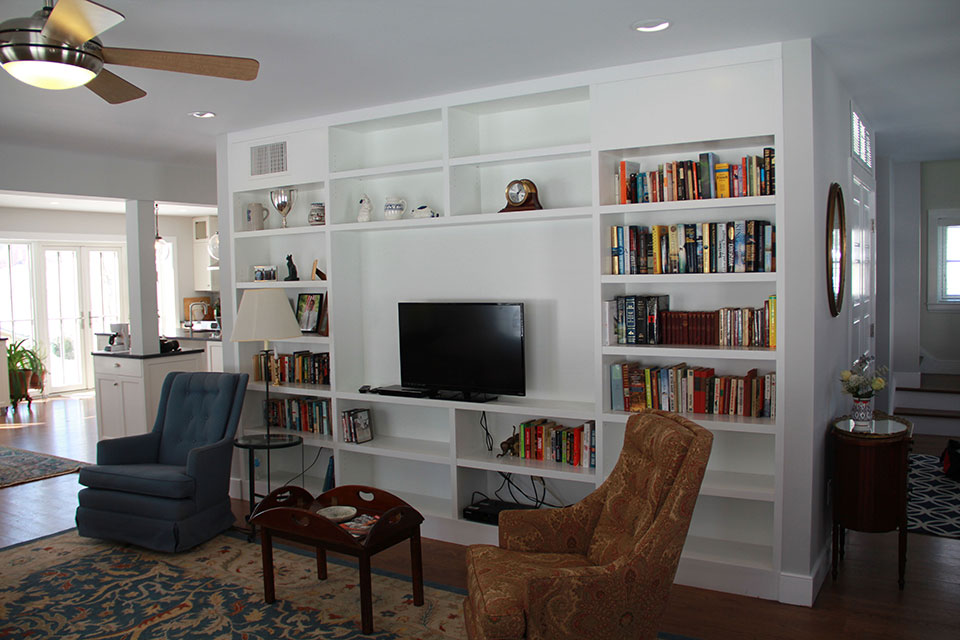 The residence at Taft School—a private, co-ed prep school founded more than a century ago by former U.S. President William Taft's brother—was designed by Trillium Architects and constructed by BPC Green Builders. Steven Winter Associates provided certification support.
The home also was the U.S. Department of Energy's 2015 Housing Innovation Award Grand Prize winner in the Custom Category. It also was one of the first in Connecticut to be certified as a Passive House by the Passive House Institute U.S.
For the past decade in a small town in eastern New York, a building once dubbed "the oldest ladder manufacturing facility in America" stood empty.
With its high-beamed ceilings, thick wooden columns, proximity to a major interstate and easy access to bike and walking trails, developers thought the Tilley Ladder Warehouse had all the character and ingredients for a potential, green residential community.
But the structure, built in the 1890s, was certainly in need of an update.
Several entities hopped on board to transform the 80,000-square-foot historic building in Watervliet, New York, into 62 loft-style apartments, including Harris A. Sanders, Architects, P.C.; Kirchhoff-Consigli Construction; Redburn Development Companies, LLC; and Sustainable Comfort, Inc.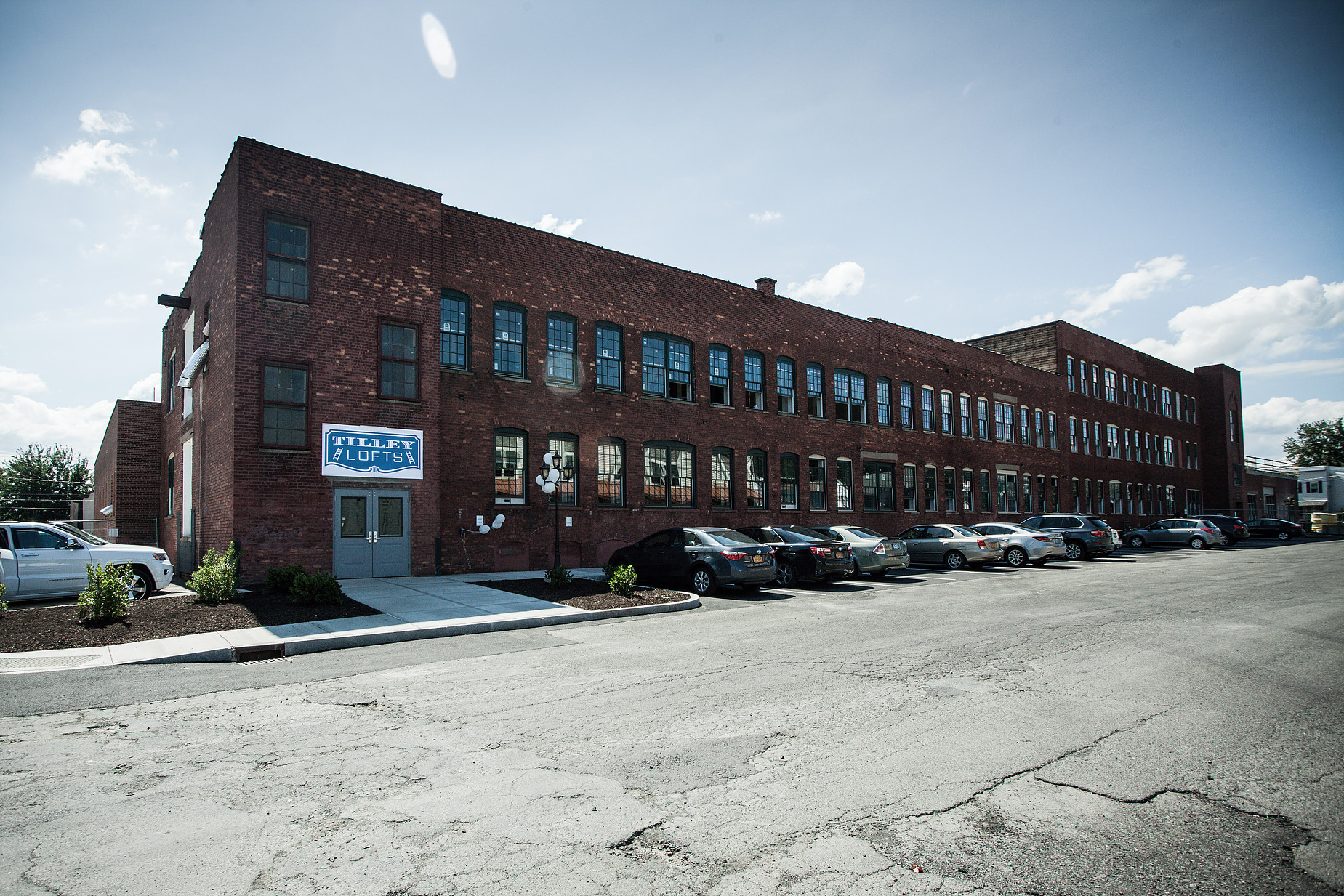 Photo credit: tilleylofts.com
Their efforts paid off—the Tilley Lofts project, certified LEED Platinum last year, earned the 2015 LEED Homes Award for Outstanding Multifamily Project. The project also was rated as an Energy Smart building by the New York State Energy Research and Development Authority and received various incentives and tax credits for energy efficiency and historic preservation.
Among the loft's green perks are ground source heat pumps, combined heat and power (CHP) that generates electricity and hot water, high-performance spray foam insulation, LED and smart lights, smart thermostats and condensing washer/dryers.
Photo credit: tilleylofts.com
What does that translate to? Big energy savings, says owner John Blackburn. "We're actually generating electricity at the same efficiency percentages as a large natural gas-powered generating facility," Blackburn said.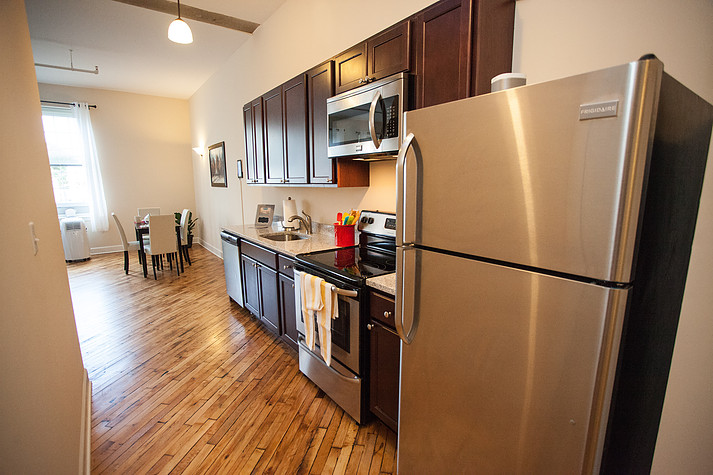 Photo credit: tilleylofts.com
When it came to developing The Woodlawn, the winner of the 2015 LEED Homes Project of the Year, the project team had one clear goal in mind: Let it be the epitome of green living in Portland, Oregon.
Developed by SolTerra and designed by Abbasi Design Works, the LEED Platinum, 18-unit, mixed use building used design and construction strategies aimed at reconnecting residents with nature while pulling double duty for water and energy efficiency.
The Woodlawn, located in Portland, Oregon. Photo by Sean Airhart.
Building performance
The Woodlawn uses 53 percent less energy and 57 percent less water compared to a typical low-rise apartment building. In its first year of occupancy, it saved nearly 100,000 kWH of energy.
How'd it do that? The project team cites high-efficiency, heat-pump water heaters; heat-pump mini-splits for space heating and cooling; double-pane low-e windows; R-31 exterior walls; Energy Star appliances; LED lighting; and low-flow plumbing fixtures, which reduce hot water demand.
The largest display of living walls on a single building in the Northwest. Photo by Sean Airhart.
Taking a cue from nature
Among the highlight reel of The Woodlawn is its 4,500-foot ecoroof with drought-tolerant vegetation, an outdoor terrace and more than 1,100 square feet of living wall siding, the largest display on a single building in the Northwest.
The building also has seen heavy cuts to its outdoor potable water use for landscaping, thanks to a powerful irrigation system and a 9,000-gallon rainwater cistern. Two bioswales soak up the remaining stormwater to completely eliminate runoff into the streets and storm sewers, qualifying the project for Portland's Clean River Rewards program.
A 9,000-gallon rainwater cistern used to irrigate outdoor landscaping. Photo by Sean Airhart.
Inside one of the apartments at The Woodlawn. Photo by Sean Airhart.
This article was originally published on Houzz on Feb. 2, 2015, as "Zero Net Energy: A Hardworking-House Term to Know," and is presented here with permission. Read the original article.
If you have not yet heard the term "zero net energy," or ZNE, you will soon be hearing it everywhere. Most simply, it means that a building consumes only as much energy as it can produce by renewable methods. Since buildings consume about 25 percent of our nation's energy, the savings and implications of ZNE are enormous. For several years, the U.S. Department of Energy has supported innovation in this area by sponsoring the Solar Decathlon. The biannual competition invites contestants to design and build a house that runs primarily on solar power and produces as much electricity as it consumes.
California building codes have already mandated implementation of ZNE by phasing in complete compliance by 2020 for all new homes, and remodels and additions that significantly upgrade a house, constructed in the state. Since California has at least 10 percent of the nation's population and the ninth largest economy on the planet, its influence in this area is quickly scaling and spreading across North America. However, California codes prioritize renewable energy production last on the list of requirements that can assist with a home's compliance. Energy consumption reductions and improved building design performance standards and technology are being phased in first.
Here are a few things that can be and already are being addressed by innovation to achieve this goal.
Financing the investments
When ZNE applications show a return on investment in a relatively short amount of time, financial entities are keenly interested in supporting them. California has built incentives into its programs to promote them. Yet the savings on energy consumption alone has propelled lending institutions to support them, as they clearly see the payoff. The trend is spreading. The Colorado residence seen here, by Caddis Architecture, was designed to be ZNE. While its progressive and innovative design embraces a contemporary aesthetic in conjunction with achieving ZNE, vernacular home design, as illustrated in the Florida home below, can be adapted to meet this goal just as easily.
Photo by Caddis Architecture; original photo on Houzz.
Reducing consumption
Probably the most obvious energy-saving consideration is doors and windows. In the past the glass-enclosed sunroom seen here, by Crisp Architects, would have been impractical during New York's winter months. Dual- and triple-paned glass, along with other techniques and advances in window design, allows configurations to reduce energy use. In the Seattle house below, awnings with automated systems that sense rain and shading requirements provide a more passive solution to energy consumption at doors and windows.
Photo by Crisp Architects; original photo on Houzz.
Regulating consumption
The incandescent bulb is gradually being phased out. First, compact fluorescent lamps took their place, which cut energy usage significantly. Lately, LEDs, or light-emitting diodes, have been cutting energy consumption even more. These compact and long-lasting fixtures not only greatly save energy, but they also allow innovative and dramatic lighting effects to be achieved. The flush and elegant undercabinet fixtures seen here have been mounted snugly, keeping the crisp, clean lines in this modern kitchen. Dramatic lighting effects define the contemporary bath design below. In addition, LEDs can be designed to change color, adding another dimension.
Photo by Divine Design + Build; original photo on Houzz.
Managing consumption
If you think all of your home electronics and mobile devices that need electricity are contributing to a larger electric bill, you are correct. Utility companies estimate that about one-third of an average home's juice is consumed by such equipment. Most appliances and electronics with power cords plugged in draw some electricity even when their power button is off. One of California's goals is to require switches on all electrical outlets so that electronics that normally stay plugged in can more easily and conveniently be switched off. Even if you just can't live without the soft yellow glow of the incandescent bulb in your favorite lamp, you can save energy by installing a dimmer switch on that light fixture or on a hardwired light switch that controls it. Dimmers can save half or more of the energy of a bulb's full capacity.
Another California requirement is that lights in certain rooms, such as baths and garages, be connected to motion sensors. This helps, for example, to keep the kids in check when they go around the house turning on the light in each room they enter without turning if off when they leave. In addition, depending on the type of room, incandescent fixtures are not allowed to be installed. The state requires that any hardwired fixture be "high efficacy." This can be types with compact fluorescent bulbs or LEDs.
Image by TV Controls; original photo on Houzz.
Usually, on the higher end, there are systems with control panels, like this one, or ones that can be coordinated with a smartphone application. The ability to manage systems throughout the home will allow consumers not only to monitor their own habits, but to coordinate with peak energy demands in their regions. Utility suppliers place a premium on consumption during the hottest days of the year, for example, when demand surges. Being able to use less air conditioning on those days and planning to spend time out of the house can be a strategic method to lower your bills and help the system meet demand where it is needed most.
In addition, lighting that can respond to daylight, building designs that allow in sufficient daylight to minimize or eliminate the need for artificial lighting, and windows and ventilation that can be automated to respond to desired interior conditions are other features that can help to reduce and manage energy consumption.
Employing technology
A good example of such technologies is the Nest thermostat, which works with smartphones to assist in the management of a home's climate. A good example of how Nest can save you energy is to consider a time when you are out of town for business. Let's say you are in Los Angeles for three days, and a heat wave has enveloped Dallas, where you live. You set the temperature in your house to 82 degrees Fahrenheit while you are away, which keeps your electricity consumption down. When you board the plane in L.A. to return to Dallas, you open the app and set the temperature in your house to 72 degrees. By the time you get home, the temperature in your house will be just right.
Photo by Nest; original photo on Houzz.
One of the best advantages of California's implementation of energy codes is that the price of photovoltaic technology is falling dramatically. While California will always have abundant sunshine, it is likely that future household mechanical systems will use several technologies in unison to achieve a home's energy demands and climate control. An urban Philadelphia residence employs geothermal, solar electric and solar thermal systems to provide comfort. A Montana home uses geothermal and solar systems for a large and sprawling design.
Solar panels double as shade devices and overhang protection for the doors of this Seattle house. Traditional architecture, as seen below, can include solar panels just as easily. Look for a future in which any house can be retrofitted with a myriad of technologies, as the solutions likely will be fluid and flexible.
Photo by Modern Exterior; original photo on Houzz.
Energy storage
Probably the biggest challenge at this time is energy storage. It is currently difficult to achieve on an individual scale. Our public energy grids are still primarily dependent on power generated by fossil fuels, which can be readily adjusted based on demand. There are already problems with utilities wishing to maintain control of the energy grids and how they will handle the influx of individually generated supplies. Flexibility, on both the individual and public levels, will probably solve all of the challenges. Zero-net-energy homes may sound complex, but imagining zero dollars for electric bills, for at least a couple of months a year, seems simple enough.
Related articles
On Fridays, USGBC shares green home-related content curated from around the web. If you see a great article on aspects of environmentally friendly home living such as green building, renovation, energy use or cleaning, please send it our way.
This week, we've got a roundup of some of the best sources for home energy info.
In today's tech-centric world, you can find plenty of mobile apps related to energy savings. Check out the Eartheasy blog's rundown of some of the popular green apps you can download to help you track your energy consumption.

With "100 Ways to Save Energy at Home," Duke Energy provides tips sortable by category: cooling and heating, lighting, appliances, electronics and other aspects of household energy use.

The Department of Energy's infographic on appliance standards offers some striking stats on how much you can cut CO2 emissions—and household bills—by using energy-efficient appliances. Take a look below, and then go on to learn more about DOE's standards program.
Infographic courtesy of the U.S. Department of Energy.
This year alone, Fannie Mae has provided more than $1.2 billion in financing to qualified green multifamily properties. Fannie Mae's green financing solutions use pricing breaks and higher loan proceeds to give multifamily investors an incentive to make sustainability improvements to their properties and/or to pursue green building project certifications.
Now the Green Rewards product upgrades make it even easier to invest in sustainability improvements in multifamily properties. Last week, Fannie Mae announced it will cover the cost of the required energy and water audit and lenders will now be able to underwrite 75 percent of the owners' projected cost savings. These improvements will augment the current offer to underwrite 25 percent of projected cost savings for building tenants through the Green Rewards product. Investors can access the benefits of the program for refinance, acquisitions, supplements and second supplemental loan arrangements.
Fannie Mae, a government-sponsored enterprise/publicly traded company, provides mortgage-backed securities to expand the secondary mortgage market. For example, it buys the mortgages that banks provide to individual homeowners and packages them up to make them secure investments for outside investors, in turn allowing those banks the capital they need to extend more mortgages to qualified individuals.
As one of the largest financial institutions in the world, it is an important signal that Fannie Mae continues to innovate and lead the multifamily green financing market through its suite of products, including Green Rewards, Green Building Certification Pricing Break, Green Preservation Plus and C-PACE consent. These loan products are available to properties that will save 20 percent or more on annual energy or water consumption through improvements, in addition to properties that have already achieved certification through a third-party rating system like LEED®, the world's most widely used green building rating program.