Feature image: The Valdemarin project in Madrid, Spain.
LEED has been a much sought-after certification for commercial real estate projects in Europe for years. The Green Rater European Network (GREN) is working to increase the market focus to include residential projects as well.
Unlike the commercial rating system, LEED certification for homes requires third-party verification in the person of a "Green Rater." Green Raters are individuals who have not only demonstrated an understanding of building science fundamentals, but who have also undergone training, testing and mentoring in the LEED rating system for homes.
If you are a building professional in Europe seeking to certify a single-family home, multifamily building, or even a manufactured home, the Green Rater European Network can put you into contact with Green Raters in your area who will assist and guide your project team through the certification process. They will help you integrate the rating system requirements into your project's planning, design and construction, as well as perform on-site verification of the completed work and conduct performance tests.
During the last 12 months, members of the Green Rater European Network have worked on a growing number of residential projects pursuing LEED certification. In a very short period of time, the network members have shown that LEED can not only work in Europe for residential projects, but that it can also be used on virtually all types of residential construction and in all market segments. Projects completed or in progress cover a wide range, including multifamily, single family, new construction, rehabilitation, luxury and affordable housing.
Here are a few examples:
Holt Haus
The home of American architect Marc Holt aims to be the first home in Germany to obtain LEED certification. The home was selected from one of the builder's standard plans, and with very few modifications, was adapted to meet LEED specifications. Charles Nepps, a GREN member, recently completed the final construction visit and is now preparing the project documentation for certification. The project hopes to achieve LEED Platinum status in the spring of 2018.
Valdemarin
Valdemarin, in Madrid, comprises 10 luxury homes by Spanish developer Caledonian, and is pursuing LEED Gold certification. GREN member Valeria Fiorentino recently completed the project's mid-construction inspection and intends for the project to achieve certification next summer. In addition to Valdemarin, several single-family projects in Spain have recently registered for LEED certification, demonstrating the growing interest in LEED in the Spanish residential market.
Palazzo Novecento
In Torino, Italy, this project involves the renovation of 47 apartments in a historic building, and is seeking certification as a midrise dwelling. Also pursuing certification under the Midrise category is a second, publicly funded project in Milan, which will provide 39 affordable housing units in two buildings. Paola Moschini, a GREN member, is the Green Rater for both projects.
The Palazzo Novecento project in Torino, Italy.
Cal Guerxo
Cal Guerxo, in Catalonia, Spain, involves the complete restoration of a medieval home that is hundreds of years old.The home will be upgraded to modern standards of comfort without negatively impacting the environment. The project is pursuing LEED Platinum certification, as well as Living Building Challenge certification. Valeria Fiorentino, a GREN member, recently performed the mid-construction inspection. This inspiring project intends to demonstrate it is possible to renovate an existing home and to make it a regenerative and truly sustainable place.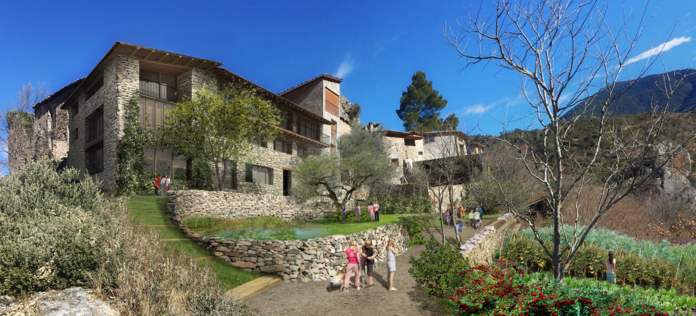 The Cal Guerxo project in Catalonia, Spain.
The variety of projects in different countries pursuing certification demonstrates that LEED is a flexible rating system that can be successfully implemented in very different market places. It also shows the commitment of European residential developers to sustainable construction.
The European Green Rater Network is in the forefront of making LEED homes certification in Europe more accessible, and its members are committed to continue working with SGBC to make the rating system even more user-friendly in their local markets.
Thinking of pursuing LEED certification on your next residential project? Go to the Green Rater European Network website to find out more about the LEED certification process and to find a Green Rater located in your area.
This article was originally published on Houzz on July 16, 2012, as "Green and Clean: Ecofriendly Bath Countertops" and is presented here with permission. Read the original article.
For countertops subjected to splashes and steamy shower moisture, durability is the name of the game—and recycled content adds to their green credibility. Thankfully, neither of these features mean having to compromise on looks. Whether your taste runs toward sophisticated or sassy, modern or traditional, there's a sustainable countertop for your bath.
Photo credit: Lindy Donnelly; original photo on Houzz.
Recycled glass with cement
Vetrazzo. Made of 100 percent recycled glass with a binder of cement, additives, pigments, big and bright chunks of glass, and other recycled materials, Vetrazzo is no shrinking violet. Fun options abound, including "Alehouse Amber," made of recycled beer bottles, and "Cobalt Skyy," made of recycled Skyy® Vodka bottles. As with any cement-based counter, it's porous, so you'll want to follow the manufacturer's recommendations for ongoing sealing.
Heavy cement-based slabs such as Vetrazzo can consume a lot of transportation-related energy, so it's worth being aware of where the product is manufactured. Vetrazzo is fabricated in Georgia.
Cost: $100 to $160 per square foot installed.
Photo credit: Divine Design+Build; original photo on Houzz.
IceStone. Countertops made of recycled glass with cement vary greatly in appearance. IceStone, manufactured in Brooklyn, New York, has smaller glass particles than Vetrazzo and provides a more subtle and refined character. It too boasts 100 percent recycled glass, to which only cement and pigment are added.
IceStone has earned one of my favorite certifications, Cradle to Cradle, due in part to its reutilization potential. Cradle to Cradle's industry-independent approval is given to products that are safe for both people and the planet, and are also designed for a long life cycle.
Cost: $40 to $54 per square foot for the material only.
FUEZ. Manufactured at a wind-powered facility in Portland, Oregon, FUEZ is a mix of low-carbon cement, 100 percent recycled glass and natural aggregate. The company's products offer an unusually broad range of aesthetics, thanks to four different product lines featuring either large or small glass chips, stone or a monolithic colored cement. With 50 different products and options for customization, you're sure to find a countertop that matches your style.
Cost: $20 to $50 per square foot for the material only.
Photo credit: BioGlass Oriental Jade, original photo on Houzz.
Recycled Glass
Bio-Glass. Bio-Glass, made of 100 percent recycled glass, achieves Cradle to Cradle certification and has an ethereal, translucent appearance. A simple but thoughtful application of Bio-Glass elevates this bathroom with its showstopping glow. Beyond beauty, glass is nonporous, so the countertop is more hygienic and needs no ongoing sealing and maintenance.
Cost: $85 to $115 per square foot for the material only.
ThinkGlass. Our Canadian friends are behind the lovely and luminous ThinkGlass, an all-glass countertop made in part of recycled glass. In addition to ThinkGlass' recycled content, the company works hard to green the production line, such as using rainwater to operate their glass-cutting equipment.
Cost: $200 to $400 per square foot for the material only.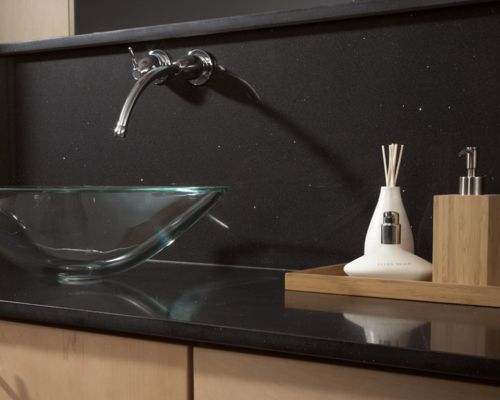 Photo credit: Starlight Countertop ECO by Cosentino; original photo on Houzz.
Solid surface
ECO by Cosentino. ECO, made by the same folks behind Silestone, is the go-to for sustainable solid surface countertops. Most solid surface countertops use a petroleum-based binder, whereas ECO has replaced that binder with a corn oil-based product. And the remainder of their makeup includes 75 percent recycled content from postindustrial and postconsumer sources: porcelain, mirrors, glass, stone and crystallized ash.
Once installed, ECO's kindness continues with a nonporous surface that's hygienic and requires less maintenance over time. And with certification from both Cradle to Cradle and GreenGuard, which certifies building products for low chemical emissions, you can be sure that ECO is the real green deal.
Cost: $68 to $118 per square foot installed.
Photo credit: KUBE Architecture; original photo on Houzz.
Resin
3-Form. My stash of 3-Form's samples, with countless colors, finishes and patterns, is a toy box for design-minded grownups. Their recycled-content, resin-based products are all PVC-free, and GreenGuard has certified the Varia EcoResin, Chroma, 100 Percent and Alabaster lines. The company walks their green talk by working toward zero waste and being carbon neutral./p>
Cost: $28 to $105 per square foot for the material only.
Photo credit: Agrestal Designs; original photo on Houzz.
Recycled glass, paper and cement
Squak Mountain Stone. Squak Mountain's countertop replicates the warmth and natural irregularities of stone with a matrix of recycled paper, glass and cement. This is a stout and durable countertop; however, as with concrete, it is susceptible to staining and etching. Either use extra care or embrace the patina.
Cost: $30 to $40 per square foot for the material only.
Related articles
The U.S. Department of Housing and Urban Development (HUD), through its Office of Lead Hazard Control and Healthy Homes, and in partnership with the National Environmental Health Association, has announced its annual HUD Secretary's Award for Healthy Homes.
HUD recognizes achievements in increasing the health of indoor environments through healthy homes research, education and program delivery, especially in low- to moderate-income communities. The awards, which cover four categories, share results from a range of housing and indoor environmental health programs nationwide, highlighting significant work on the relationship between living environments and resident health.
Awards categories
Public housing/multifamily housing
Policy and education innovation
Cross-program coordination
Research
Get more details from the awards announcement.
Relevant dates
If not already NEHA members, applicants will need to create NEHA user accounts. If you have questions, please contact NEHA.
Multifamily housing is continuing to move in the direction of green building and LEED certification. AMLI Residential, a 2016 LEED Homes Award winner for Outstanding Multifamily Developer, has been building all new construction to a minimum of LEED Silver standards since 2006. In 2016, AMLI's portfolio grew to 25 LEED-certified projects, more than a third of the developer's total properties.
To increase understanding of sustainability goals, AMLI also provides the residents of each of its communities, in several different locations around the U.S., with guides to the green features of their home and the ways in which they can help maintain its performance. The AMLI residential blog even has a category for green living updates and articles.
Erin Hatcher, Vice President of Sustainability at AMLI, shared some of the sustainability features recently achieved through LEED at AMLI properties.
Creating a healthy landscape
At AMLI Wallingford in Seattle, the landscaping design included flowers and foliage specifically selected to attract bees and butterflies. Not just an appealing visual element for residents of the community, the garden areas take concrete action in helping pollinator species that are struggling in the modern urban environment.
Pollinator landscaping in Seattle.
A larger sustainable landscape feature AMLI created recently was the public Marie Sims Park, in Atlanta's Buckhead neighborhood. Adding green space to a developing area and collecting stormwater runoff, the park is situated between two of AMLI's apartment communities, but is open and accessible to the entire neighborhood.
Explore the LEED credit Site Development—Protect or Restore Habitat.
Hatcher cited indoor air quality and energy usage credits as the most challenging for recent projects to attain. "We've learned a lot over the past decade, and the real challenge is pushing ourselves to do more across our portfolio," she said.
At AMLI Piedmont Heights in Atlanta, the company achieved the best blower-door tests they've had to date. "We built with a high-performing building envelope, installed Energy Star windows and high-quality insulation, and issued energy efficiency upgrades almost across the board," explained Hatcher.
Explore the LEED indoor environmental quality credit category.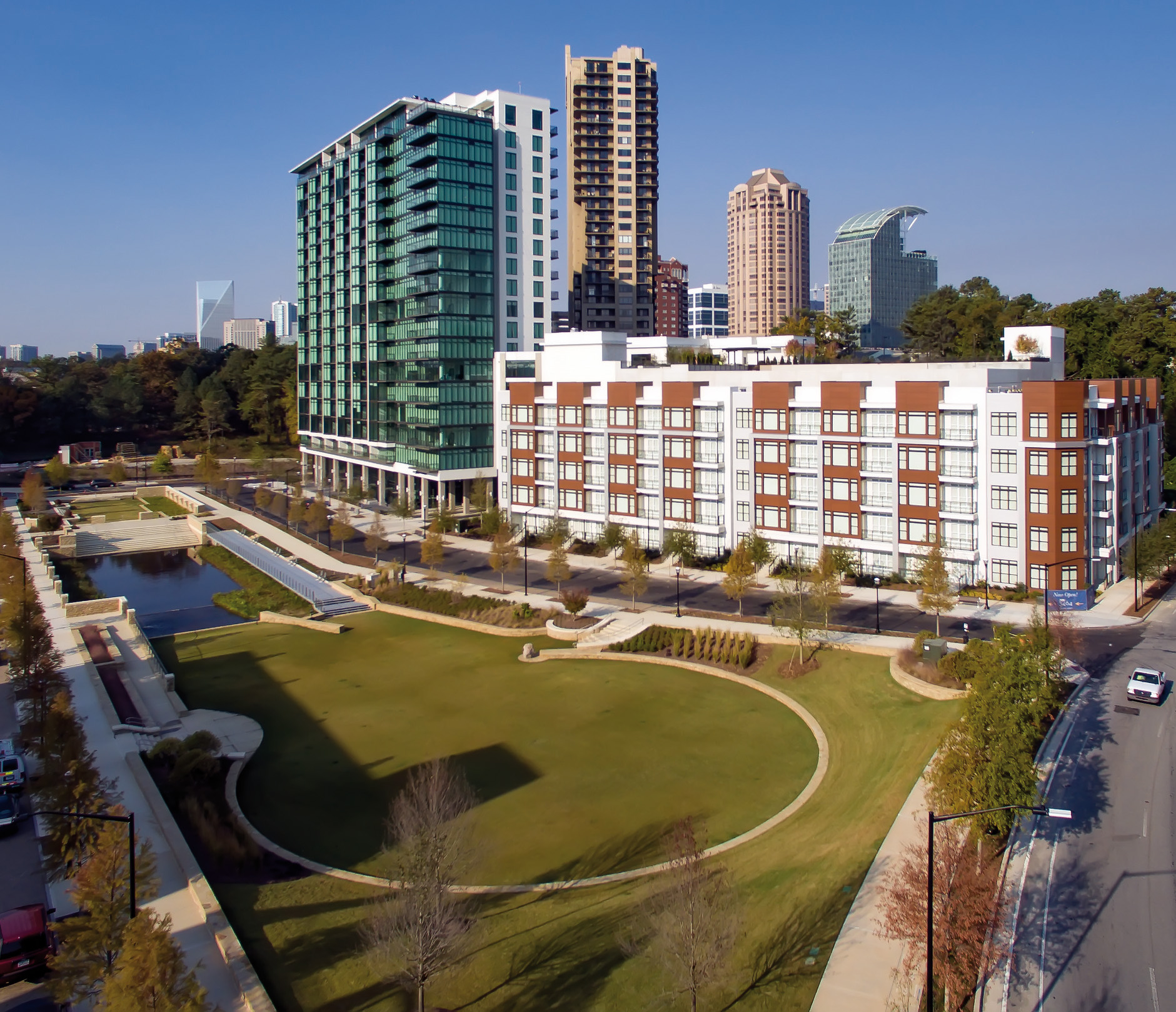 Marie Sims Park in Atlanta.
Healthier homes, lower bills
"Residents can lower their carbon footprint just by moving in," said Hatcher. Through energy-efficient equipment and careful building design, the apartments reduce overall energy use as well as cutting residents' utility bills.
In addition, the company's clean air initiatives in air filtration, building materials that don't off-gas and smoke-free policies help make the communities healthier for their inhabitants.
Advice for LEED project managers
Hatcher's number one tip for those seeking to build a LEED home or residential community is to start aiming for LEED early in the process.
"The extra time allows you to truly engage with people all throughout the scope of the project and find opportunities to work together," she said. "Collaboration is key and is what allows the building to reach its optimal potential. It also helps align everyone on the project's goals so that you can stay committed with a clear vision for the final project in mind."
Last year, John Marshall Custom Homes received recognition as one of two Outstanding Single Family Developers in USGBC's LEED Homes Awards. The firm's "pocket neighborhood" of 15 houses in Davidson, North Carolina, already count 12 LEED Silver homes among them, with others still in process. The community's walkability was a major goal of its design—it is situated within a five-minute walk of the elementary school, park, shops and a public library.
The owner, Rodney Graham, who worked on the project along with his wife Melissa, believes that homes located in walkable locations offer many benefits for residents and the community.
"I recently met with the person who is responsible for monitoring air quality in our county (Mecklenburg County, home of Charlotte), and she said the best thing communities can do to improve air quality is to create walkable communities," said Graham. "With this neighborhood, we've done that. And as I observe our customers walking to and from town, the benefits to the homeowner are obvious."


The company's belief in green building is reflected in its commitment to building homes to LEED and Energy Star standards. As shared on its website, John Marshall Custom Homes places intense focus on using environmentally friendly building tactics such as:
Infill sites
Compact lot design
Passive solar
Efficient use of lumber
Low-VOC materials
Graham's advice for other builders hoping to achieve LEED certification is to just go for it. "Don't get hung up on the costs, which aren't that great. Don't be discouraged by the thought that to be a green home you have to have solar panels, wind turbines and go dumpster diving for materials. Just focus on the energy and water efficiencies and use local resources, and you'll make a positive impact on yourself and the environment (and if you can do solar panels, wind turbines, and scour the landfills for building materials, that's icing on the cake)," he explained.
On January 5, 2018, USGBC published LEED Interpretation 10470, allowing projects in California that pursue LEED v4 BD+C: Homes to be rewarded for energy savings that exceed Title 24-2016.
See a list of additional credits and prerequisites in LEED v4 Homes that are met by projects that meet CALGreen.
Title 24-2016 Scoring Pathway for Homes/Low-rise Multifamily
Single-family and low-rise multifamily projects in California may use either this Title 24-2016 compliance pathway for the Energy and Atmosphere section, or any of the other balloted approaches in LEED v4 BD+C: Homes that demonstrate building energy savings.
The following prerequisites and credits are part of the Title 24-2016 scoring pathway:
The California T24 LEEDv4 Homes and Multifamily Workbook, which must be used to follow this pathway, can be found under the Resources and Tools section in the LEED for Homes Certification Guide.
Credits with Modified California-Specific Compliance Options
EA Prerequisite Minimum Energy Performance
Projects must meet all of the following requirements:
1. All aspects of Energy Star v3 Homes are met by Title 24 2016 compliance, save for two of the following measures, which must be met by all projects:

a) Cooling equipment selection and sizing limits. All installed cooling equipment must be sized within the following parameters.
Compressor type
Single-speed: Sizing limit 90-130 percent
Two-speed: Sizing limit 90-140 percent
Variable-speed: Sizing limit 90-160 percent
b) External static pressure of ducted heating and cooling systems must be measured by a qualified energy rater at contractor-provided test locations
2. If installed, at least one of the following appliances must be Energy Star-qualified (or performance equivalent for projects outside the U.S.) in each dwelling unit:
Refrigerator,
Dishwasher, or
Clothes washer.
3. All duct runs must be fully ducted (i.e., building cavities may not be used as ducts).
Projects in California may use the standard LEED for Homes v4 scoring approaches for the Energy and Atmosphere section, or they may elect to use this ACP, which combines energy modeling to Title 24-2016 Part 6 and EA credit High-Efficiency Appliances.
EA Credit Annual Energy Use
Projects are rewarded for reducing energy usage below that of the Title 24 Energy Design Rating (EDR) of Standard Efficiency, and points are awarded based on the percent savings over this Title 24 Standard Efficiency EDR. This scoring methodology is used instead of the HERS Index.
The Title 24 energy models must be performed by a CEA.
Table 1.
The percent savings over T-24 2016 baseline is calculated using the project's Energy Design Rating (EDR). This information is found on the Energy Design Rating tab of CBECC-Res, as well as on the CF1R-PRF-01 report.

Title 24 savings = Final Proposed EDR / EDR of Standard Efficiency

Points for reducing energy usage below T-24 2016 Energy Design Rating (EDR) of Standard Efficiency

Percent savings

Points

1%

5

2%

6

3%

7

4%

8

5%

9

6%

10

7%

11

8%

12

9%

13

10%

14

13%

15

16%

16

20%

17

25%

18

30%

19

35%

20

40%

21

50%

22

60%

23

70%

24

80%

25

90%

26

100%

27

Plus, earn 1 point for every 4 percent decrease in conditioned floor area compared with the Energy Star for Homes, version 3, reference home (Table 2). Buildings that are larger than the reference home lose 1 point for every 4 percent increase in conditioned floor area.
Projects cannot exceed the maximum number of points in the credit, 27 points. Projects that earn more than 27 points may take credit for exemplary performance in IN c Innovation.
Table 2: Conditioned floor area of reference home, by number of bedrooms
(from the LEED v4 BD+C: Homes credit language)
| | | | | | | | | |
| --- | --- | --- | --- | --- | --- | --- | --- | --- |
| Bedrooms | 1 | 2 | 3 | 4 | 5 | 6 | 7 | 8 or more |
| Floor area (square feet) | 1,000 | 1,600 | 2,200 | 2,800 | 3,400 | 4,000 | 4,600 | + 600 ft2 per additional bedroom |
In addition, Title 24-2016 Homes projects that are zero net energy, as defined by site energy, source energy or TDV, are granted maximum points and don't need to complete the Home Size Adjuster.
For multifamily buildings, home size includes only in-unit space.
This article was originally published on Houzz on November 21, 2017, as "How Tech Can Help You Understand Your Home's Air," and is presented here with permission. Read the original article.
Research has shown that the air inside our home can be more polluted than the air outside, according to the Environmental Protection Agency. Pollution takes a toll on our health, and because we spend a lot of our time—up to 90 percent—indoors, it's worth taking a look at the air quality in our homes. The source of these pollutants ranges from oil and gas to furniture and building materials.
Photo credit: Awair. Original photo on Houzz.
Why measure indoor air quality?
Pollution continues to be a large health risk today, says Christina Dean, technical service and applications manager at Brenntag North America, and the public is feeling the effects of pollution in one or more aspects of their lives.
"Working in an industry as carefully orchestrated as the chemical management and distribution one makes you really mindful of how important it is to minimize your exposure to potential contaminants and airborne particles," Dean says.
"Air pollution can cause skin dehydration, premature aging, sensitivity and a depletion of antioxidants," she says. "While we like to think that air pollution is an outside-the-home problem, the fact is that pollution and particulate matter can be tracked indoors too."
To address this issue, many consumers are turning to technology to monitor the air quality inside their homes.
Using modern technology to monitor pollutants
If you're interested in the pollutant levels inside your home, technology can help. Whether you want a basic device that displays your indoor air quality in easy-to-read numbers, or a more complex system that provides graphic charts and historical comparisons, there's something for everyone on the market.
In the emerging market of home indoor air quality monitors, competition between brands and devices pushes the companies to improve their products, says Indoor Air Quality Association President John Lapotaire. The improvements can be seen in smaller monitors that work better in the home, and in the reliability of the monitors themselves.
"The homeowner equipped with any one of these monitors can have a good idea of the quality of their indoor air and be notified if there are any changes within their indoor environment without the need of a professional," he says. "For many, that ability is a game-changer and well worth the investment."
This is possible because of huge strides made in the consumer-grade indoor air-quality industry, Lapotaire says. That being said, a professional-grade device will be more reliable and comprehensive.
5 indoor air-quality monitoring devices for consumers
1. Awair uses built-in sensors that indicate and track toxin levels within indoor air. It then displays this information on the unit itself or transmits it through the internet, so the information can be ready from nearly any smartphone or computer that can access the internet.
It works by tracking five facets of air quality: humidity, temperature, dust, carbon dioxide (CO2) and chemicals.
Photo credit Awair. Original photo on Houzz.
The results are easy to view on the built-in display (shown here) or via the Awair app, which was developed in tandem with professionals from the Mayo Clinic to offer proven strategies for improving the quality of your indoor air.
Awair also designed its display unit with a wood frame to help it blend into your home's design.
2. Sprimo is a personal air monitor that has built-in sensors to determine toxicity levels in the air around you.
It transmits this information to an integrated smartphone app that uses multiple methods, including colors and numbers, to give you a visual confirmation of the toxin levels in your home or office.
Photo credit: Sprimo. Original photo on Houzz.
Touted as the world's smallest air monitor, the Sprimo device is tinier than the average house key, but it packs a powerful punch.
Not only does it monitor indoor air for pollen, dust, smoke and other toxins, but it can pick up on odor from paint, outdoor air pollution, chemical cleaners, garbage, pet waste and even your dirty clothes, and display their toxicity levels in a brightly colored, easy-to-read graphic.
Sprimo is also easy to use: Plug the device into your compatible smartphone, and you can begin monitoring your indoor air quality immediately.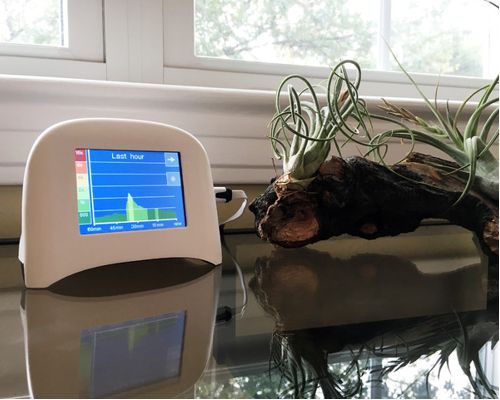 Photo credit: Speck. Original photo on Houzz.
3. Speck uses integrated sensors that detect fine particulate matter within the air around you.
This information is displayed on a large screen on the device itself, but it can also be viewed remotely via the app.
Though all of the products on this list are easy to set up and use, Speck is one of the simplest. Just plug the device into a power source, and the unit begins monitoring—and reporting—your air quality.
Users can see the information directly on the device, or via the internet and Speck's free software package. The built-in Wi-Fi functionality even lets you track data from anywhere with a laptop computer or smartphone.
Photo credit: uHoo. Original photo on Houzz.
4. uHoo detects toxins through a series of advanced sensors that are built into its cylindrical design. Separate sensors exist for chemicals, dust and temperature.
Whereas most of these devices only monitor a few different toxins, uHoo tracks nine: temperature, humidity, PM2.5, volatile organic compounds, carbon dioxide, carbon monoxide, nitrogen dioxide, ozone and air pressure.
Not only does the device let you view this information as it collects it in real time, but uHoo also provides automated reports when your indoor air quality reaches dangerous or hazardous levels.
It also keeps track of historical data, so you can compare levels in different rooms of your house during different seasons or after you've made home improvements.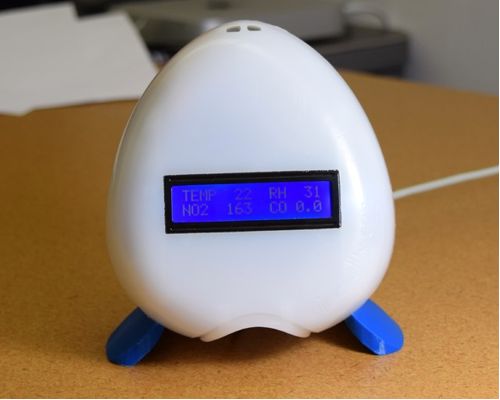 Photo credit: The Egg. Original photo on Houzz.
5. The Egg has built-in sensors that provide real-time readings and are automatically uploaded to the internet.
Pioneered by the development team at Wicked Device, the Egg also features a smartphone app and a dedicated, web-based dashboard to monitor your levels and compare them with others.
Integrated Wi-Fi functionality lets you upload data for historical tracking and long-term analysis.
Apart from its sleek design, the Egg monitors your air quality for six different pollutants: carbon monoxide, volatile organic compounds, CO2, sulfur dioxide, fine particulates and nitrogen dioxide.
Next steps
You can also use the resources provided on the Indoor Air Quality Assocation website to further explore indoor air quality issues, or find a professional who can help you with any air quality issues you're experiencing.
Related links
This article was originally published on Houzz on October 8, 2014, and is presented here with permission. Read the original article.
Natural insulation materials, like wood fiber, expanded cork and sheep's wool, tend to be more expensive than their more commonly used counterparts, such as fiberglass, polystyrene and rock wool. But they have a couple of advantages over synthetic materials and mineral wools that may outweigh the higher cost. Here's what to consider when it comes to your insulation choice.
Photo credit: Mariana Pickering (Emu Building Science); original photo on Houzz.
First of all, natural insulation materials, like cork oak (Quercus suber), pictured here, tend to have low toxicity levels and are theoretically better for the environment and your health. I say "theoretically" because, as with all products, quality and purity vary, and it's important to do your research and know what you're getting. Especially in today's age of greenwashing, you need to be attentive to manufacturers' claims of a product's being ecofriendly. Some natural insulation materials may contain glues or binders that emit toxic chemicals, just like standard insulation materials, making it not very cost effective to spend the extra money to go natural.
With any material claimed to be ecofriendly, always ask these questions:
How do you source the material?
Were any glues or binders used?
How is it treated for fire and insect resistance?
Is your product guaranteed by any third-party certification?
Second, natural materials have a characteristic that is beneficial for increased comfort in the summer or in a heat wave. They have a higher thermal capacity than synthetic materials and mineral wools.
Now let's run through the basics of some of the most common natural and recycled insulation materials, to get a better understanding of them.
Photo credit: Sheep's Wool Insulation; original photo on Houzz.
Sheep's wool. Depending on where you are located, you may be able to find wool batts manufactured from textile-industry wool waste, wool sheared directly from sheep or wool chemically removed from organic lambs slaughtered for meat. Some ambitious DIYers purchase, clean and treat sheep's wool themselves, which may actually be a cheaper option if you happen to have access to a lot of sheep.
The ability of wool to absorb moisture makes it particularly interesting for some applications, but repeated absorption and release may cause the borate—which makes it fire- and insect-resistant—to leach out.
Sheep's wool is a great insulator. It's very efficient and naturally able to handle condensation. It doesn't clump or settle over time, and it actually can have an air filtering effect, because it has the ability to absorb some airborne chemicals, such as formaldehyde.
Photo credit: Caragreen; original photo on Houzz.
Recycled textiles. Postindustrial recycled blue jeans and other forms of fabric from the textile industry are finding new purpose as cotton insulation batts. Less common in Europe but gaining popularity in the U.S., these batts are comparable to fiberglass in performance and format but contain no formaldehyde.
The recycled content is usually around 85 percent, with the rest being polyester. The installation is a little more difficult, in that it's harder to cut the batts accurately, but there are no health risks, the material doesn't make you itch when you touch it, and a respirator isn't necessary.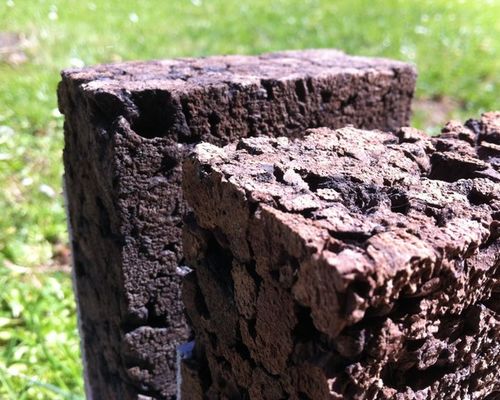 Photo credit: Mariana Pickering (Emu Building Science); original photo on Houzz.
Expanded cork. Cork is perhaps the most efficient natural insulator and one of the most durable natural-fiber insulation options available, but often also the most expensive.
There are no synthetic glues used to bind the cork granules into boards. Instead, the granules are heated and the suberin, a natural substance of the material itself, binds it together. Cork can be divided into boards of varying thicknesses.
As always, there are advantages and disadvantages to every material. Cork, however, has good thermal performance for both cold and hot temperatures.
While cork has been used for quite a while in Europe as a rigid insulation material, the American market will need some time to learn how to work with this relatively new material. As with many rigid insulation materials, it can be difficult to avoid gaps at the joint of the boards, so you will want to overlap the material and pay special attention to tricky spots, like around windows.
Photo credit: Mariana Pickering (Emu Building Science); original photo on Houzz.
Wood and hemp fiber. Wood fiber (seen here on the left; hemp fiber is on the right) is commonly used in Europe, but arrived on the American market (as far as I can tell) only a couple of years ago. It often comes in the formats of flexible batts or rigid boards, but can also be found as loose fill. Boards that are made with the wet process use heat and pressure to naturally bind the material into boards, but may include additives to protect against moisture. The dry process, on the other hand, may include the use of a synthetic binder to form the boards.
One of the major risks with this material is its high flammability, and if not installed correctly, it can pose a danger. That means you would need to be all the more vigilant about finding an installer who is willing to try it out and perhaps be open to the idea of having it inspected for peace of mind.
The advantage of wood-fiber panels is their high permeability, similar to mineral wools, allowing water vapor to pass through easily. For people particularly concerned about their wall assembly's not holding any moisture, this could be an interesting solution.
Hemp fiber has similar properties but is a more rapidly renewable resource and has a lower density (performing not quite as well as wood fiber in summer conditions).
Photo credit: USA Insulation of Cleveland; original photo on Houzz.
Cellulose. Cellulose has been in use as a loose-fill insulation material in some regions for a few decades now. It is basically wood fiber farther down the food chain, after it has become sawdust or discarded paper.
Depending on the manufacturer, this material can be composed of recycled newspaper or sawmill scraps, but there are also manufacturers who use virgin wood, which is unfortunate, because they are downgrading a valuable material to a job that could easily be fulfilled by wood that has already served other purposes. Even the recycled-newspaper cellulose gives some people pause because of the ink content. In Europe, sawmill cellulose can cost up to 30 percent more than other kinds of cellulose based on these concerns.
Because it is blown into place, there are no binders or glues to worry about. (Note that I'm referring to dry blown-in cellulose here.) There are also damp-spray, netted and dense-packing methods. Some people report that it settles over time, but if it is properly blown in, settling is very limited or even nonexistent.
We often recommend that the installer's work be quality checked during the process by a third party with an infrared camera. This ensures quality of installation for an relatively low hourly cost, possibly avoiding the future cost of fixing or redoing the job.
Earthen and straw bale construction. Other natural wall assemblies include straw bale construction and various types of earthen construction.
Do your research. With all of these materials, your installer should be aware of how to properly seal the insulation from fire hazards, like a chimney and light casings. None of these materials acts as an air barrier, and proper attention to air leakages should be addressed before you even worry about insulation.
Related articles
Formaldehyde is an organic compound that binds tightly with other molecules, making it an ideal bonding agent. Therefore, formaldehyde resins are often used as adhesives in wood products, from flooring to cabinets to pieces of furniture. You can also find it in some fabric and paper products, insulation, carpeting, coatings, finishes and other household products.
However, formaldehyde off-gassing can cause health problems. According to the American Cancer Society, breathing formaldehyde emissions can cause shortness of breath, chest pain and burning sensation in the eyes, nose and throat. The National Toxicology Program classifies formaldehyde as a "known human carcinogen."
Mobile and manufactured homes (such as those provided after natural disasters) can contain particularly high levels of formaldehyde because they often contain a larger percentage of pressed wood materials, but many homes have some exposure to formaldehyde through their building materials and decorative items. Circulating air through your home through regular indoor ventilation helps, but opening windows can be even more effective, especially for the few days after an addition to your home, such as new furniture.
What can you do to avoid overexposure to formaldehyde in your home? You can take steps to reduce your exposure by avoiding pressed-wood products, unless you determine they have low formaldehyde content; safely sealing cabinets or furniture; washing new sheets and clothes before use; opening windows when painting or using certain kinds of cleaners or nail polish; and refraining from smoking.
Look for products labeled "ultra-low emitting formaldehyde" (ULEF) or "no added formaldehyde" (NAF). A more common label you will find while shopping is "no-VOC"/"low-VOC." Volatile organic compounds (VOCs) are present in several household substances, and formaldehyde is one of the most common.
The key to creating a truly resilient and sustainable stormwater management plan for your home landscape is to understand your site. Look at how water works in your landscape and how it fits into the big picture. Identify existing issues and opportunities for improvement, and respond to your site's stormwater needs in a way that's best for your climate. Here's how to get started.
Photo: Cultivart Landscape Design; original photo on Houzz.
See the big picture
It's helpful to look at your landscape as a whole when analyzing how water moves through it. Watch your yard during a heavy rain and take notes on where and how water moves and puddles. How do different surfaces and areas of the garden interact? Seeing your landscape during a rainstorm will help you think about the bigger picture for its stormwater design.
In the yard here, water from the roof runs through the downspout to a rock swale that carries it through the garden. The decking and planted areas harmonize beautifully with the rock swale as it flows through the space.
Photo: Root Design Company.com; original photo on Houzz.
Know your climate. Know your region's annual rainfall and when it usually occurs during the year—when is there too much or too little water, and how does that relate to your garden? For example, arid climates frequently have extended periods of drought but can also have heavy rainstorms during concentrated periods of time. Water storage and harvesting are great ways to respond to this condition. Other climates, like the Pacific Northwest, receive regular rain over the course of the year, and residents must create strategies for moving and infiltrating water from rain showers year-round. Understanding your climate's rain will help you plan your stormwater management strategies.
Photo: Lisa Wilcox Deyo Landscape Architecture; original photo on Houzz.
Know your soil. Soil has the amazing capacity to cleanse water as the water filters through it. This is one of the primary reasons infiltration techniques are so important. Allowing dirty runoff from a driveway to percolate through the soil can clean the water before returning it to the groundwater.
However, your soil needs to be able to effectively absorb stormwater to clean it. If water already can easily infiltrate your soil, you'll have less work to do, because you can tap into your soil's inherent properties to manage runoff. If you have poor infiltration due to soil compaction or a high clay content, you'll have to do more work to manage water effectively.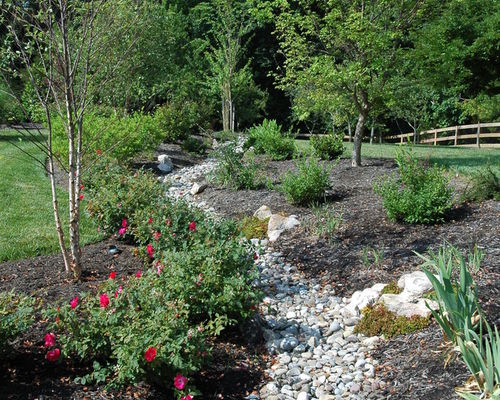 Photo: H&G Landscape Architects; original photo on Houzz.
Identify issues and opportunities
Most homeowners don't know they have a water problem until their basement floods or a drought kills all of their garden plants. Before this happens, walk through your site and look for clues about how the water is behaving.
Here is a list of questions to ask to help you identify challenges and opportunities for improved stormwater management in your landscape.
Which surfaces are contributing to runoff? Calculate the square footage of the roof, driveway, patio, walkways and other nonpermeable surfaces. See runoff as an opportunity for integrating water movement into your landscape design. Swales and rain gardens can be beautiful features.
Where is water pooling or sitting for prolonged periods of time? It's normal for water to pool in spots during a heavy rain, but it should drain away within 24 hours or less. Depending on the situation, areas with pooling water are an opportunity for regrading. Grading reshapes the ground to manage water and help tie together areas of the garden.
Where are soils eroding? Soil erosion is a major concern and will only accelerate over time if it is not stopped. Even minor erosion will get worse with time. Areas with soil erosion are great places to plant ground covers and vines that stabilize soil.
Are there drought-prone areas? Check your plants on a warm, sunny afternoon for drooping leaves or sunburned foliage. Does the plant look wilted? Are the leaves being burned from sun exposure? These are signs that your current plants are drying out and will require too much irrigation to survive. The opportunity here is to plant species that need hot, full sun to flower. Depending on your climate, they could be succulents or native perennials.
Photo: Christopher Megowan Design; original photo on Houzz.
Respond in the way that's best for your landscape
Store, slow, spread and sink runoff. Storing water is a great way to reduce irrigation demand and intercept runoff. In the space here, a roof downspout directs roof water to a rain barrel for storage.
Slowing down and spreading runoff with swales and rain gardens helps to prevent flash flooding downstream. Green roofs and permeable paving are other great methods for intercepting stormwater at the source.
Allowing water to infiltrate the soil—also called sinking the water—whenever possible is the best thing you can do for your landscape and the environment.
Move and infiltrate pooling water. Water that pools or ponds for more than 24 hours after a storm can be a sign of poor soil infiltration and/or too much runoff with nowhere to go. If your soil cannot efficiently absorb the stormwater where it pools, you can move the water to a point in the landscape with a rock swale, runnel or rain chain where the soil can absorb it. If your soil cannot effectively manage water on its own, or if you don't have space to carve a swale through the landscape, you can also combine subdrainage with swales and stormwater planters to effectively manage water.
Photo: Feldman Architecture Inc; original photo on Houzz.
Stop soil erosion. You have a soil erosion problem if you find washed-out areas of barren soil or see that soil has been swept away from foundations or tree roots. It means water is coursing through that part of your landscape too quickly, which is evidenced by rivulets and cuts in the soil from fast-moving water.
There are many solutions to this issue. Any of the sustainable stormwater techniques mentioned here can reduce the overall quantity and speed of water on the site. Additionally, look at how water meets the ground from your roof downspouts and be sure to slow, spread and sink the runoff at those points. Additionally, be sure to implement erosion control methods on steep slopes and areas with erosion-prone soils.
Use drought-tolerant plants for dry areas. There are hot, sunny microclimates in the home landscape that can dry out significantly, even in climates with plenty of rain. Instead of wasting potable water on keeping those plants' roots moist, use drought-tolerant native plants or other suitable drought-tolerant plants. Plants that thrive in hot sun will handle drought conditions and require far less irrigation than water-hungry alternatives.
Plant shade trees as another strategy for cooling down overexposed areas. Trees benefit the home landscape by reducing the overall ambient temperatures in a city. With cities being warmer than nonurban areas—called the urban heat island effect—trees can play an important role in regulating temperatures around the home. Increased shade from trees also helps the garden retain moisture, which means less irrigation in the long run.
Related articles