Green your neighborhood through a community garden
If you have a backyard garden, you know how great it can be to have access to fresh fruits, vegetables and herbs that you've grown yourself. But if you live in an urban environment, you may not have that much individual space. Did you know that community gardens—also known as urban farms—are popping up more and more in today's cities?
Benefits of such a garden include providing healthy, fresh food options in low-income areas, teaching environmental stewardship to youth and creating a sense of community among neighbors as they work together to make the garden grow. In addition, gardens can help reduce the heat-island effect and rainwater runoff; attract butterflies, bees and birds to the area; and recycle organic materials through composting.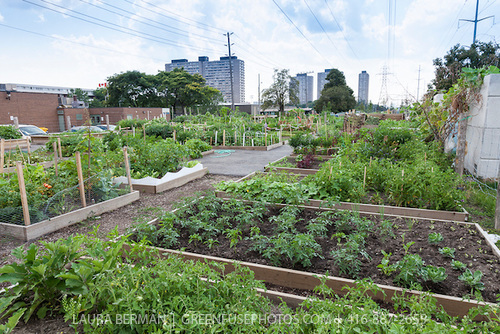 Different kinds of gardens work for different neighborhoods. You might organize plot gardens where each family is responsible for a different segment. On the other end, a cooperative or communal garden is one large space managed by all participants. Whatever kind you choose, you'll need to select a site, determine who will be involved and create a gardening work schedule.
Encourage kids to get involved. Meeting neighbor families, working on a long-term project and learning about the intersection between cities and nature in a tangible way can be both educational and rewarding for them. It's also a great family activity!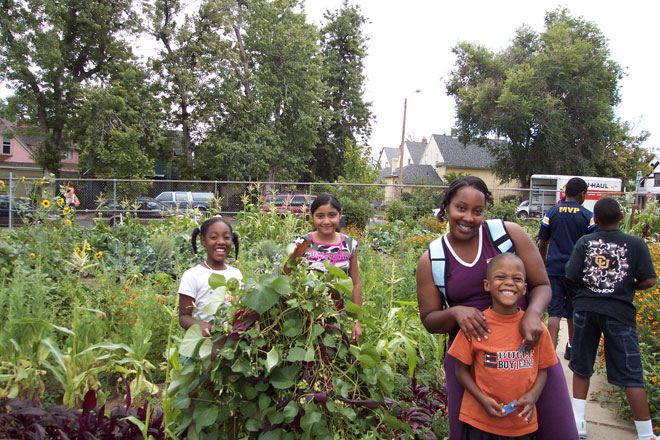 A few youngsters enjoy the scene while helping out at a community garden in Denver. Used with permission by Colorado Arts & Sciences Magazine. Photo credit: Denver Urban Gardens Staff, 2005.
Resources: