On Fridays, USGBC shares green home-related content curated from around the web. If you see a great article on aspects of environmentally friendly home living such as green building, renovation, energy use or cleaning, please send it our way.
When you build a greenhouse on your property, you can take advantage of sunlight to grow your own vegetables year-round. Read "6 Tips for Building a Sustainable Greenhouse" from JackandPatty.com to learn how to choose the right spot for maximum solar energy and adequate ventilation and drainage.

It turns out you don't have to use plastic containers or bags to freeze food. Try Treehugger's tips for alternative materials you can use to store food in the freezer: glass, metal, paper—even nothing at all!

Energy Star's #RuleYourAttic campaign wants to make consumers think about how they can maximize attic insulation for energy efficiency. Check out their tools and ensure you'll be snug for the winter.
With a larger percentage of home buyers being made up of millennials than ever before, high-tech and green homes seem to be on everyone's list these days. "Smart" home features frequently pair well with eco-friendly and green building designs, because many smart features offer you greater control over areas of your home that consume energy.
Take a look at some of the hottest smart and green building features available today. Here are eight of the latest features:
Programmable thermostats
Your thermostat controls the temperature of your home, telling your HVAC system when to go on and off. Older thermostats needed to be manually adjusted, however, so if you forgot to turn down the heat before you left for work, you lost both energy and money while you weren't there.
Newer, programmable thermostats change all that. Now you can set the temperature ahead of time for the times when you aren't home. And if your schedule changes suddenly, newer models even let you adjust the temperature from your smartphone, making it possible to lower or raise the settings from your desk at work. This can save you a lot of money on energy bills each month while ensuring that your home is more comfortable.
Smart light bulbs
How often have you left a room, only to realize that you forgot to turn off the lights? Or maybe you want to adjust the lighting in the room you're sitting in as the daylight wanes. With smart light bulbs, which are controlled from an app on your smartphone, you can get better control over your light usage. Turn off lights in rooms that people have vacated to save money and electricity, or dim the lights to change the mood without needing to get up.
Some smart light bulbs can also be set up with motion detectors so that when people leave the room unattended for a period of time, the lights automatically shut off.
Solar-reflective roofing shingles
Your roof plays a major role in how comfortable your home is year-round. Not only does it protect you from the elements, but your roof could be transferring heat into your home as well. When the sun beats down on your roof, dark-colored, traditional shingles heat up. This heat is then transferred down into your attic, which becomes super-heated in turn. Eventually, the heat makes it down into your living area, raising your energy bills. At the same time, the UV rays from the sun could also be causing your roof to deteriorate more quickly.
Solar-reflective roofing shingles prevent both of these things from happening. Instead of absorbing the heat and UV rays from the sun, they reflect them. This keeps your roof cooler, making your attic and the rest of your home cooler as well. Solar-reflective shingles may also help prevent UV-related deterioration of the shingles over time.
Bamboo lumber
Considering the amount of lumber that goes into building a home, and the way that most traditional lumber sources are produced and treated, it's difficult to find a truly green home made in customary ways. This is what makes bamboo lumber so appealing for homeowners wanting to build a truly sustainable, eco-friendly home. Bamboo is a very fast-growing grass that can be planted and harvested in a fraction of the time that trees can. Made into structural supports, decorative interior lumber, flooring and even furnishings, bamboo is sustainable and produces long-lasting, durable homes.
Monitoring systems
One of the most attractive ideas in the smart home industry is the monitoring system and the ways it can improve your home's efficiency, energy usage and security. There are many different types of monitoring systems out there. Some use sensors to determine where you are in the home at that moment, and adjust lighting, temperature and other areas to suit.
Other monitoring systems allow you to get a peek into your home even when you're away. With an in-depth monitoring system, you can
Unlock your door to let your kids in.
Check in on security cameras.
Adjust the thermostat.
Turn lights on and off.
Set and receive reminders from appliances, such as retrieving your grocery list right from your refrigerator.
Monitoring systems make your life easier, and they also allow you to save energy by helping you use light and heat only when you're home, shutting off automatically when you're not.
Get a smarter, greener home
Both smart home technology and green building design are on the top of many homeowners' must-have lists these days. As companies strive to make improvements in both fields, the options keep getting better and better. Check out the latest in smart and green home technologies to build a better home for yourself and for the environment.
This article was originally published on Houzz on July 6, 2016, as "Living Roofs Put Down Roots," and is presented here with permission. Read the original article.
By now, we know that the first step to a sustainable home is insulation that maintains the interior at a comfortable temperature, no matter how hot or cold it gets outside. The next step on the journey is water management—collecting rainwater to supply toilets, washing machines or the garden. But equally important is minimizing water runoff (from concrete, roofing and paving) into increasingly overburdened stormwater systems. A green roof—with plants growing in an insulating substrate atop the roof of a building—helps solve both problems: insulating the house while absorbing water. It's cooling, too, since it doesn't have a surface that reflects the sun's rays.
Up until now, it's been a fringe option, expensive and complicated. But with more and more suppliers bringing what they've learned in commercial applications into residential projects, it is becoming more accessible. Start with these inspiring projects from around the world.
Living Roofs 1: Schulze Poursoltan Architects, original photo on Houzz.
Living roofs on commercial buildings are often intensive and expensive. With full-size trees, room for paving and seating, and deep soil (sometimes up to 5 feet), these create a heavy load and require expensive engineering for support.
But for houses, what are known as extensive green roofs generally need a substrate of only three-quarters of an inch to 6 inches, and are cheaper to install, because they don't need as much engineering support. (Consult local building codes for requirements.)
This beach house near Auckland, New Zealand, shows the most common planting: hardy grasses that can survive in a shallow substrate with very little maintenance or irrigation.
Living Roofs 2: Contemporary Exterior, original photo on Houzz.
Because green roofs can weigh more than 30 pounds per square foot for about 4 inches of substrate when planted and wet, the roof supports and walls must be designed by an engineer. You also need to think about drainage, as you don't want soil runoff to clog drains and pipes and flood the roof. Designers recommend having a foot-wide band of stones or pavers around the edge of a green roof. Vents ensure that condensation does not build up in the ceilings below the roof.
For this Australian project, the designers at Objects also had to ensure that the substrate would not slide down the sloping roof. They used a compact, well-rooted turf.
Gardens may take time to establish, and bald patches may need replanting, as growth will be uneven on parts of the roof that don't get sun or rain.
In New Zealand, there are two main systems for roofs. One uses an applied substrate such as Nuralite, a waterproof membrane similar to that used on flat roofs under decking or tiles. It requires an appropriate foundation substrate (usually concrete or engineered plywood), and skilled workmanship by licensed installers, so there is no risk of the roof's leaking and failing.
Polythene, foam insulation and a drainage layer (a cupped product called Plazadeck to catch water, and a geo textile to prevent soil clogging) are applied before the special soil-growing medium and plants are installed.
Alternatively, New Zealand company Stormwater360 has pioneered LiveRoof, a pre-vegetated, modular, hybrid green roof system. The plant modules are pre-grown so the green roof is already established, and there aren't the usual maintenance costs to tend the baby plants and address soil issues until the roof matures.
Mike Titchener of Stormwater360 says the right mix of low organic and high inorganic planting mediums, and at least three months of intensive care before the roof is installed, mean there will be no weeds and no dying plants in the hot, wet and dry microclimates on the roof.
The company has numerous New Zealand native and sedum planting options. A showpiece for the technology is the Tuhoe Living Building project, for which the modular roof ensures that clean water enters the stormwater system (and there is up to 80 percent less runoff).
Living Roofs 3: Code Green Pty Ltd, original photo on Houzz.
Green roofs are not just for rural settings. The roof of the international award-winning Forest Lodge Eco House by Code Green is in the heart of Sydney. The green roof was installed on top of structural steel crossbeams and a concrete roof, braced against the neighboring historic buildings. Plants were tested off-site to ensure they needed no human support to survive. There is also a 26-foot-high vertical garden. Both gardens are fed by underground water storage tanks.
Living Roofs 4: Meditch Murphey Architects, original photo on Houzz.
In a tight urban site in Maryland, the architects at Meditch Murphy Architects wanted to bring the outside indoors, and the owners wanted to be able to use the roof as living space, nestled into a canopy of mature trees.
The architects engineered the roof to carry planters large enough to support 50-foot-high trees and soil deep enough to grow a vegetable garden. The roof also has solar panels and insulates the house.
Living Roofs 5: Studio Schicketanz, original photo on Houzz.
In coastal California, Studio Schicketanz used a green roof to conceal this home from neighbors above it. The building shelf was cut into the grassland, and the uphill land was extended as a green roof over the underground parts. The gently curved roof is the living room. The system is supported by a 15,000-gallon underground water tank.
Living Roofs 6: Kassow Arkitekter, original photo on Houzz.
And in Denmark, possibly the ultimate green roof can be seen on this summer cottage by Kassow Arkitekter. Roofs planted with the same tussock as the surrounding paddocks blend the house beautifully into its landscape.
Related articles
Actor and environmentalist Ed Begley, Jr. is determined to build his house to LEED Platinum standards. The video series "On Begley Street" takes a droll and informative look at the journey he and his wife, Rachelle Carson-Begley, along with their 12-year-old daughter Hayden, are undertaking in building their ideal sustainable home.
With an eye to the balance between comfort and environmental responsibility, the lighthearted episodes share the Begley family's successes and mistakes, as well as tips for others who want to build a green home. Follow along with their quest to "build the greenest home in America."
On Fridays, USGBC shares green home-related content curated from around the web. If you see a great article on aspects of environmentally friendly home living such as green building, renovation, energy use or cleaning, please send it our way.
If you're into DIY, check out this how-to video and list of steps involved in caulking your doors and windows, courtesy of Green Living Ideas. Seal those leaks ahead of the cold weather and save on energy costs.

Wondering how you can celebrate Thanksgiving in a greener way? The Nature Conservancy has some tips on how to go local and reduce food waste, as well as offset carbon emissions from long-distance travel to see family and friends.

Top 5 Green Insulation Options, from How Stuff Works, talks about sustainable insulation options for your home that you may not have considered before—from original sources as unexpected as sheep's wool, scrap denim and castor oil.
This article was originally published on Houzz on Sept. 10, 2014, as "Insulation Basics: Designing for Temperature Extremes in Any Season," and is presented here with permission. Read the original article.
When it comes to insulation, more is more. The more insulation you've got, the more efficient your house will be—not just in winter but all year. This year's summer in the Northern Hemisphere was a bit tricky to characterize. Thanks to a return appearance of the polar vortex, lower latitudes in North America reached chilly temperatures in the 50s (Fahrenheit), while Canada was left to endure scorching heat over 100 degrees. In Europe it was similar, with Baltic and Scandinavian countries receiving a blast of heat in July while the wineries in Italy complained of not enough sun to ripen the grapes.
In times of uncertainty, it's best to plan for all occasions. With extreme temperature swings becoming the new normal, the safest design response is a house that can handle whatever the weather has to offer. The best way to do that is by insulating as much as possible. Because when it comes to protecting your house, there's no such thing as too much insulation. That being said, there is such a thing as too much money! And insulation can be costly. So how can you balance costs and enough insulation to meet both winter and summer needs? Here's what to know.
Photo credit: BarlisWedlick Architects; original photo on Houzz.
The owners of many homes insulated for cold climates have had chances in recent years to see how well their insulation layers perform in extreme heat as well. Many homeowners in the north may have noticed this summer that their home lacks enough shading and heats up fairly quickly during the day. Then it holds that heat through the summer night, when it may have already cooled off outside.
This is why choosing insulation that also performs well in summer may be a good idea.
Not all insulation is created equal. Thermal capacity is the amount of energy needed to change a material's temperature. Insulation materials with a low thermal capacity allow heat to transfer through them faster than materials with a high thermal capacity. (This is a different measurement from the often-cited R-value or U-value of an insulation material.) Thermal capacity is a characteristic of insulation that is not usually discussed in the home building sector with the client, and your architect or contractor might not mention it to you.
Photo credit: In Situ Architecture; original photo on Houzz.
The less insulation you have, the more it matters what kind of material it is. This is similar to the idea that the less money you have in your project budget, the more you want it to really count. If you're going to have only a thin layer of insulation, for reasons we'll set aside for the moment, then it could be valuable for you to consider materials with a high heat capacity. In this way, not only will you be protecting against winter cold, but you'll also be using a material that will help you a bit more in the summer.
On the other hand, if you've got a thick enough layer (more than 10 inches, or 25 centimeters) of almost any kind of insulation, it matters less what kind it is. Winter or summer, it will take a while for heat to move through it.
A Passive House, for example, can be insulated with anything from polystyrene to sheep's wool and it will still perform relatively well in winter and summer, simply because the standard requires an insulation layer so thick that the heat takes a long time to get through it, no matter what material it is made from. This would probably be similar in a LEED-certified home with a high energy and atmosphere rating, or a home specified to any similarly high level of energy performance.
Photo credit: In Situ Architecture; original photo on Houzz.
The average house on the market, however, does not meet the passive or LEED energy-efficiency objectives with superthick layers of insulation, but instead has much thinner layers acting as a barrier for the transfer of heat and relies on traditional heating and cooling to meet comfort needs. In these situations (which are the majority), it can be useful to know the type of material used for the insulation layer, because it can have a fairly noticeable impact on comfort in summer.
So what kinds of insulation materials perform well in summer? Those with high thermal capacity. In other words, natural materials. At least for the time being, there is no synthetic material on the market that has the high thermal capacity of natural materials like wood fiber, cellulose and cork. This is because historically, insulation products have been developed for cold climates, where until recently homeowners have not had to worry much about summer heat waves.
The high cost of natural materials, however, makes them trickier to specify for the average home, and a traditional cost-benefit analysis may not accurately reflect the payoff.
Photo credit: Mariana Pickering (Emu Building Science); original photo on Houzz.
Strategies to use in combination with insulation
The subject of thermal performance, and insulation in particular, is pretty complicated, and there are many variables that are easy to overlook.
But if you decide to invest in a higher-cost natural insulation for the benefit of higher thermal capacity, then it would be a mistake to overlook some other basic characteristics of building envelope design that can help your house stay comfortable in summer.
A ventilation layer may be beneficial, for example, either as part of the facade or in the roof, to allow the external air to flow through and carry away the heat. Again, the value of this detail will be felt even more in homes with low to medium levels of insulation. Employing a ventilation layer, as well as reflective components (often called "radiant barriers"), can help counter a lack of sufficient insulation and can be quite effective when used in combination.
It's also important to remember the importance of the roof. Heat radiation from the sun affects this horizontally sloping surface most, especially the closer you are to the equator. The hotter the climate, the more priority should be placed on insulating the roof.
Photo credit: Kipnis Architecture + Planning; original photo on Houzz.
Shade, shade and more shade! Lastly, it's essential to remember that none of this matters at all unless you shade from the summer sun. You might as well throw money out the window—or use $100 bills as insulation—if you don't have proper shading devices that block heat from reaching your glazing, the weakest point in your building envelope. In the Northern Hemisphere, the west, south and east facades (usually in that order) should take priority when you're adding shading.
The ultimate goal is to maintain a comfortable temperature at a reasonable cost, allowing your house to gain some immunity against sudden swings in the weather's mood that would otherwise present you with unexpected energy bills.
Related articles
In recent years, Atlanta's Old Fourth Ward District—perhaps best known as the birthplace of Martin Luther King, Jr.—has experienced a revival in redevelopment and business, where abandoned warehouses have been flipped into lofts, old railroad corridors transformed into parks and trails and small shops have seen an uptick in customers.
That bustling spirit and historic quality caught the eye of AMLI Residential, a 2015 LEED Homes Power Builder. Old Fourth Ward is now home to LEED Platinum Ponce Park, a 305-unit apartment complex that's both energy- and water-efficient.
"For us, the Old Fourth Ward was a unique combination of drivers," AMLI senior VP Fred Schreiber told Curbed Atlanta in 2013. "A) a real identity as a neighborhood with an organized and passionate group of neighborhood leaders and a great mix of stakeholders, b) a world-class public green space in the Historic Old Fourth Park and the Beltline...and c) a transformative redevelopment of the old Sears building."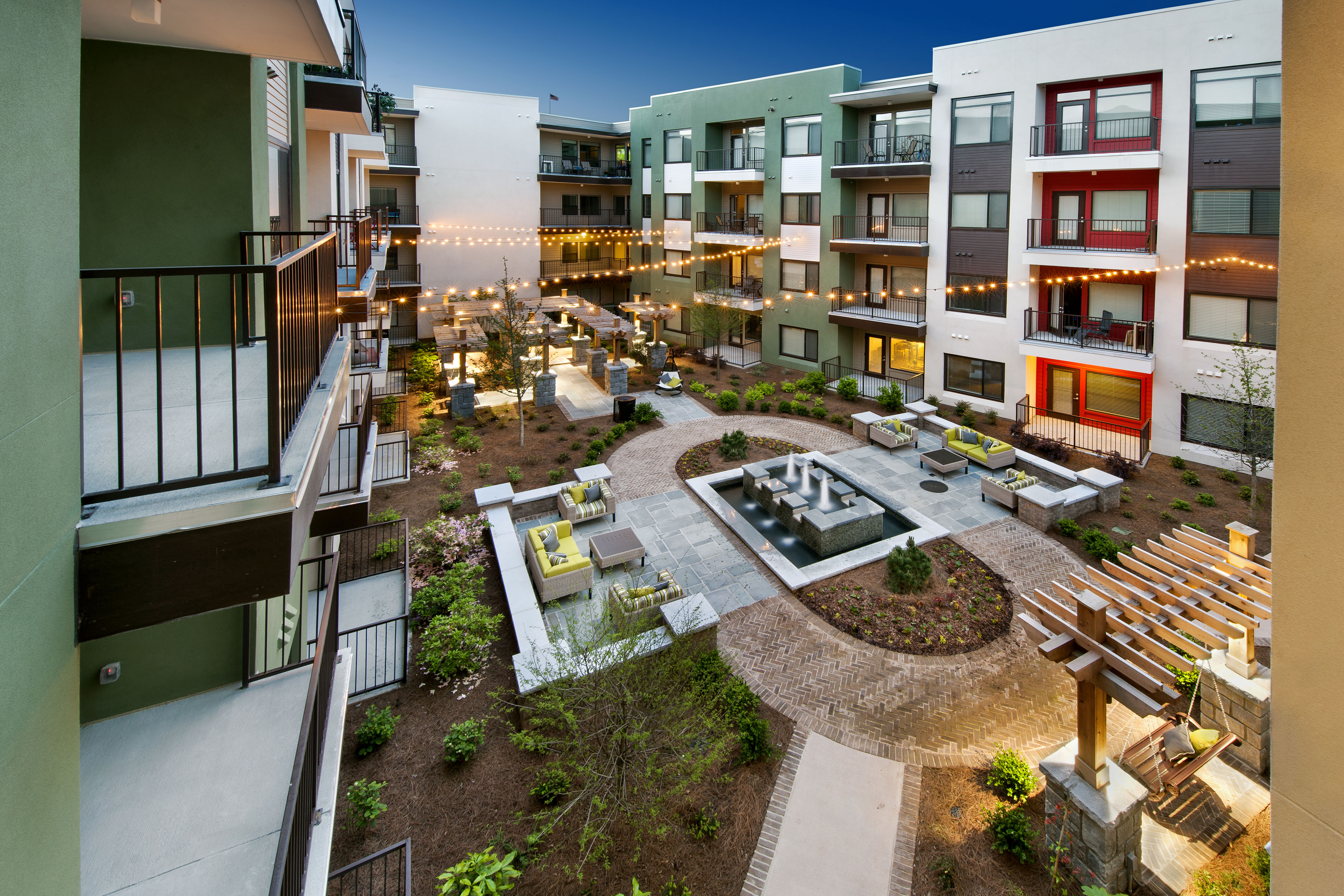 All photos credit Richard Lubrant.
The smoke-free apartments, also Energy Star-certified, use nearly 30 percent less energy and more than 20 percent less water than a conventional apartment. They use building materials that make indoor air fresher and have WaterSense plumbing fixtures, Energy Star-rated appliances and LED lighting. AMLI Ponce Park also has a bicycle repair shop and electric car charging stations.
AMLI's efforts go beyond design and construction. It encourages residents to participate in a green lifestyle by providing assistance with programmable thermostats and recycling education. On average, the community's recycling rate is over 50 percent.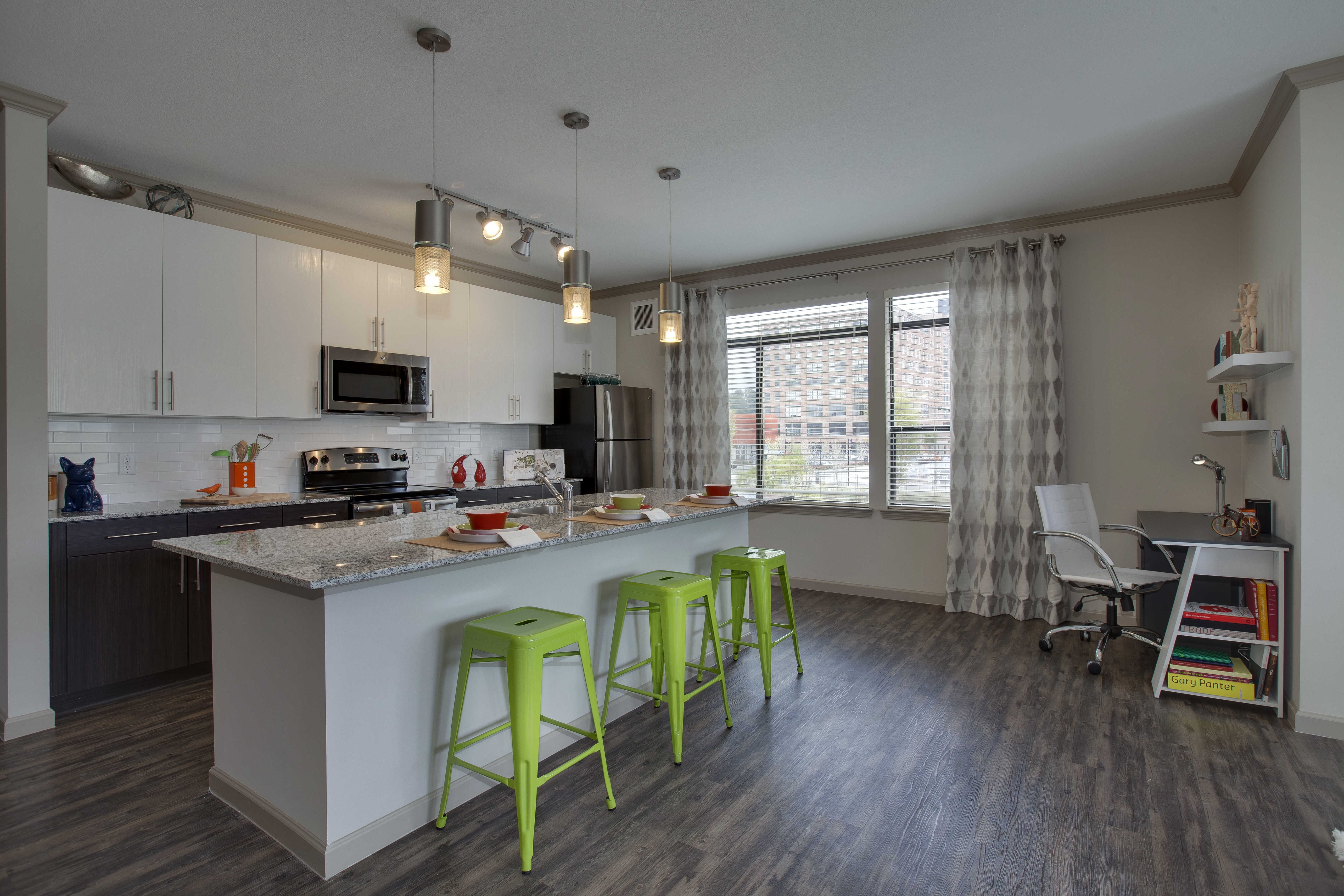 On Fridays, USGBC shares green home-related content curated from around the web. If you see a great article on aspects of environmentally friendly home living such as green building, renovation, energy use or cleaning, please send it our way.
Instead of learning about green buildings in a textbook, students at The Taft School in Watertown, Connecticut, can witness sustainability in real time, thanks to the school's faculty residence, the winner of the 2015 LEED® Homes Outstanding Single-Family Project.
Taft's colonial, two-story Hillman House has all of the green hallmarks of a high-performance building, including EPA WaterSense-rated fixtures, LED interior and exterior lights and Energy Star-rated architectural shingles.
The building is the first in the state to achieve LEED Platinum under LEED for Building Design and Construction for Homes using LEED v4, providing an excellent case study for sustainable buildings for Taft students.
Monitoring systems wired in the house transmit data back to a classroom, where students can analyze energy use and learn about the impact of passive homes. The home also has a vegetable garden, chickens and a rain garden as part of a comprehensive eco-site.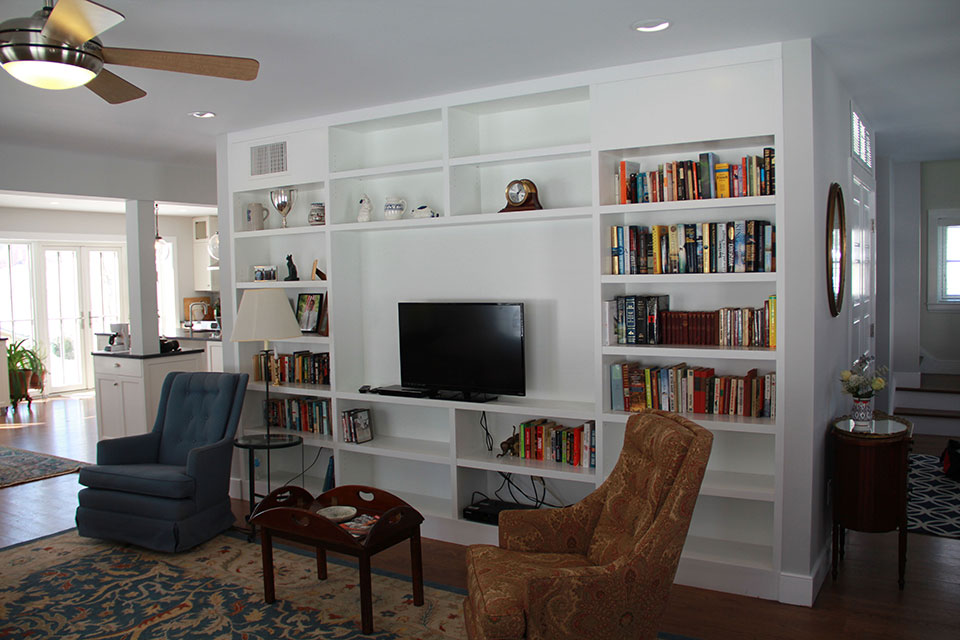 The residence at Taft School—a private, co-ed prep school founded more than a century ago by former U.S. President William Taft's brother—was designed by Trillium Architects and constructed by BPC Green Builders. Steven Winter Associates provided certification support.
The home also was the U.S. Department of Energy's 2015 Housing Innovation Award Grand Prize winner in the Custom Category. It also was one of the first in Connecticut to be certified as a Passive House by the Passive House Institute U.S.
For the past decade in a small town in eastern New York, a building once dubbed "the oldest ladder manufacturing facility in America" stood empty.
With its high-beamed ceilings, thick wooden columns, proximity to a major interstate and easy access to bike and walking trails, developers thought the Tilley Ladder Warehouse had all the character and ingredients for a potential, green residential community.
But the structure, built in the 1890s, was certainly in need of an update.
Several entities hopped on board to transform the 80,000-square-foot historic building in Watervliet, New York, into 62 loft-style apartments, including Harris A. Sanders, Architects, P.C.; Kirchhoff-Consigli Construction; Redburn Development Companies, LLC; and Sustainable Comfort, Inc.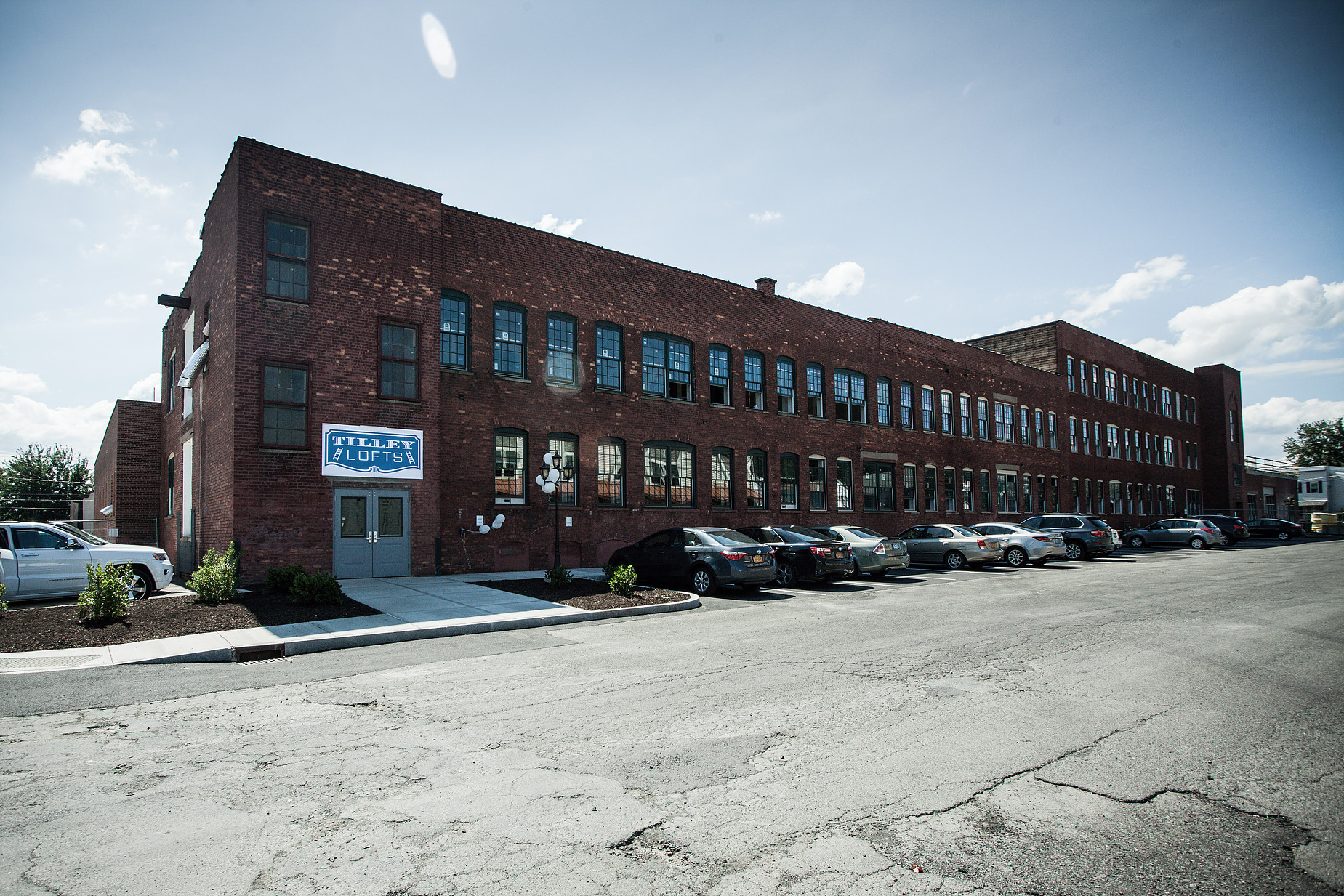 Photo credit: tilleylofts.com
Their efforts paid off—the Tilley Lofts project, certified LEED Platinum last year, earned the 2015 LEED Homes Award for Outstanding Multifamily Project. The project also was rated as an Energy Smart building by the New York State Energy Research and Development Authority and received various incentives and tax credits for energy efficiency and historic preservation.
Among the loft's green perks are ground source heat pumps, combined heat and power (CHP) that generates electricity and hot water, high-performance spray foam insulation, LED and smart lights, smart thermostats and condensing washer/dryers.
Photo credit: tilleylofts.com
What does that translate to? Big energy savings, says owner John Blackburn. "We're actually generating electricity at the same efficiency percentages as a large natural gas-powered generating facility," Blackburn said.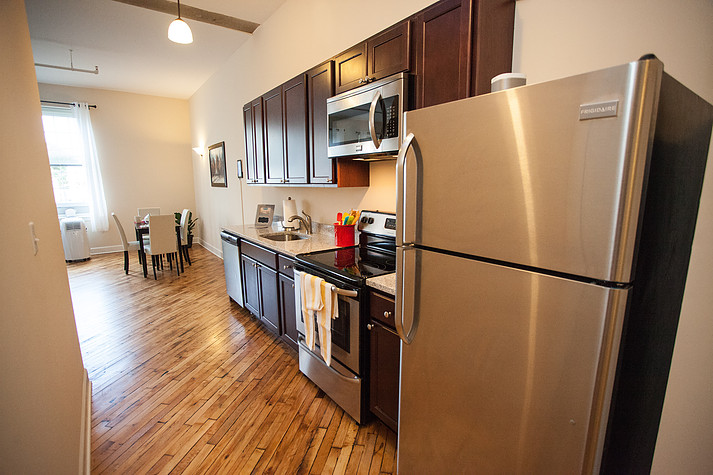 Photo credit: tilleylofts.com