On Fridays, USGBC shares green home-related content curated from around the web. If you see a great article on aspects of environmentally friendly home living such as green building, renovation, energy use or cleaning, please send it our way.
In "Getting Down to Zero," Your Home Source counts down seven ways, from a south-oriented site to smart appliances, to build or retrofit a home to net zero energy standards.

Reducing food waste does as much for the world as it does for your monthly budget. Read these tips from the U.S. EPA on "Reducing Wasted Food at Home," including menu planning, storage and portion sizes.

Speaking of reducing waste, water consumption is an area that can easily get away from a homeowner. Check out 10 ideas for conserving water in your home from the Eartheasy blog.
This article was originally published on Houzz on Aug. 15, 2013, as "Championing the Solar House, From the 1930s to Today," and is presented here with permission. Read the original article.
According to author and educator Anthony Denzer, a solar house—one that deliberately uses the energy of the sun for heating spaces—is often thought of as a product of the 1970s: "An eccentrically shaped structure with oversized sloped glass walls and diagonal cedar siding...an earth berm...a Volkswagen van nearby."
He admits that this image isn't completely false, since many architects tackled house designs in that period that would minimize the use of fossil fuels, spurred by the oil and economic crises. But it's an incomplete picture.
Denzer's The Solar House (Rizzoli, 2013) corrects this oversight by tracing the development of solar houses from the 1930s to today. It's a narrow topic, but the book is a fascinating, accessible read. Denzer has crafted a narrative of the architects and engineers who devoted much of their lives to searching for houses that would use less energy, as societal and political currents ebbed and flowed with and against them.
A general story of solar houses could be painted as the conflicting attitudes of two fields: the architects' aesthetic and interest in passive heating versus the engineers' technological and active (mechanistic) focus. This is an area that Denzer spends some time on, and it is an especially important one, considering that we have not reached a reconciliation that might enable more widespread appreciation of solar houses. This is not to say the story is about a duel of two groups. But it is indicative of wider strands in American society—particularly concerns of how things look and how things perform.
The Solar House, original photo on Houzz.
Denzer starts the book with Fred Keck, described as the first solar architect. Keck worked with his brother William in the firm Keck + Keck, designing a number of residences in and around Chicago. Many of them focused on the development of the solar house as a unique type. The characteristics they share are linear east-west plans with large, south-facing windows and roof overhangs to block the high summer sun.
Howard Sloan commissioned Fred to design a prototype solar house in the North Shore Chicago suburb of Glenview in 1940. Sloan opened the house to the public, charging a dime admission to more than 5,000 visitors in four months. He hoped that the comfortable interior on cold winter days would persuade people of the merits of solar houses.
The Solar House, original photo on Houzz.
Keck would continue to work for Sloan, incorporating new materials and technologies (triple-pane glazing to reduce heat loss from inside to outside at night, radiant heating, etc.) in a 24-house subdivision they called Solar Park. Keck had also developed operable and insulated louvers that were often below the south-facing glass; these assemblies allowed for ventilation during the day while helping to maintain the interior temperature at night when closed.
Pictured is the Duncan House in another Chicago suburb, Flossmoor. It included the same elements (linear plan, south-facing windows, roof overhangs) but also exterior "wing walls" with adjustable vertical louvers for cutting down on the late-afternoon sun in the months when overheating of the interior occurred.
The Keck brothers weren't really known for the solar houses they developed in the 1940s (they were omitted from Sigfried Giedion's influential Space, Time and Architecture even though he toured their houses). Instead it was a couple of houses Fred Keck designed for the 1933 Century of Progress fair in Chicago, both glass houses rather than solar. The House of Tomorrow and Crystal House both featured all-glass exterior walls with blinds and curtains, respectively, for shading.
The houses were extremely popular, but their intent and appeal were formal rather than functional; they pointed to an alternative future through the use of glass. But Keck did realize the benefits of solar heating, which led him to develop houses in the next decade with more selective glazing. With so much single-pane glass, the House of Tomorrow would overheat during the day and lose heat at night, something that did not discourage Mies van der Rohe and Philip Johnson from creating inefficient glass houses almost 20 years later.
The solar houses that pepper Denzer's book therefore resemble the 1970s stereotype, rather than glass houses, but they are the 1970s typology in the making. There is a Frank Lloyd Wright "hemicycle" house, a similar but inverted curved house by the Keck brothers, amid work by less-known architects who created houses within academic institutions or for companies that would benefit from the implementation of solar houses. In the latter vein, Libby-Owens-Ford commissioned notable architects to design solar houses for each of the 48 states at the time; in the end only a book of the designs was produced, not the actual houses, but the initial hopes were high.
Architect Henry Wright's renovation of the Ramirez House in Pennsylvania employs the same principles as the Kecks' pioneering work. But its wood floor did not allow for the sun's energy to be stored and released later, as happens in concrete floors. From discussions of the house came a focus on thermal mass as an important part of solar houses.
The Solar House, original photo on Houzz.
Many schools worked on developing solar house designs, particularly MIT, with its numbered series of house designs starting in 1939. As can be seen here, Solar House I, developed by engineer Hoyt Hottel, focused on technology over architecture.
The south-facing roof was covered in flat-plate collectors, or heat traps, which Denzer defines as "a shallow box, consisting of three glass places separated by airspace, a black-painted copper plate backed by copper tubes of water, and 5 1/2 inches of mineral wool insulation." The sun would heat the plates and therefore the water, actively heating the spaces through mechanical means.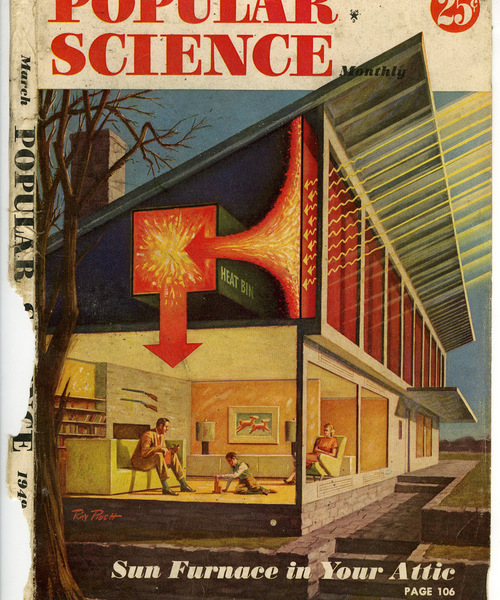 The Solar House, original photo on Houzz.
Maria Telkes, an engineer at MIT who developed an alternative scheme to Hottel's, worked with architect Eleanor Raymond on a house with a similar reliance on technology but one whose form and aesthetics would also benefit the design. The Dover Sun House positioned Telkes' collectors (made with phase-change salt in containers behind glass) above south-facing windows, so the occupants would have views and the sun's heat would be stored to heat the interior via bins above the ceiling.
A testament to the popularity of the Dover Sun House, as well as the desire for houses that would use less energy in the postwar years, can be seen in a cover story of Popular Science in 1949. Unfortunately, the system lasted only two years, due to the sedimentation of the solid and liquid salt and the corrosive effects of the element on the bins.
The efforts on the part of engineers and architects developing solar houses in the years before and after World War II culminated in the 1955 World Symposium on Applied Solar Energy and the 1957 Solar Energy exhibition in Greece. So many solar houses were built after 1955 that, as Denzer says, "documentation would be impossible," but it was not enough to stave off the low cost of energy and the rise of air conditioning in those years.
Nevertheless, Denzer presents some novel projects from these years, such as engineer Masanosuke Yanagimachi's Solar House II in Tokyo. The interior looks like that of a traditional Japanese house, with tatami mats and translucent panels, but it also includes radiant ceiling panelsserved by rooftop heat traps, as in Hottel's MIT prototype.
The Solar House, original photo on Houzz.
Yanagimachi's Solar House II is one of the many projects documented in the book with architectural drawings. This building section illustrates how the systems are tied together, from the rooftop heat sink and radiant ceiling panels to the innovative heat storage water tank in the basement.
The latter was used for both heating and cooling; in the case of cooling, the heat pump made ice at night that was used the next day to cool the water pumped through the house. The concept of off-peak ice storage is now increasingly common in green buildings, even in skyscrapers.
The Solar House, original photo on Houzz.
Denzer calls the late 1970s a "Solar Renaissance," suitable given that even Jimmy Carter mounted solar hot-water panels atop the White House in 1979 (to be removed by Ronald Reagan seven years later). One of the projects from this time period is Saskatchewan Conservation House, which resembles early solar houses in form but departs from them in important ways: It has smaller and fewer windows, it doesn't rely on most of the engineered technologies from the previous decades, and it is superinsulated. The latter attribute is its most lasting, influencing today's Passivhaus principles and Canada's R-2000 program.
The Solar House, original photo on Houzz.
The basic idea of the superinsulated and supertight house is that the heat within the interiors (some of it coming from solar gain) isn't lost to the outside. Fresh air is brought in by an air-to-air heat exchanger, as is the case in the Conservation House. The house performed so well—reaching what would now be referred to as net-zero status—that the solar collectors mounted above the second-floor windows could have been omitted, as they weren't needed for space heating.
The Solar House, original photo on Houzz.
Denzer ends the book with some snapshots of solar houses today. These fall into the superinsulated camp of houses designed to Passivhaus principles, like this 1991 house in Germany by Wolfgang Feist and others, and the biennial Solar Decathlon competitions, in which student teams design and build houses that vie to be the greenest in a number of measured ways. The latter more closely resemble the pioneering work of the Kecks, but the work in the competitions also attempts to synthesize architectural and engineering considerations, arising through multidisciplinary teams and integrated design.
It's clear from Denzer's book that there is more to solar houses than previously understood or imagined. But it's also clear that there is still plenty of work that needs to be done to synthesize the aesthetic and the technological, and to persuade the public that solar houses are viable and desirable.
Rising energy prices may make solar houses more desirable in the years and decades to come, so it's time for architects and engineers to work together on creating solutions that tap into those Denzer so eloquently presents.
Related articles
The living wall, or green wall, is trending in homes and commercial buildings alike. Besides the sheer biophilic joy of resting your eyes on green growing textures in your living room, a living wall can bring concrete benefits for the homeowner. These include better indoor air quality and insulation from sound, heat and cold.
Living walls consist of panels filled with plants—grasses, succulents, ferns, vines or mosses, to name a few. The frames may be fashioned from wood, steel, recycled plastic or other materials, depending on your design preference and budget. Some panels are flat, with plants embedded in foam, while others consist of trays that are large enough to contain soil-filled planters.
Photo courtesy of Planted Design.
You also can build on an external wall of your home. As with regular gardens, outdoor green walls can attract bees and butterflies, which improves the local ecosystem. They also help mitigate the temperature fluctuations that lead to building expansion and contraction.
Options to consider when building a green wall:
Location of the wall. Building indoors? You might want to position the living wall where it will receive natural light. If the plants are not in an area where they can receive direct light, you will need to create a wall with light fixtures to allow for photosynthesis.
Level of maintenance. Some living walls have a built-in watering system to minimize maintenance for the homeowner. Choosing plants that need only infrequent watering also cuts down on this chore. Using non-soil substances, such as clay granules, can deter bugs.
Type of plants. You may choose to go with particular species for aesthetic reasons, but also take into account plants that work well for your light levels and climate. If you like, you can even fill your wall with a vertical vegetable or herb garden.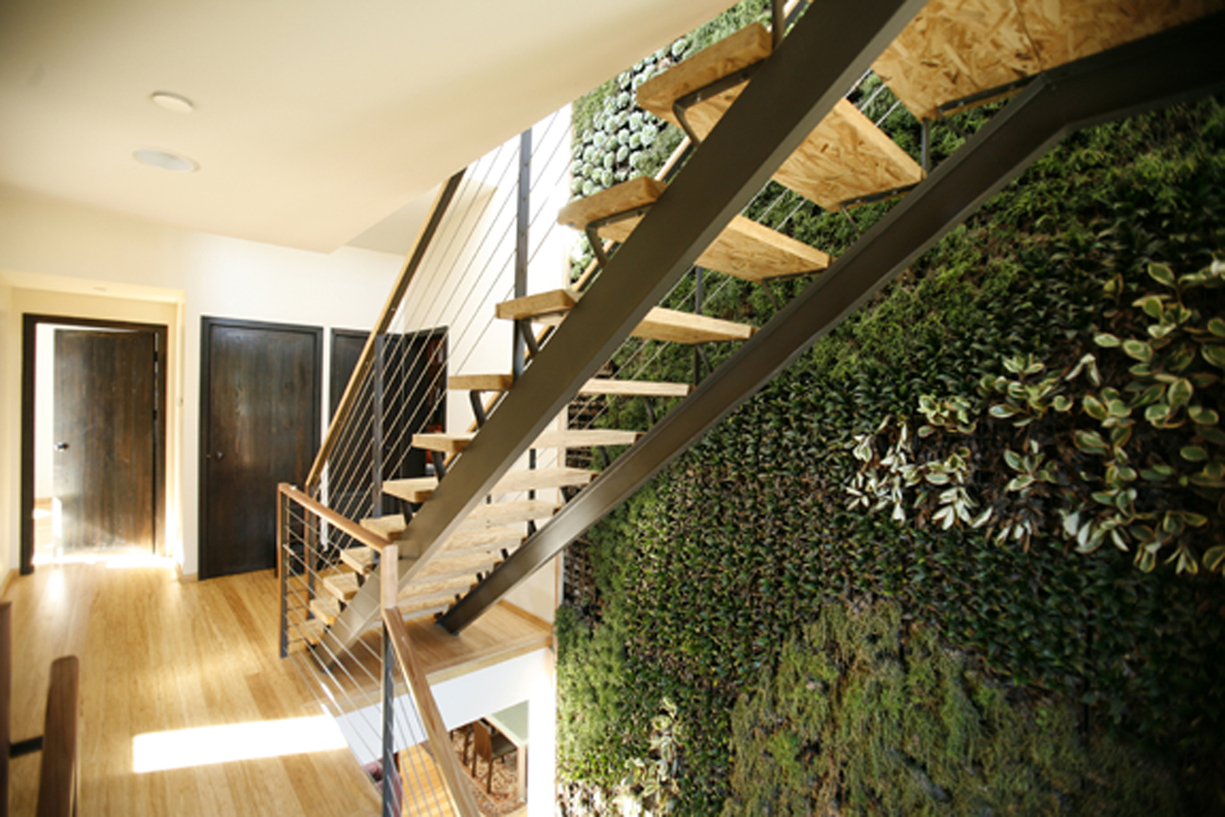 Consulting a professional living wall designer/provider always is an option, or you could do it yourself. To try the look on a smaller scale, upcycle old pallets or picture frames to create fun living art.
On Fridays, USGBC shares green home-related content curated from around the web. If you see a great article on aspects of environmentally friendly home living such as green building, renovation, energy use or cleaning, please send it our way.
On Fridays, USGBC shares green home-related content curated from around the web. If you see a great article on aspects of environmentally friendly home living such as green building, renovation, energy use or cleaning, please send it our way.
As the weather gets colder, you may be wanting to crank up the heat...and wondering if there is a more sustainable way to keep your hosue warm. Take a look at this blog by Joe Borras at The Fix for a breakdown of some greener winter heating options.

Looking for some green gifts this holiday season? Check out Inhabitat's list of eco-friendly stocking stuffers for some inspiration, from cute bicycle bells to reusable coffee filters.

For World Soil Day this past week, the Institute for Local Self-Reliance released several infographics about composting. You may do your own home composting, but #DYK that using it in overall green infrastructure can create more jobs than the incineration and landfill cycle?
This article was originally published on Houzz on Feb. 25, 2013, as "Easy Green: 23 Ways to Reduce Waste at Home," and is presented here with permission. Read the original article.
We all know that growing landfill mass and, sadly, even trash floating out at sea are real issues, but it can be hard to know where to start if you want to make a difference. Thankfully, it's actually quite easy to cut way down on your household trash by making tiny changes in your shopping habits and daily routines. If you would like to reduce the amount of trash your household creates, but are not quite sure how to do it, these 23 tips can help. They are all easy to implement and can add up to a reduction in waste that makes a difference.
Photo credit Butler Armsden Architects; original photo on Houzz.
Living room and entertaining
1. Switch to digital downloads of movies and music, if you haven't yet.
2. Ask for and give consumable or homemade gifts. Think event tickets, dinner reservations and edible treats.
3. Stop junk mail and paper bills, and cancel subscriptions that you don't read.
Bedroom and wardrobe
4. Be picky. By choosing to buy only what you love and know you will wear, you can slim your wardrobe and love it more.
5. Shop vintage.
6. Bring cloth shopping bags of your own...even to the mall.
7. Mend and tailor instead of tossing. Take a cue from our grandparents' generation and work with what you have.
Photo credit Buckenmeyer Architecture; original photo on Houzz.
Kitchen
8. Buy soap in bulk and decant it into reusable containers.
9. Keep lots of cloth towels on hand instead of paper.
10. As long as it is relatively clean, you can reuse aluminum foil several times.
11. Give old clothes and linens a second life—cut them up and reuse them as cleaning rags.
Buying groceries
12. Shop farmer's markets, produce stands and natural food markets—you will find the freshest and most local food that's minimally packaged.
13. Avoid buying single-serving packages. Pick the larger containers instead.
14. Keep plenty of reusable bags around. If you have trouble remembering to bring bags, try keeping stashes of them in your car, by the front door, in your office and anywhere else they might come in handy.
Photo credit Garland Mill; original photo on Houzz.
Dining
15. Use real dishes and cloth napkins every day.
16. Try an alternative to plastic wrap. Place a plate on top of a bowl to store leftovers in the fridge or purchase reusable dish covers.
Pets
17. Our pets don't ask for much, but that doesn't stop us from wanting to buy them all sorts of things. Keep things simple and stick with a few favorite toys and accessories.
18. Buy your most frequently used pet supplies in bulk to cut down on packaging.
Photo credit John Maniscalco Architecture; original photo on Houzz.
Bathroom
19. Simplify your beauty routine—fewer products means less waste.
20. Use microfiber cloths instead of paper towels for cleaning.
21. Buy the biggest packages of toilet paper you can find to reduce packaging
Downtime
22. Make friends with your public library. If you haven't explored your local library lately, consider giving it another look and borrow a book, movie or music CD instead of buying.
23. Rethink leisure time. Relax in your backyard, cook dinner for friends, walk in nature, go for a bike ride, have a picnic or read a book—from the library!
Going green isn't just environmentally responsible—it's one of the hottest trends in home decor. From insulated wall systems and reclaimed timber floors to recycled glass countertops and nontoxic paints, green materials are making their way into every design element. Making eco-savvy choices in furnishing your home can create a massive difference for your health and the environment.
Many modern designers have joined the sustainability movement and have started incorporating green furniture, fixtures and flooring materials in their green home plan. Here is a quick rundown of ways to go green:
1) Green building materials in doors and windows
The growing concerns about global warming have revived the recycling concept in home decor. Emerging practices include the use of salvaged lumber and used aluminum recovered from demolished structures. From door panels to window frames, the choice of materials that can be used for construction includes insulated glass, vinyl, aluminum, PVC, engineered wood and bamboo.
2) Furniture made from reclaimed materials
When buying furniture for your home, look for stylish eco-friendly options made from timber and metal. Furniture made from reclaimed materials requires less processing and consumes fewer resources without degrading the quality. Lower your environmental impact with stylish furniture made from reclaimed timber. Furniture made from reclaimed timber is strong, unique-looking and exudes a rustic vibe.
3) Eco-friendly flooring solutions
There is a stunning array of flooring solutions for those who are environmentally conscious. Cork, bamboo, linoleum, glass tiles, wool carpet and reclaimed hardwood are excellent flooring solutions for a green home design. They are durable, stylish and available in a limitless range of colors and textures to suit your taste.
4) Nontoxic roofing materials
There is a plethora of durable and eco-friendly roofing solutions to choose from. Recycled shingles are made from waste materials like wood, rubber, plastic and post-consumer waste. They are a durable, cost-effective and practical way to reduce landfill waste.
5) Green paints
Eco-friendly paints are an ethical way to give your home a whole new look. Conventional paints can contain toxic materials and heavy metals that are hazardous for your health. Eco-friendly paints do not contain any harmful chemical pigments and are made from natural raw materials. Learn about how to avoid volatile organic compounds in your house paints.
6) Recycled materials
Every piece of furniture that you discard to renovate your home takes a toll on the environment. Be creative and use the resources you have in building a green home. Scrap steel, reclaimed wood, aluminum and fiberglass can be reused to create high-quality home furnishings that will last you for decades. From wall cladding and headboards to cabinets and countertops, the possibilities are endless.
7) Water and energy efficiency
Reduce water and energy consumption by turning off the lights when you leave a room or the tap when not in use. You can also install low-flow bathroom fixtures to lower your usage. Take advantage of solar energy to create an ultra-efficient home that remains warm in winter and cool in summer.
If you are contemplating a green home design, these tips will help you create an eco-savvy home that represents your taste. Global sourcing companies are one resource to procure recycled and repurposed home décor products at low rates. A sourcing agent can procure a wide range of sustainable products and furnishings to complete your green home plan, and a procurement agent can help you pick the best eco-friendly furniture from international suppliers. Follow these tips to achieve a sustainable home design that suits your style and budget.
This article was previously published on Jan. 14, 2016 on Curbed.com as "Goldtex Becomes Philly's 1st LEED Gold Certified Residential High Rise."
The Goldtex apartment community in the Loft District just became the first LEED Gold certified residential high-rise in Philadelphia. The Post Brothers development company announced the certification for the building yesterday in a press release, noting that Goldtex saves about 15 million pounds of CO2 each year—that's about how much 1,200 cars emit.
OK, but what exactly about the building's redesign earned the nod from the U.S. Green Building Council? Well, for one, Goldtex runs on 100 percent wind-generated power. The building's new facade also creates an insulating thermal barrier by using the original shell as a heat sink, according to the release. Then, there are the windows, which feature electronically-controlled shades, as well as heat-blocking coatings, which help the building both consume and retain energy. Plus, every apartment has Energy Star appliances and LED light fixtures.
The federal Low-Income Housing Tax Credit (LIHTC) Program and state Qualified Allocation Plans (QAPs) that guide the distribution of tax credits have an outsized ability to promote green affordable housing in the United State. Global Green, with support from NeighborWorks America, recently released its much-anticipated 2016 report examining green building practices in each state's QAP.
The report identifies leading policy trends, shares best practices and puts forward technical and policy options that can use the LIHTC program to promote human health and address overwhelming utility burdens. The results are clear: more state housing finance agencies are deploying LEED and other third-party green building rating systems as tools to ensure the environmental, economic and social benefits of sustainable building practices are brought to all.
Twenty-five state housing agencies referenced green building certification programs, including LEED, in their 2016 QAPs to provide direction to developers and confidence at the agency level that green measures are being implemented. In separate research examining 15 recently constructed or rehabbed apartment communities built to LEED or EarthCraft standards in Virginia, these communities were found to use 40 percent less energy than housing built to existing code requirements. These changes saved the average tenant $54 per month on utility bills—over $600 per year.
The new report shows that currently about half of state QAPs commit to help reduce overwhelming energy burdens for those most in need while protecting our environment. We're pleased that LEED continues to be a key tool to help state housing finance agencies ensure that all residents, regardless of income, may enjoy the many benefits that green buildings deliver.
USGBC will continue to advocate for affordable green housing across the country, so that families everywhere can benefit from reduced financial pressure, a healthier indoor environment, increased comfort and quality housing.
On Fridays, USGBC shares green home-related content curated from around the web. If you see a great article on aspects of environmentally friendly home living such as green building, renovation, energy use or cleaning, please send it our way.
When you build a greenhouse on your property, you can take advantage of sunlight to grow your own vegetables year-round. Read "6 Tips for Building a Sustainable Greenhouse" from JackandPatty.com to learn how to choose the right spot for maximum solar energy and adequate ventilation and drainage.

It turns out you don't have to use plastic containers or bags to freeze food. Try Treehugger's tips for alternative materials you can use to store food in the freezer: glass, metal, paper—even nothing at all!

Energy Star's #RuleYourAttic campaign wants to make consumers think about how they can maximize attic insulation for energy efficiency. Check out their tools and ensure you'll be snug for the winter.