This article was originally published on Houzz on April 12, 2012, as "Roof Overhangs Project Lower Energy Costs," and is presented here with permission. Read the original article.
Summer is coming upon us swiftly. Soon, if you are in the Northwest U.S., you will be outside enjoying all the sun you can get. If you are in the Southeast, you will be inside with air conditioning, taking a break from heat and humidity.
But no matter your locale, there is one building feature that can aid in summer cooling and winter warming: deep roof overhangs. Depending on depth and placement, large overhangs (or even strategic awnings) can shade a house in the summer and still allow warm light in in the winter.
In general, a south-facing overhang will direct the sun's rays lower on the window, allowing less light in and preventing that light from heating up the house in the summer. This means less need for air conditioning, less energy used and less money spent.
A good overhang will also allow more winter light to penetrate a building than summer light, thereby allowing light and heat in during the cooler months, which again saves in energy and electricity costs.
Overhangs are most effective for south-facing elements (in the northern hemisphere) and at midday. If the building element bears more than about 30 degrees off true south, the effectiveness of an overhang decreases, says the U.S. Department of Energy.
Even if you aren't interested in saving money by reducing cooling costs, large roof overhangs can still provide shelter and help protect a house from bad weather. Oh, and they look good, too.
Photo credit Coates Design Architects Seattle; original photo on Houzz.
Large roof overhangs on a house by Coates Design Architects in Seattle do more than put a modernist stamp on the structure. They also protect it from the Pacific Northwest's driving winter rain and mitigate hot summer sun.
Graphic credit DOE Office of Energy Efficiency and Renewable Energy; original photo on Houzz.
This diagram from the U.S. Department of Energy shows how a roof overhang can prevent hot summer sun from getting in. Here, the summer sun's angles are directed at the ground.
But that same smartly oriented overhang can also allow maximum light during the winter, as shown, when you want that extra bit of heat.
Photo credit Warmington & North; original photo on Houzz.
Roof overhangs can be all sizes, and they need not be purely utilitarian. This one, on another Pacific Northwest house, provides all the benefits of passive cooling and weather protection, but it's the drama of the overhang that may matter most. This house would be aesthetically naked without this roof.
Photo credit One SEED Architecture + Interiors, original photo on Houzz.
A diagram by One Seed Architecture + Interiors in Vancouver, British Columbia, shows how roof overhangs block southern sun but how south-facing glazing allows full sunlight exposure.
In this house, the thermal block walls—exposed to the sun during the winter—also absorb that winter sunlight and distribute the heat throughout the day, helping to warm the house.
Photo credit The Impatient Gardener; original photo on Houzz.
Not all roof overhangs are designed solely for passive cooling. This one is a quirky architectural addition, and it also protects people at the door from wind, rain and snow.
Besides providing passive cooling and shelter, as in this example, roof overhangs also save doors and windows from bad weather (saving you money), and protect a house's exterior and foundation from water runoff.
Photo credit FINNE Architects; original photo on Houzz.
The roof overhang on this house in Michigan's Upper Peninsula, by Finne Architects, protects the house from sun, yes, but also from the Midwest's heavy snow.
The Department of Energy has some region-specific recommendations for roof overhangs:
For cold climates, at base 65 degrees Fahrenheit, locate the shadow line at midwindow using the June 21 (summer solstice) sun angle.
For moderate climates, at base 65 degrees during days when heat is needed and base 75 degrees during days when air conditioning is needed, locate the shadow line at the windowsill using the summer solstice sun angle.
For hot climates, at base 75 degrees, locate the shadow line at the windowsill using the March 21 (vernal equinox) sun angle.
Photo credit John Maniscalco Architecture; original photo on Houzz.
A house by John Maniscalco Architecture, covered in snow, showcases a surprising green benefit to large, flat roofs with overhangs: Light from interior and exterior fixtures is reflected and spread by the underside of the roof. This means fewer light fixtures and less energy used.
Photo credit Beard + Riser Architects; original photo on Houzz.
This house in Mississippi by Beard + Riser Architects is oriented along an east-west axis to maximize solar control. The front of the house faces south and features a large overhang that folds over the edge of the roof to block direct summer sun. The translucent fiberglass panels along the porch overhang allow filtered northern light into the house.
Related articles
The amazing versatility of bamboo is no secret to green revolution visionaries like architects and builders. They learn firsthand how easily bamboo can be shaped and formed into different building components.
Indoors, sustainable bamboo is a great material for beds, sofas, tables and chairs. Textured bamboo panels enhance the walls, ceilings and sides of breakfast bars and cabinets. You'll find bamboo beneath your feet, too, as floor mats and sleek bamboo floor panels. Bamboo is in the finer details of kitchens, too—in essentials such as bamboo spoons, spatulas and cutting boards.
Outdoors, you can relax outside in a bamboo lounge chair or enjoy the beauty and privacy of a backyard protected by a bamboo panel fence.
Sourcing bamboo
Over 1,000 species of bamboo are native to Asia, Australia, North and South America and Sub-Saharan Africa, but it grows best in tropical climates, where it's built houses and structures for hundreds of years. Once harvested, bamboo, just like wood, must be dried and treated to protect it against pests and to maximize its strengths as a building material.
Building with bamboo comes with a unique set of benefits, unmatched by traditional building materials. These are just a few of them:
1) It's sustainable.
Worldwide interest in bamboo for residential construction is rising rapidly as climate change evolves from theory to scientific fact. Eco-friendly bamboo is one of the fastest-growing wild grasses on earth. It reaches heights of full maturity in as little as three years and regenerates quickly after harvesting. Some bamboo species can grow over 35 inches in a single day. Bamboo thrives on otherwise unproductive land like deep ravines and mountainsides.
2) It's environmentally friendly.
When choosing floor coverings for a new, green home, it's good to know that bamboo floors are completely sourced from eco-friendly sustainable plants. Bamboo forests are very friendly to the environment. They reduce pollution by producing oxygen, more than 35 percent more than trees do. Their roots create a water barrier that helps control soil erosion. Bamboo also consumes high quantities of nitrogen, which helps reduce water pollution.
3) It's recyclable.
A study by the National Association of Home Builders estimates that about 8,000 pounds of waste is created from the construction of a single 2,000-square-foot home. The majority of the waste is wood, cardboard and drywall, and almost all of it ends up in landfills. In comparison, bamboo is completely recyclable.
4) It's strong.
Some bamboo species have the same strength ratio as steel and almost twice the compression ratio of concrete—not bad for a hollow, light-weight grass. Building with bamboo is hardly a new concept. Many countries have been doing it for hundreds of years. Inspired by heightened interest in eco-friendly bamboo, trail-blazing teams of architects and builders are creating amazing bamboo structures for schools, hotels, homes and even bridges.
5) It's earthquake- and hurricane-resistant.
Due to its light weight and elasticity, bamboo is a popular building material in areas of the world where earthquakes, hurricanes and typhoons strike more frequently. Bamboo absorbs the shocks of seismic activity and high winds far better than rigid concrete and steel structures.
With remarkable benefits like these five, bamboo is destined to play a major role in the green revolution as more people and businesses choose to build with this versatile, sustainable building material.
This article was originally published on Houzz on June 4, 2012, as "Ecofriendly Kitchen: How to Choose Flooring," and is presented here with permission. Read the original article.
Going green with your kitchen floor brings benefits beyond making you feel good about your selection. Durability is the biggest prize. Think of homes with wood floors that may be nearing a century old—this is sustainable thinking at its best, because a long life expectancy born of durable materials means conservation of natural resources. And this approach is kind to your financial resources, too.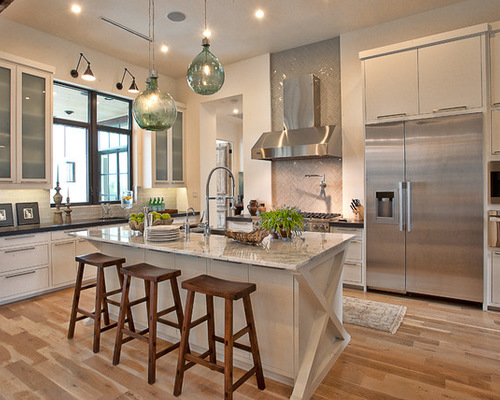 Photo credit Cornerstone Architects; original photo on Houzz.
Wood floors
Ecologically speaking, wood can be the best or the worst of materials. It can be almost perfect when harvested sustainably. It's durable, it has a long life cycle, and milling can be simple and require little energy. However, wood that's not harvested sustainably can be environmentally destructive. When choosing wood floors, look for the following to ensure you're making the most sustainable choice.
FSC-certified: The Forest Stewardship Council (FSC) is an independent agency that provides certification, or approval, to wood that's been harvested in a responsible manner. Think of it as wood's equivalent of organic.
Local species: Wood that's been harvested locally minimizes transportation-related energy, supports the local economy and reinforces the sense of place.
Hardness: The Janka scale measures the resistance of a species of wood to denting and wear. The scale ranges from 22 up to 5,000. Teak comes in at 1,000.
Photo credit Viridian Floor; original photo on Houzz.
Reclaimed wood floors. Smart manufacturers are seeking sustainable opportunities. Viridian Wood salvages shipping crates made of tropical hardwoods and repurposes them into high-performance, FSC-certified floors. This house showcases Viridian's dark blend of Jakarta wood throughout the kitchen and the rest of the home.
Tropical hardwoods are the hardest woods on the planet, occupying the top positions on the Janka scale, which makes them a great choice for durable flooring. However, the harvesting of tropical woods causes significant ecological destruction. Seeking FSC-certified wood is especially important with tropical hardwoods, as it will ensure the wood was harvested in a sustainable manner.
Photo credit: Alan Mascord Design Associates Inc; original photo on Houzz.
Engineered wood floors. Extending wood floors into the kitchen is a terrific way to seam together several spaces, as this home demonstrates. Doing so requires a stout floor that can take the wear a kitchen doles out. Engineered wood floors can be a durable choice, since they have a thin veneer of finished wood backed by several layers, or plys, of more wood. This layered system makes engineered wood more stable than solid wood and less likely to warp when faced with temperature changes and humidity. Look for FSC-certified and formaldehyde-free options.
Photo credit: Rauser Design; original photo on Houzz.
Salvaged wood floors. Why use material with recycled content when you can upcycle materials? Doing so sets the bar high for sustainability and is an opportunity to bring some history and personality to your kitchen. Salvaged beams from a 100-year-old warehouse roof were milled into tongue and groove flooring for this kitchen.
Photo credit: Three Week Kitchens; original photo on Houzz.
Other materials
Linoleum floors. Poor linoleum. Over time, it's been confused with ubiquitous and often not-so-nice sheet vinyl, when in fact the two have little in common. True linoleum is made of natural materials, including linseed oil, and is inherently antimicrobial—a pretty neat trait for a kitchen.
Linoleum is available in sheets, tiles or planks. If you're not creating a pattern with tiles, I recommend using sheets, as you'll have fewer joints and fewer places for the floor to show its age. Make sure that any adhesives are free of solvents and labeled "no-VOC."
Forbo's Marmoleum, one of the best-known linoleum sources, carries a 25-year warranty and offers more than 120 colors of sheet goods. This kitchen shows how linoleum can be an artist's canvas for color and pattern.
Photo credit: Burton Architecture; original photo on Houzz.
Cork floors. The warmth and comfort of cork underfoot makes it a great choice for the kitchen, where we often stand for long periods of time. Cork also touts a lot of green cred: It's a rapidly renewable and carefully protected resource. Every nine years, producers in Portugal and Spain strip the thin bark of cork trees into long, wide slabs, using care not to damage the tree. Wine corks are stamped out first, and the scraps are then ground and pressed to make flooring and bulletin boards, so that every bit that is harvested is used.
Cork is available in both tiles and planks. With both, I seek prefinished products with a no-VOC finish. With any prefinished tile or plank product, the vertical edges often aren't prefinished, so it's worth adding a top coat of finish after installation to protect the edges and joints.
Cork manufacturers have broadened their palettes to include pale, dark and colored options, as well as a variety of patterns.
Rubber-cork-blend floors. Cushy cork gets a new look when blended with recycled rubber, as in CapriCork's And/Or line, made with 35 percent preconsumer recycled content. The product is available in both rolls and tiles, and comes in 17 different colors, from neutral to bright shades.
Concrete floors. The ultimate multitasker, concrete floors are often both the finished floor and the structural floor too. Simplifying a complex flooring system to a single material is a smart, efficient and cost-effective solution. To green your concrete, you can increase the fly-ash content (a byproduct of coal processing), but do so only if coal is processed in your region. Otherwise, the environmental impacts of transporting the fly ash outweigh the benefits. Alternatively, consider adding recycled glass to reduce the amount of virgin aggregate used.
Terrazzo floors. Seemingly indestructible, terrazzo gets an A+ for durability, and also for its good looks. This material, made of chips of marble or granite set in concrete and polished, can score high for sustainability too if no- or low-VOC sealers and low-impact aggregates (like recycled glass) are used. Terrazzo's one shortcoming is that it can be tough to stand on for long periods of time.
Related articles
Did you work on a truly exemplary green home in 2016? Are you a developer or homebuilder who has gone above and beyond with LEED? If so, we want to turn the spotlight on your great work.
The LEED Homes Awards recognize architects, developers, home builders and projects that have demonstrated leadership in the residential building marketplace.
There are several award categories:
Outstanding Commitment to LEED
Outstanding Affordable Project
Outstanding Affordable Developer
Project of the Year/Outstanding Innovative Project
Outstanding Multi-Family Project
Outstanding Multi-Family Developer
Outstanding Single-Family Project
The awards also recognize the LEED Homes Power Builders, which USGBC developed to honor an elite group of developers and builders who have exhibited an outstanding commitment to LEED and the green building movement within the residential sector.
In order to be considered as a Power Builder, developers and builders must have achieved LEED certification for 90 percent of their homes/unit count built in 2016. Homes at any LEED certification level—certified, Silver, Gold or Platinum—are eligible for consideration.
To be eligible, the project needs to have been certified between January 1 and December 31, 2016; the nominations deadline is June 19.
You wouldn't want toxic chemicals, paints or other dangerous substances in your home where they can harm your children, your pets and even you. The same is true for your garage.
In times gone by, the American family has treated its garage as an outdoor space of sorts. It's a place to offload the junk you don't want in your home, but can't quit commit to throwing away. But these days, we're becoming a little more savvy. We now see garages as what they are: an extension of our homes. As a result, more of us are looking for safer alternatives to the supplies we store in our garages, while also seeking ways that we can keep pests and harm at bay.
The solutions outlined below can help you to keep a clean and safe garage, ensuring that every inch of your home is child- and pet-friendly and giving you the peace of mind that all homeowners crave.
Natural pesticides
A pesticide doesn't have to be harmful to humans to be effective at killing pests. You can even make your own, using natural and safe substances. The ingredients that you use will depend on the issue you are treating.
Salt spray: A simple saline solution (water and salt) is very good at treating plants that have become infected with spider mites.
Citrus oil and cayenne pepper: Mix a few drops of citrus oil with a few tablespoons of cayenne pepper in warm water, and you have a solution that can destroy ants as effectively as a bug spray you buy from the store.
Eucalyptus oil: This is potent stuff, and it's great for killing all kinds of bugs, including ants. It is a low-cost essential oil that you can add to water to create a spray.
Onion and garlic: These two potent bulbs give off a strong scent and flavor, and they are effective at killing all kinds of pests. Just crush a glove of garlic, mix it with a diced onion and add to warm water. Let it sit for a little bit before adding a tablespoon of cayenne pepper.
Keeping pests at bay
There are also safe ways to keep the pests out of your garage, which tends to be a haven for all kinds of creatures. Spiders, in particular, will naturally come toward clean, warm environments that are easily accessible, which makes your garage the perfect home. But you can make the area better for you and worse for them.
Spiders hate peppermint oil and cedar oils, two scents that humans are naturally drawn to. You can spray mixtures of these oils around the perimeter of your garage to keep them away, focusing on corners and crevices, where these creatures congregate.
To keep other pests away, make sure there are no open food containers (including ones with pet food) or bins. You should also make sure all holes and gaps are filled in and that there are not too many hiding spaces. If you have a cat, make sure they have access to your garage, because they are great for warning away or killing pests.
You should also consider buying a secure garage door with garage door insulation to keep your home safe and make life difficult for animals and insects seeking refuge.
Eco-friendly paints
Environmentally friendly paints have been around for some time, but only in the last few years have they developed enough to offer the same finish and quality as their their less-natural counterparts.
Regular paint contains many ingredients that may be harmful, including heavy metals and formaldehyde. They can cause serious harm when ingested and inhaled, and it's not the sort of thing you want lying around your garage, even if it's not on your walls.
So, make the switch to ecofriendly paints, and you won't need to worry about those unused tins, or your new decor. The paints you need to look for are "low-VOC" or "zero-VOC" and water-based.
If you're looking to get rid of old cans of partly used paint, you can check to see if your area has a local paint recycling center where you can dispose of it safely.
Securing tools
A garage is usually off-limits to children and pets, but it doesn't need to be. You shouldn't have to worry about your kids gaining access and injuring themselves with sharp tools. So, once you move the toxic chemicals out of the way, focus next on securing your tools.
All it takes is a simple cabinet or glass-fronted rack that you can lock. Make sure that all tools are accounted for and placed back in their respective positions after you have finished working with them.
Many larger toolboxes also come with secure locks. These are often in place to stop your tools being stolen, but they can also make sure that curious little fingers don't go poking through them.
With just a few minor adjustments, your garage can be a safer, healthier part of your home.
Solar energy was the biggest source of new electric generating capacity for the first time ever in 2016, according to the Solar Energy Industries Association. Not only that, but the industry is also expected to triple over the next five years. Solar energy has been getting cheaper too. Solar photovoltaic (PV) system costs in the U.S. decreased by almost 20 percent in 2016.
But even though it's getting cheaper, that still doesn't mean that everyone can afford it. It is possible to go solar if you're on a budget, though. Solar energy can help save you money in the long run, as well as help the environment. These tips will help you afford the transition.
Is solar right for you?
Since solar panels rely on the sun to generate electricity, the amount of sun where you live will affect how much solar energy you can produce. The amount of solar energy available in an area is known as "solar resource," which is a measurement of how much sunlight is available each day to a PV panel that's facing due south. You can find the solar resource where you live on the National Renewable Energy Lab's website.
How much solar energy you can produce with rooftop panels also varies from home to home. If there are large trees or other buildings blocking access to sunlight, you won't be able to get as much sunlight.
Some other factors that will influence the amount of sun you can get are the orientation and size of your roof. South-facing roofs work best, and you'll need at least about 100 square feet per kilowatt-hour your solar system produces. You'll also have to consider how much energy you typically use and the efficiency of the panels you'll be installing, which typically ranges from 11 to 15 percent.
The less sunlight you have available to you, the bigger your solar array will have to be to generate the same amount of energy as panels with more available sun. This can lead to higher costs.
You can use online cost calculators to help determine how much a solar system would cost you, or better yet, have a reputable solar company come by and give you an estimate.
Solar incentives
A big factor in the affordability of solar is the incentives you have available. There are federal incentives, but other programs vary by state and utility company.
U.S. residents can take advantage of the Solar Investment Tax Credit (ITC), which provides a 30 percent federal tax credit for homeowners a purchase and install solar systems on their homes.
To find out what incentives are available in your state, visit the Database of State Incentives for Renewables and Efficiency (DSIRE). The site features information about incentives available from government and utilities, as well as policies relating to solar power by state.
Different states have different policies for incentivizing and billing homeowners who generate solar energy. These policies can have a significant impact on the cost-effectiveness of installing a solar system.
One common policy is called net metering, which only charges or pays homeowners for their net energy use. If they produce more than they use, the excess energy goes back into the grid, and the homeowner will be compensated for it. If they consume more than they produce, they are charged only for the power they used from the grid.
Other states use a feed-in tariff program, which measures production and consumption separately. The homeowner is then paid for what they produce and charged for what they use. The payment can sometimes be used to pay off the electricity bill.
The way that net metering, feed-in tariffs and other programs work can vary from state to state, so make sure you do thorough research when figuring out how much a solar system will cost you or how much money you could earn from it.
Financing options
States, utilities and other entities often offer financing options to help make solar installation more affordable. See the DSIRE website to learn what grants and financing are available where you live.
Power purchase agreements (PPA) and solar leases are two other financing options. With PPAs, a solar company installs a solar system on your property at no cost. They then sell the electricity it produces back to you, often at a cheaper price than electricity from the utility. At the end of the agreement, the homeowner can choose to extend it or possibly purchase the system.
Solar leases are similar to leases used in other industries. The homeowner has the system installed on their property and pays either nothing or part of the cost up front. They then pay for the system over a number of years and may eventually buy it outright.
Other financing options include loans, energy efficient mortgages and community solar, in which a community or third party owns a solar system and nearby homeowners can pay to receive power from it. There are even charity organizations that will install solar panels for low-income households for free or close to free.
Although solar energy can come with some high up-front costs, there are lots of ways to reduce those costs. Thoroughly research what options are available in your area and take advantage of them, so that you can take advantage of energy from the sun to power your home, lower your electricity bill and help the environment.
Four in 10 people live in places where pollution levels make it dangerous to breathe, according to the State of the Air Report recently released by the American Lung Association. By typing in your state or zip code, you can look up more information on their website about your location's "grade" for air quality and its particular challenges.
Although this report focuses on pollution levels outdoors, the organization also offers plenty of resources on indoor air quality. From a quick checklist of potential issues to descriptions of various indoor pollutants, the website has both basic and detailed tips for what you can do to ensure the air in your home remains healthy to breathe.
Further resources from Green Home Guide
With the warmer weather and new growth in the spring comes the urge for many homeowners to spruce up their properties. Spring is also a great time of year to consider making some eco-friendly changes to your home that can help make it healthier for you and the environment, while also lowering some of your energy bills.
Going green around the house doesn't have to take a lot of time or money. Try one of these five simple projects, or do them all in one weekend! We've included the estimated cost of each for you.
1) Make a mini-greenhouse.
Plants help clean the air in your home, filtering it and making it healthier to breathe. At the same time, growing your own plants, including fruits and vegetables, helps keep your grocery costs low, while eliminating a lot of the transport and other carbon footprint-adding attributes of purchasing produce from a store.
Even if you don't have room in your yard for a garden, you can still grow your own produce at home with a hydroponic system. Hydroponic gardens use fertilizer and water to grow your herbs and vegetables, take up very little space, and can enable you to get great results from anywhere in your home, even those areas that don't get a lot of sun.
Budget
An initial setup kit including seeds, fertilizer and a grow light costs $150–$250 at most home improvement or big box stores.
Recommended green materials
Easy-to-use kits, like those made by AeroGarden and EcoGrower, use little electricity and produce abundant plant life.
2) Install energy-saving light bulbs.
Light bulbs are something you use every day. And if you haven't made the switch to an energy-saving bulb yet, you could be paying a lot more each month on your electric bills than you would be with one simple switch.
LED and CFL light bulbs use about 25 to 80 percent less energy than traditional incandescents. They also last years longer, so while the initial cost of the bulbs may be higher, you'll be saving a lot of money in the years to come. Both LED and CFL bulbs come in a range of colors and wattages. Consider trying some daylight or full-spectrum bulbs, which mimic daylight to make your home appear brighter.
Budget
LED bulbs cost between $2.50 and $5.50 each, while CFL bulbs cost $6–12 each. Keep in mind that there are specific bulbs for dimmers, and for LED- or CFL-specific light fixtures. Any standard light fixture can use regular LED or CFL bulbs, however, making the switch easy. If you need to have new recessed lights installed, the cost is around $600 for six lights.
Recommended green materials
To make the most of your switch, look for the lowest wattage you can use in your fixture. This will keep your energy bills down even more by using less electricity. New bulbs only need 2 to 20 watts to put out plenty of light.
3) Fix leaks inside your home.
A dripping faucet or leaking toilet could be wasting as many as 10,000 gallons of water every year. This is a significant amount that could be easily fixed in most cases for just a few dollars. For major leaks, such as from pipes, you may want to call a plumber. But for a leaking toilet or faucet, you can usually fix the issue yourself.
Leaking faucets can be caused by one of two issues: a washer or a plastic cartridge that has stripped. Replace the washer in the spout, or remove the outer covering of the handle and replace the cartridge inside.
Leaking toilets are most commonly caused by an old wax ring. Disconnect the toilet, lift it from the floor and set a new wax ring around the waste opening. Replace the toilet, bolt it down and hook up the water. Sit on the toilet and rock in all directions before flushing again to seal the ring.
Budget
The cost of faucet washers is around $1.50 for 10, while a new cartridge runs $20 to $30. The cost of a wax ring for a toilet is $5–10.
Recommended green materials
If possible, make the switch from a plastic cartridge to a ceramic disc valve. Plastic wears out much faster than ceramic, which means your faucet may begin leaking again quickly if you use the same material again. Ceramic disc cartridges are less likely to leak, giving you longer-lasting results.
4) Put up window shades.
The warmer temperatures in the spring may feel great at first, but the sun's rays beaming directly into your home will soon start to make it feel uncomfortably warm. Window shades help block a lot of the heat transfer from the sun, allowing your home to feel more comfortable, while keeping your cooling bills down this summer.
Window shades also have the benefit of keeping in warmth during the winter months, and allowing you to add some color and interest to the rest of your home. Even if you currently have shades or drapes in place, consider investing in a new set with lighter colors for spring to update your decor at the same time.
Budget
Honeycomb shades cost between $35 and $50 apiece, while fabric shades cost between $50 and $100 each. Most come with mounting hardware to make them extra easy to put up.
Recommended green materials
Whatever style you choose for your shades, look for products that are designed to block heat transfer. Sometimes known as thermal shades, these products will help prevent your home from adding warmth during the summer months and losing heat in the winter.
5) Make your own green cleaning agents.
While cleaning products are easily found in most stores, many of them have a high chemical content, while others give off a lot of VOCs, polluting the air around you. Green cleaning products are also available at stores, but often at a higher cost.
This spring, consider making your own inexpensive green cleaners right at home. A mixture of baking soda and vinegar will clean most surfaces; a few drops of essential oil will help disguise the scent of the vinegar. Super Washing Soda can be used in place of baking soda for tough jobs, while tea tree oil can be used to disinfect areas naturally.
Budget
Vinegar costs less than $1 for a gallon jug at most grocery stores, while both baking soda and Super Washing Soda cost less than $5 for a large box. Tea tree oil and essential oil costs will vary, with most starting at around $10.
Recommended green materials
If you choose to use essential oils in your homemade cleaner, make sure you look for those that are real oils, and not synthetic chemical scents.
This article was originally published on Houzz on Nov. 28, 2013, as "How to Start Finding a Greener House," and is presented here with permission. Read the original article.
So you're looking for a new home, and you want it to be as green and environmentally responsible as possible. Perhaps it's because you heard that you can save on utility bills if you have an energy-efficient home. Maybe you dig the look. Or maybe you want to try to be an ethical consumer in the face of environmental concerns.
But there's a lot to navigate if you're not very familiar with green building and sustainable architecture. Here are just a few tips to help you get started with your search, whether it be for an apartment, a home or a building lot, and whether it be a rural, suburban or urban setting.
Photo credit: Image Design LLC; original photo on Houzz.
Ask questions, then ask more questions and then even more specific questions.
If there's any one sweeping statement that can be made about the green building industry, it's that the truth is in the details.
To the naked, untrained eye, it can be tricky to discern the green from the "greenwash," which is disinformation presented to fake an environmentally responsible public image. The best way to avoid getting duped is to ask about every single detail you can think of, even if you don't know much about green building.
Do as much research as you can about each site you seriously consider. Ask the occupants for previous utility bills; ask the realtor for official environmental certifications; ask the builder about the detailing; ask the architect about environmental goals in the design; and ask the neighbors about the setting and climate.
Once the information starts flooding in, you can assemble a sustainability portfolio for each site you are considering. By the end of your search, you'll be able to make a more informed decision based on energy ratings, environmental certifications, scientific observations and first-hand experiences.
Photo credit: Picpics; original photo on Houzz.
Stand on the site and spot the sun.
One fundamental aspect of sustainable design is solar orientation. A building that takes advantage of the sun's heat in winter and shades it from the sun's rays in summer is one step closer to efficiency. This is why so many building energy simulations start by asking for the ratio of window to wall on the north, south, east and west sides of the building.
What you're looking for will depend on your local climate. Do you want the house to heat up in the winter? Then make sure there is nothing blocking the winter sun from shining through the windows.
Do you want to keep your house cool in the summer? Then check out the external shading—not just over the windows, but over the walls as well.
We use an app called Sun Surveyor whenever we are evaluating a site. It helps you understand where the sun rises, sets and peaks in all seasons, relative to your site. You can even see where the sun will hide behind a neighboring building or looming mountain.
Photo credit: Allen Construction; original photo on Houzz.
Does the site or building design make use of its setting?
A truly sustainable home will be integrated with its environment and region in ways that go beyond its orientation toward the sun. Even the architectural style can give you clues about how well the designer has responded to local building methods and materials.
Remember that green living extends beyond the property line. Does the house or building you're looking at take advantage of existing infrastructure and services, without infringing on virgin land? Is it well connected with public transportation, giving you the option to green your commute as well? One fantastic resource for evaluating various neighborhoods in the U.S. is WalkScore, a site dedicated to grading communities on their pedestrian friendliness.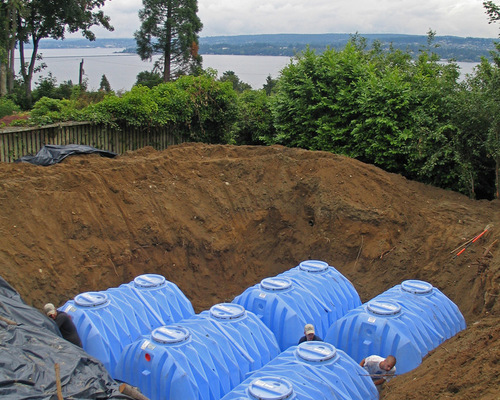 Photo credit: Exteriorscapes LLC; original photo on Houzz.
Does the home or apartment building have any sort of energy efficiency documentation?
Here's where it may get tricky. There's a lot going on behind walls and under slabs that you may not immediately see, such as these rainwater cisterns tied into an irrigation system for a Seattle home (above).
Certifications and other kinds of documentation about a house can be one way to get reliable information about what's going on.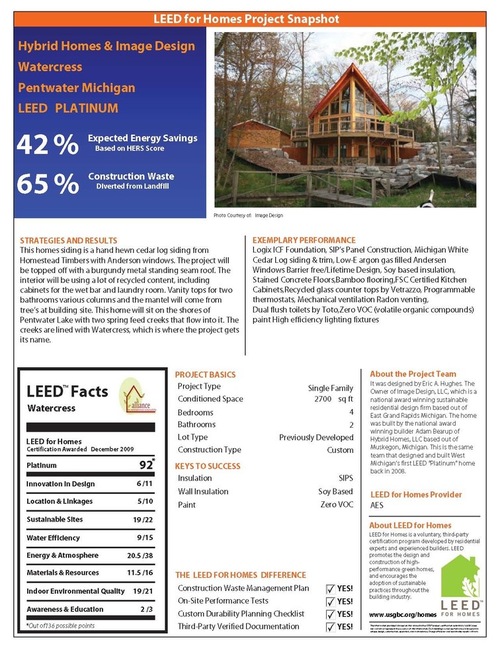 Photo credit: Image Design LLC; original photo on Houzz.
These days, there are a lot of energy efficiency certifications floating around, some of them more reliable than others. They range from entire building energy simulations to kitchen appliance ratings.
As a place to start, I would ask about any local, regional or state energy certifications to see if the home you are looking at claims any specific advantage over average homes on the market.
Then, of course, you'll need to vet that certification scheme to make sure it actually has some substance to it.
You can do this by asking a green building professional for a mini-consultation to evaluate the information you've been given. Or you can get your hands dirty and investigate yourself.
There are also many third-party voluntary certification schemes such as LEED and Passive House (the two that I work with most often), which require extensive documentation in order to receive a certification. Once you ask for copies of that paperwork, you can learn a lot more about the strengths and weaknesses of the building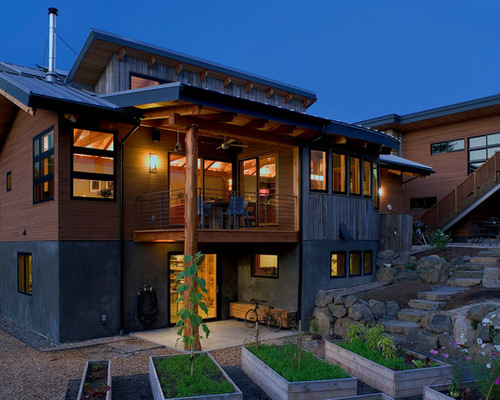 Photo credit: New Energy Works Timberframers; original photo on Houzz.
In the end, you are the most important factor in making a home green.
We need to start thinking about our houses the way we think about our electronics. We can't just expect it to do everything for us; we have to know how to use our houses correctly to get the best results.
The more we understand why our home functions the way it does, the more we can start to optimize its performance. And that's what green building is really all about: optimizing efficiency and sustainability.
Related articles
Kitchens are a place where you spend a lot of time at home, preparing food, making coffee, washing dishes—and those activities use a lot of water and electricity. Also, having a place for food prep that's clean and nontoxic makes choosing the right countertops important. Your kitchen can even contribute to your home's overall health by incorporating homegrown herbs or a composting station.
Here's how to have a kitchen so green that you're the envy of all your neighbors:
Appliances
One of the best ways to save energy in your kitchen is through Energy Star-certified appliances. Refrigerators, freezers and dishwashers that meet these standards can save you money as well as cut down on energy use. For instance, an Energy Star refrigerator is about 9 percent more efficient than a regular model, and can save you about $270 over five years.
You can further save energy by using your appliances more strategically. Make sure you only run the dishwasher when it's full, and turn the dial to the "air-dry" rather than "heat-dry" setting. You can even cut down on smaller energy drains, such as coffee makers, by programming them to turn on and off at certain times.
Countertops
Choosing countertops for your kitchen means making decisions about safe materials, life cycle and durability, and eco-friendly sourcing. Diverse materials, such as concrete, glass tile, recycled paper or plastic, wood, stone or stainless steel may be used, depending on your needs and aesthetic. Green Home Guide's buyer's guide to countertop materials breaks down the pros and cons of these substances, as well as their typical cost.
With some surfaces, you'll also need to consider sealants. For instance, if you're sealing a butcher block countertop, make sure that you use safe, low-VOC finishes to take care of your wood.
Water use
Saving water is a priority for everyone hoping to reduce both their environmental footprint and their bills. Several simple steps can be taken to reduce your water use in the kitchen. Fixing leaky faucets or installing aerators, washing produce in a bowl of water and running only a full dishwasher go a long way.
Also, avoid defrosting food or melting ice under running water. Instead, you can use the microwave, or just plan further ahead by defrosting items in the refrigerator.
Food and herbs
Another aspect of keeping a green kitchen is minimizing food waste, which you can do through smart shopping, cooking and food storage strategies, such as chopping up several days' worth of veggies at one time and having them ready to go throughout the week.
You can make your own home composting station with only a little effort. See our handy how-to article on setting up composting to reduce food waste. Remember to avoid composting meat and dairy scraps and to situate it in a cool location away from direct sunlight.
Looking to add more fresh herbs to your diet? Having your own small, countertop herb garden not only provides seasoning for your cooking, it also contributes to the air-quality benefits of having live plants in your home.