Do you want to protect your home from pest infestations, but are not sure how to go about it in a way that's nontoxic for your home and family? Proactive pest control is the key to staying healthy and keeping your home safe from unwanted creepy-crawlies. Fortunately, home pest control can be made both harmless and hassle-free with these seven safe, natural and effective remedies:
1. Citrus scent
Citrus peels have a light, revitalizing scent that makes them a great option to keep pests like ants, mosquitoes and spiders away. All you need to do is to rub the citrus peels on all the problem areas like doors, windows and shelves. Also, these citrus peels make a brilliant polish for wooden furniture.
2. White vinegar solution
White vinegar is an excellent solution to get rid of ants that keep coming back even with regular cleaning. Ants leave a trail of pheromones that work to alert other ants, so using white vinegar will destroy the chemical trails and eliminate the source. Once the scent is eliminated, it will keep other ants from following the chemical source, and your home will remain ant-free.
3. Cucumber
Ants have a strong aversion to cucumber, so if you place a slice of cucumber near all the entryways, it will keep ants away. Cucumber is also very effective in keeping silverfish, wasps, mites and moths at bay. However, remember to replace cucumber peels and slices frequently, as rotting food can also be a source of attraction for other pests.
4. Cinnamon
Cinnamon powder can be sprinkled outside the house to keep bugs and pests from entering your home. You can also use cinnamon powder on kitchen countertops and other surfaces to eliminate the scent trails left behind by certain pests.
5. Peppermint oil
Spiders cannot stand the minty scent of peppermint oil, so creating a solution using peppermint oil and water that you can spray around the areas frequented by spiders will help you get rid of them. This method is completely safe, even if you have small children at home.
6. Eucalyptus oil
Eucalyptus oil is a perfect solution for homes that are plagued by flies. Simply apply some oil to a cloth and leave it in the affected area, and soon all the flies will vanish.
7. Herbs
Herbs like lemongrass, citronella and mint are easy to grow and can be planted in the backyard. These herbs have a strong scent that works as an effective repellent for pests, so if you have garden boxes or spare containers, put them to good use.
Commit to seasonal checks and periodic cleaning to prevent pests.The best way to keep your home pest-free is to prevent an invasion before it starts, so seasonal checks are very important to identify susceptible areas and seal them:
All the openings, cracks and crevices in doors and windows should be caulked and sealed to prevent the entry of unwanted pests.
Trash containers should always be tightly secured and far from the home.
The kitchen floor, countertops and cabinets require diligent cleaning.
The foundation of the house is a breeding ground for pests, so make sure that mulch piles, firewood stacks and grass clippings are stacked away from the house.
In addition, it can be helpful to have a professional pest control service provider inspect your home as a preventive measure, and treat it if necessary.
Green roofs add so much more than just an aesthetic effect to homes. Living roofs are eco-friendly in many ways, such as by managing storm water runoff, providing insulation and reducing the heat-island effect. Even better, small-scale green roofs are not very complicated to make and can easily be turned into a DIY project.
Which green roof to choose
Small-scale green roofs are perfect for placing under the main roof—think of the porch roof or garage roof, or the top of a shed. First, you need to choose whether your green roof will be extensive or intensive. An extensive green roof needs less maintenance, while an intensive roof with more layers requires more maintenance. The area where you want to install the green roof will help you decide, due to whether frequent maintenance would be possible or convenient.
It is best to get advice from a specialist if you have a roof that slopes over 10 degrees or under 2 degrees, as there might be further design strategies to take into account. Also, only roofs that are in good condition, without damage or leaks, should be considered for installing a green roof. The weight of a small green roof can be between 13 and 30 pounds per square foot before saturation, and whether the roof can hold the extra weight should be calculated as well.
Vegetated roofs consist of a few different layers. Whether the green roof is on a small home or a skyscraper, these layers are more or less the same:
Waterproof layer
All green roofs need an additional layer of waterproof material that is root-resistant. A single sheet, such as heavy-duty pond liner from a local store, is perfect for this layer. When applying, mark the outlets so that the area can be cut open in a later step.
Drainage layer
Drainage is essential for excess water to escape from the roof. Make sure the outlets are cut into the containment frame, which will allow water to flow into the gutter of the roof. It is crucial that the outlets stay clear at all times. By using pebbles around the outlet point, you can avoid vegetation establishing itself in the drainage system or around the edge of the roof.
You can also lay out moisture blanket or geotextile membranes (which are fungi- and bacteria-resistant) to help the plants keep water. Alternatively, a gravel or limestone chip layer can be spread on top of the waterproof layer to ensure drainage.
Substrate layer
The soil needed for a green roof should have a ratio of 70 percent inorganic material and 30 percent organic material. Low nutrients and lightweight substrates are perfect for a green roof.
Vegetation layer
The last layer is the vegetation itself. The types of plants that you will have will depend on the type of green roof you are installing (extensive or intensive). Seed mixtures can be bought specifically for green roofs. Green roof blankets can be rolled out, or plants can be directly planted into the soil. Whichever method you choose, keep in mind that you can tailor the planting to attract certain species of plants and wildlife.
Last, check the condition of your green roof at least a couple of times a year, and keep it chemical-free. Your home will soon be looking more attractive, even as you contribute to a healthier environment.
In 2012, the Department of Energy and its national laboratories created a resource for homeowners, buyers and renters to see a home's energy use in a simple way. Since then, over 68,000 homes in the U.S. have taken advantage of the Home Energy Score tool, which includes
A numeric score based on the home's envelope (foundation, roof, walls, insulation and windows) and heating, cooling and hot-water systems.
A total energy use estimate, as well as estimates by fuel type, assuming standard operating conditions and occupant behavior.
Recommendations for cost-effective improvements and associated annual cost savings estimates.
A "Score with Improvements" reflecting the home's expected score if cost-effective improvements are implemented.
The score is developed a one-to-10 scale, where a 10 represents the most efficient homes. It also comes with a detailed fact sheet of how the score was compiled and recommendations for how to make your home more efficient.
Beyond giving homeowners the information they need to make their home more energy-efficient and to save money, the Home Energy Score can also showcase the energy investments you've made in your home to make it more attractive to potential buyers in the future.
Assessments can be completed in less than an hour in most homes, and you can find local assessors on DOE's website.
Watch a video to learn more about the tool:
If you're thinking about making your home more energy-efficient, there are many good reasons to do it. In addition to reducing your carbon footprint and lowering your utility bills, completing eco-friendly renovations can even raise your home's value. Here are four green renovation ideas that could increase the value of your home.
1. Let the sunlight in.
The sun is a natural source of light, heat and energy. Take advantage of this resource by adding skylights, windows or solar panels to reduce both your carbon footprint and your utility bills. Increasing natural light can reduce your need for electricity during the day, while solar panels and even some skylights can convert energy from the sun into energy you can use to power your home.
Don't be deterred by the expense—you may be able to recoup most, if not all, of the costs. As Consumer Affairs notes, items such as solar-powered blinds can boost your home's energy performance by as much as 45 percent, and multiple studies have shown that potential buyers will pay more for energy-efficient homes. In addition, going solar could have tax benefits.
2. Replace old windows and doors.
New doors and windows can make your home more energy-efficient by creating a better seal to block out the outside weather, leading to lower heating and cooling costs and improved curb appeal. In addition, some purchases may be eligible for rebates and tax incentives. Replacing an old wooden front door with a new, stainless steel door can yield one of the highest rates of ROI of any home renovation project—as much as 102 percent of your investment. And Energy Star-rated windows can save you hundreds of dollars a year in heating and cooling costs.
3. Upgrade appliances.
Appliances contribute to an estimated 15 percent of your energy usage, according to the U.S. Department of Energy. You can reduce your energy consumption by upgrading to appliances that are more energy-efficient. Before upgrading, remember to look at kilowatt-hour usage: Compare your current stove, refrigerator and dishwasher to the newer options to ensure you're getting a more efficient model. Some utility companies offer rebates and discounts when you upgrade to energy-efficient models, so be sure to find out if you're eligible. Don't forget to recycle your old appliances.
4. Refresh and upcycle.
Fresh, updated interiors can greatly improve the value of your home. HGTV estimates that a kitchen remodel can yield more than a 100 percent return, while a remodeled bathroom could recoup nearly double its cost at resale. Keep your remodel green and economical by sourcing used or reclaimed materials. Built-in shelving made from reclaimed barn wood, kitchen islands made from repurposed antique furniture and upcycled hardwood flooring can reduce your carbon footprint and add character to your home. Look for materials such as recycled glass and stone for beautiful countertops, and give kitchen cabinets a fresh look with low-VOC paint.
Learn how to do a green kitchen remodel.
Learn your current home value with the Home Estimate tool from Owners.com.
Putting a premium on indoor air quality and nontoxic materials, the homeowners of Right Sized Passive Home in Oak Park, Illinois, built their residence to high standards of health. Certified as LEED Platinum, the house was recently named Outstanding Single-Family Project in the LEED Homes Awards for 2016, a few months after making an informal rundown of 8 coolest LEED projects of 2016.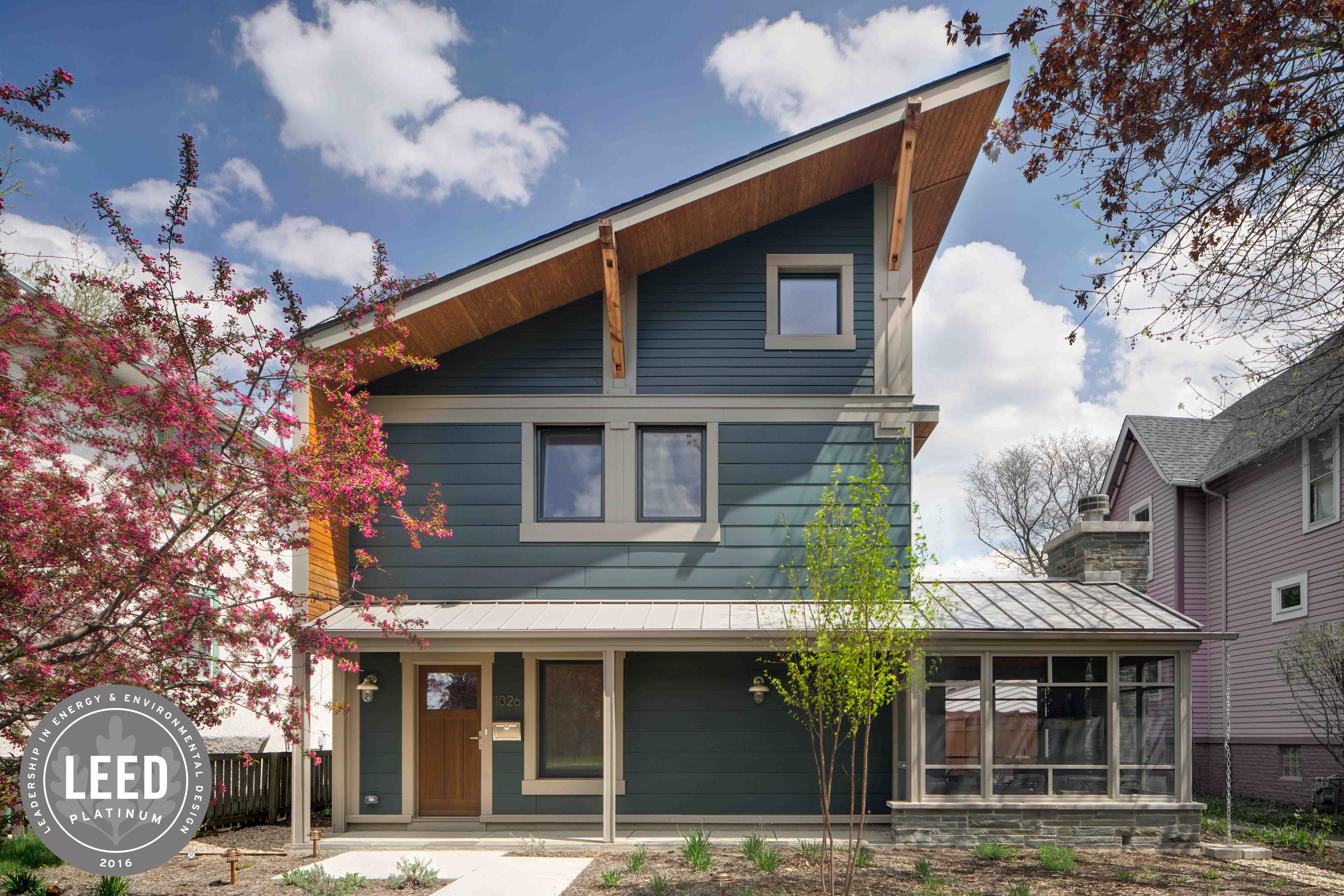 Also built to achieve Passive House certification, the home was designed by Tom Bassett-Dilley Architect, constructed by Evolutionary Home Builders and verified by Eco Achievers. It has its own energy monitoring system, so the owners and designers can track energy use compared to modeled predictions. So far, the all-electric house seems to be running at about 500 kWh per month, below the modeled prediction. The owners also plan to install a solar array within the next year.
The homeowners wanted a good design that would allow more investment in a smaller project. In under 2,000 feet, the house allows a flow of light and energy throughout its spaces, including a screened-in porch that reinvents the traditional spot to socialize and enjoy the outdoors.
In choosing materials, the team used tactics such as
The project team's strictness about keeping toxins out of the construction process, providing a continuous balanced ventilation system and providing third-party air quality measurement at the end of construction allowed them to create a clean, healthy indoor environment. In addition, by designing a house that is sensitive to the scale and character of the neighborhood, they feel they have supported the quality of the surrounding built community.
Learn more about building for indoor environmental quality in LEED
This article was originally published on Houzz on June 11, 2012, as "The Ecofriendly Kitchen: Light Your Kitchen Right," and is presented here with permission. Read the original article.
Smart kitchen lighting goes beyond replacing your old bulbs with more efficient models. Reducing energy consumed by lighting can be easy with a kitchen that's designed for flexibility and makes use of the most energy-efficient lighting of all: natural daylight.
Look to your light switches as an important place to save money and energy, because turning unnecessary lights off or dimming them reduces energy consumption.
Dimmers provide flexibility and conserve energy. Dimming a light by half can cut electric use by 40 percent. Dimmers also extend the life of the bulb. Note: Dimmers don't work with most fluorescent bulbs.
Multiple switches provide flexibility, allowing you to turn on just the right amount of lights. At a minimum, your general overhead lighting, accent pendants and undercabinet lighting should all be switched separately. When planning your switches, also consider how you might use lighting for different times of day and various occasions.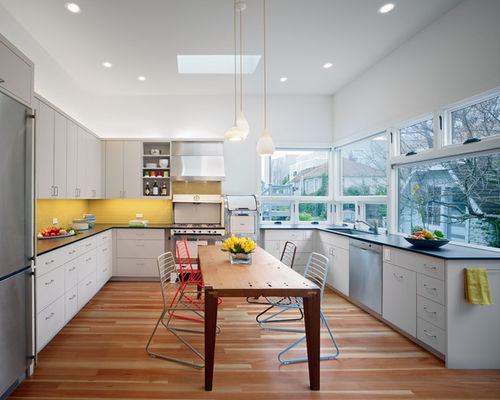 Photo credit Chr DAUER Architects; original photo on Houzz.
This kitchen is a top-notch illustration of good lighting and clearly illustrates the three types of interior lighting:
Ambient: In this kitchen, the recessed can lights and the barely detectable uplighting on top of the upper cabinets are the ambient (or general) light source, which provides an area with overall illumination.
Task: Here the pendants over the table and the undercabinet lighting are the task lighting, which helps you perform specific tasks, such as preparing and cooking food.
Accent: This kitchen's pendants also act as accent lighting, which creates visual interest.
This kitchen also keenly incorporates natural daylight with a skylight and a bank of windows at counter level.
Natural daylight
Reduce your need for artificial light and take advantage of natural daylight as a cost-free way to illuminate your kitchen during daytime hours. Besides, who doesn't love a gorgeous light-filled space?
North- and south-facing windows are optimal for bringing in natural light. Northern light is softer and unaccompanied by glare or direct light (which brings with it heat). South-facing windows can introduce direct light, but that light is easy to control with short exterior overhangs designed to keep direct light out during hotter months. The daylight (and associated heat gain) from east- and west-facing windows is the toughest to control, but can be counteracted with exterior vegetation or window coverings.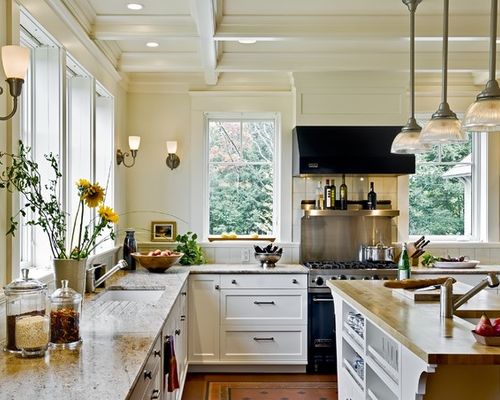 Photo credit Smith & Vansant Architects PC; original photo on Houzz.
Natural daylight without upper cabinets. One of my favorite kitchen design moves is the elimination of upper cabinets in exchange for more windows. I avoid conventional upper cabinets because the space below them—even with undercabinet lighting—is often dark and less usable. Without upper cabinets in this kitchen, the full depth of the perimeter counters is more usable, and the work surfaces are bathed in natural light during the day, meaning light fixtures can be comfortably kept off.
Photo credit Moroso Construction; original photo on Houzz.
Natural daylight with upper cabinets. Smart designs, like this kitchen, can avoid the shortcomings of upper cabinets. This kitchen employs light-colored, reflective surfaces and an undercabinet window to keep work areas bright during the day.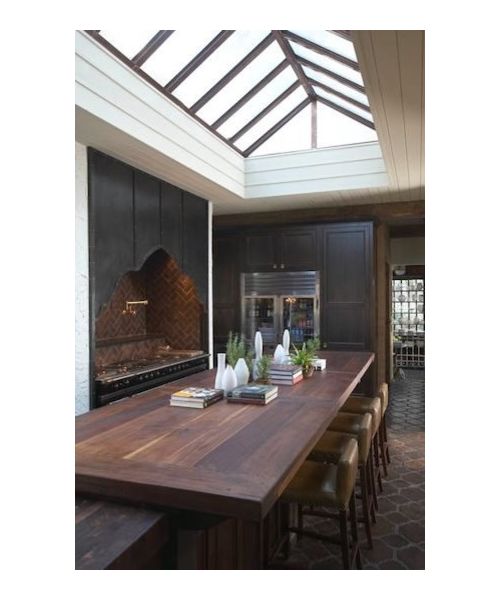 Photo credit Tracery Interiors; original photo on Houzz.
Natural daylight with skylights. Introducing natural light doesn't require trading in wall space for windows. Look (up) to skylights for a great way to deliver daylight to your kitchen work surfaces. This kitchen has no lights turned on, and yet the island is beautifully awash with bright natural light.
Photo credit Feldman Architecture Inc.; original photo on Houzz.
Natural daylight from remote sources. This kitchen doesn't have access to windows or a skylight, but it's light-filled, thanks to a clever design that borrows daylight from a second story.
Light-colored surfaces
Surfaces, especially countertops, that are light-colored and reflective will make the most use of the light cast upon them.
Bulbs for kitchen lighting
Three types of bulbs, or lamps, as they're known in the lighting industry, are most common in current kitchen design:
Incandescent: Thank you, Thomas Edison, for allowing us to relegate candles to birthday cakes and romantic evenings, instead of having to use them for our primary lighting. Although incandescents were the lighting standard for decades, the lighting industry is quickly moving away from inefficient incandescent bulbs—even making some bulbs illegal. And for good reason: a 100-watt bulb is 2.1 percent efficient, producing about 2 watts of light and 98 watts of heat.
Compact fluorescent: CFLs have been everyone's go-to efficient bulb, but, much like eight-tracks or compact discs, their time with us may be short. While these bulbs use about a third or less of the energy that an incandescent uses, CFLs are difficult to dim, contain mercury (though some mercury-free options are available) and are being outperformed by LEDs.
LED: Light-emitting diode lamps and fixtures should be your new go-to for efficient artificial light, with increased efficiency over CFLs and a life span that's six times longer. Prices have been plummeting as demand has risen.
The Federal Trade Commission is making it easier for consumers to compare lightbulbs by requiring labels on bulb packages that are similar to nutrition labeling. The straightforward label provides everything you need to know, including brightness (lumens), estimated operating costs, expected life span and light appearance (color temperature).
Photo credit EnvironmentalLights.com; original photo on Houzz.
With newer lightbulbs designed to use less energy, wattage is no longer an effective way to gauge a bulb's brightness, so the industry is shifting from watts to lumens. This chart provides an easy guide to lumens based on equivalent incandescent bulb wattage.
Color temperature is how light appears to us—warm, cool or natural. You can dramatically alter the character of a space with a lamp's color temperature. Look for color temperature, called "light appearance" on the new lighting fact labels.
Related articles
From when the sun rises until it sets, homeowners struggle with keeping their space bright and airy, without paying for it with excessive energy bills.
Although it's energizing to let in some sunlight during the daylight, it can also let in heat and make your home less energy-efficient. This can lead to your frequently opening and closing the blinds, without really knowing the effect it has on your home's temperature.
Technology companies are taking note of this issue, and several smart home products for window treatments have popped into the market. These provide a good alternative to remote-controlled blinds. Smart window treatments may help you automate your blinds at a low price.
When looking into automating blinds, you might consider these options:
Blinds that shut when it's hot
The biggest annoyance of traditional blinds is that it's easy to leave them open, even after the temperature heats up. Smart blinds can solve this issue. For example, My SmartBlinds has a unique energy savings mode that can automatically close the blinds when the window heats up.
Shades that are voice-controlled
Another smart shade solution is the Lutron Serena. While these are more expensive, they offer Apple HomeKit compatibility, so you can say "Siri, close the shades" and watch your futuristic home follow your commands. For now, these are some of the only voice-controlled blinds, but new products will likely come along to work with Alexa, Google and others.
Shades that work with your Nest thermostat
If you're familiar with window treatments, you've probably heard of HunterDouglas. The manufacturer is now venturing into the smart shades market, with motorization that can specifically work with Nest thermostats. The blinds automatically adjust themselves when your Nest senses that you're away from home. It can also insulate your home during "rush hour" events, when the power grid is at maximum load and you may be billed more for using energy.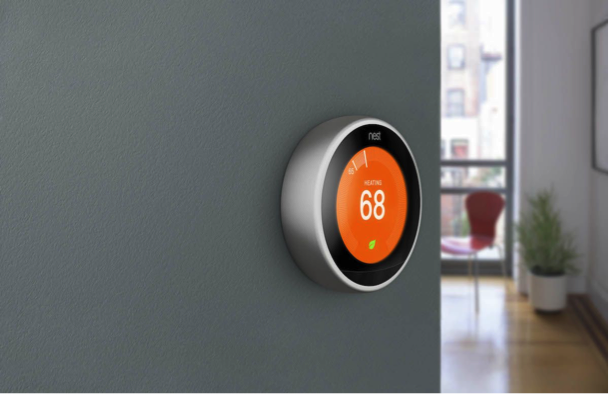 Photo courtesy of HunterDouglas.
A small device that works with most blinds
If you're not interested in replacing all of your blinds, check out the SOMA Smart Shades by Wazombi. It's a new device that's still got some kinks to work out, but here's how it works: SOMA Smart Shades installs next to your blinds with the beaded pulleys feeding through. Then, it adjusts automatically by pulling to close or open the shades, just like you would. Currently, SOMA only works with shades that have beaded pulleys.
A device with solar recharging
FlipFlic, a Kickstarter invention that's currently in pre-orders, is another retrofit solution designed to work with your current blinds. Designed to fit on top of your shutters or blinds, the small device turns your blinds down when your room heats up during the day. FlipFlic's battery recharges with its included solar panel. It also works with the well-known BLE and ZigBee hubs, allowing you to implement your blinds into daily smart home scenes.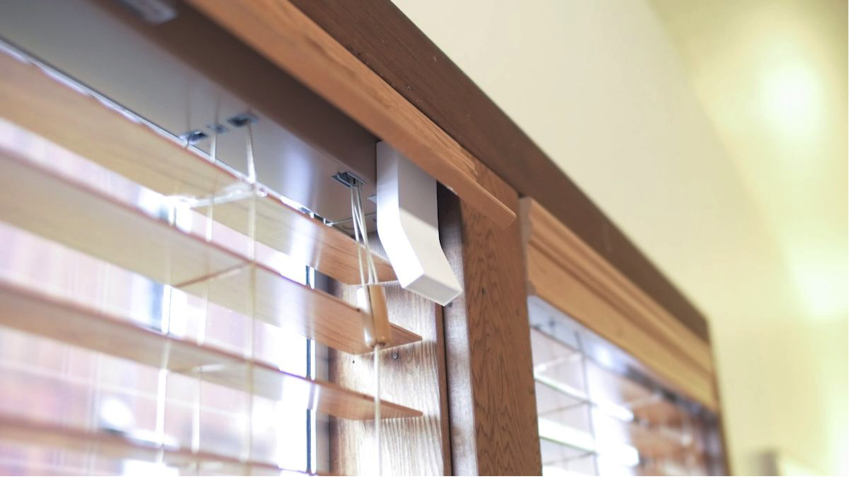 Photo courtesty of FlipFlic.
Of course, these solutions get more expensive when implemented across your entire home. Since the average house might have 20 or more windows, and one of these devices can run hundreds of dollars, the total cost adds up quickly. If you have a small apartment, or just one room that gets hot during the day, then the price might not be as much of a factor.
As manufacturers continue improving the options for shades, blinds, shutters and all types of window treatments, they will become even more smart, energy-efficient and affordable.
Annual recognition highlights projects, developers and builders leading the residential market in sustainable development
Washington, D.C.—(Sept. 12, 2017)—Today, USGBC announced the recipients of its annual LEED Homes Awards, which recognizes projects, architects, developers and homebuilders who have demonstrated outstanding leadership and innovation in the residential green building marketplace.
The LEED Homes Award recipients include multi-family, single-family and affordable housing projects and companies that are trailblazers in the residential sector and have prioritized incorporating sustainability within their projects in 2016.
View our slideshare of the recipients:
"Bringing the outdoors in" is more than just a popular interior design concept: It's a practice that also offers several life-enhancing and environmentally friendly qualities. Scientific evidence suggests that nature nurtures humans, lowers their stress hormones, reduces the incidence of disease and generally boosts heart health, metabolic health and attitude.
Here are some ways you can easily ramp up the natural vibe in your own home or apartment, so that you can live a greener life and experience these benefits.
Plants and herbs
Having live houseplants at home is an easy way to integrate nature into your residence. Make it even less stressful for yourself by bringing home plants that are simple to maintain. Succulents are almost impossible to kill, conveying the outside world to any room. Other easy-to-care-for plants include golden pothos, philodendron, rabbit's ear, cast iron plants (aspidistra) and ribbon plants (sansevieria). Any of these will produce a garden feeling, sans the stress of maintenance.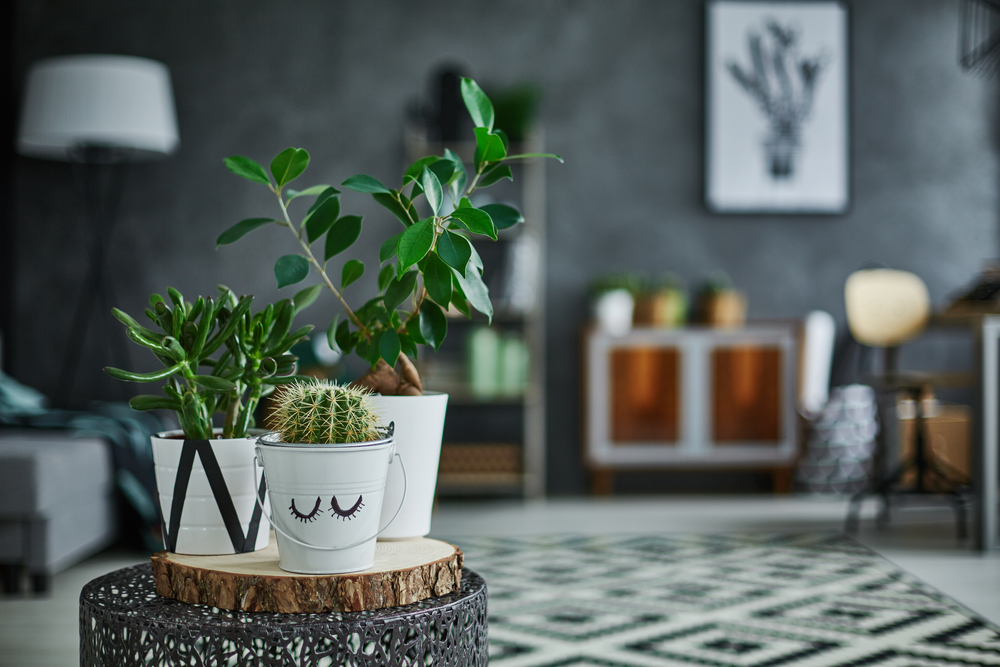 Fresh herbs are also easy to grow at home. They not only create an additional green focal point, they make good food great and may add nutritional value. Smart choices include dill, basil, thyme, oregano, rosemary and mint. Many herbs are thought to have medicinal properties. Fresh herbs are incredibly aromatic, an added benefit.
Having indoor plants also helps improve the air quality of your home. The air-cleaning properties of plants help counteract indoor air pollution that is caused by volatile organic compounds (VOCs), which are hazardous to both the environment and your health, found in many household objects from furnishings to cleaning supplies.
Organic scents
The scents of nature can bring a variety of advantages to your health and home. By using essential oils through diffusers, you can reap the benefits of common yet refreshing scents like lavender, lemon oil, peppermint and wild orange. These oils have been suggested to provide physical and mental health benefits.
These scents also have the side effect of giving your apartment a welcoming fragrance, but with a potentially better environmental impact than artificial air fresheners, as they don't release toxins into the air and are not dispensed with harmful aerosols.
Fresh air
The air you breathe has a direct impact on your health. Why not make it as fresh as the great outdoors, without pollen, dust and other allergens? Although it's important to open your windows and doors regularly to air out your home, you can also use air purifiers to make that air as clean as possible. Portable air purifiers come at all price points (and sizes and colors). Make sure your home's air is clean—without triggering the discomfort and stress of allergies or asthma.
Sounds of nature
Does falling asleep to ocean waves sound like your idea of heaven? Or would you rather listen to a thunderstorm, chirping crickets or a babbling brook? Listening to sounds of nature can relax you and improve your focus. Technology brings nature to bedtime (or anytime!) at an affordable price. With the use of portable sound machines or even a simple smartphone app, you can turn on your favorite natural sound to help you relax.
Pets
Hospitals use therapy animals for a reason: They're good for your health. Pets are comforting and stress-lowering. (Fish tanks are even attributed with life-changing powers in the practice of feng shui). As long as you don't have pet-related allergies, having an animal at home is a great natural boost to your health. A dog will also encourage you to visit the great outdoors several times a day, multiplying the benefit.
Environmentally friendly décor
Today's websites, apps and department stores make it easy to learn about the products you're buying. Choose furnishings and décor that come from organic materials, reclaimed or repurposed wood, and renewable materials like bamboo. Shop for accessories that minimize the use of plastics and toxic chemicals. This will not only benefit the environment, it will reduce the level of VOCs in your home, creating healthier air.
Whatever ways you choose to bring nature indoors, you'll enjoy gently stimulating your senses in restorative, healing ways. Calm your nervous system, decrease your stress levels and get in touch with the peace that only nature can provide, all in your own home.
A 2012 book called From the Ground Up: Innovative Green Homes, edited by Peggy Tully, documents a 2008 design competition of the same name. Competition entrants were asked to envision affordable, green single-family houses for the Near Westside neighborhood of Syracuse, New York.
Seven finalists were selected from the more than 50 entries received, and three of the finalists' designs were realized. This ideabook focuses on those three houses, which are 1,100 square feet and $150,000 each, and the lessons they offer about green residential architecture.
Photo credit Princeton Architectural Press, original photo on Houzz.
The competition targeted the Near Westside neighborhood of Syracuse for more reasons than proximity to Syracuse University. As Mark Robbins, dean of the university's School of Architecture, describes it, the "From the Ground Up competition seeks to provide another model for disinvested urban residential neighborhoods found throughout the United States through the creation of affordable green homes." Yet, as can be seen, and as Michael Sorkin picks up on in his essay in the book, the winning houses are highly individual forms that have a scale similar to existing houses in the neighborhood but stand out strongly from them.
The R-House
Architect: Architecture Research Office and Della Valle Bernheimer
Climate engineer: Transsolar
Who lives here: Maggie Maurer, a single mother of three
That's interesting: The home is built to stringent Passive House standards.
The R-House (shown next to the orange TED House, coming next) takes its name from "R-value," a unit of thermal resistance that measures the thickness of the material divided by its thermal conductivity.
This is an apt moniker, considering how the architects designed the house to meet Germany's Passivhaus (Passive House) principles: It has airtight, superinsulated exteriors with minimal thermal bridging, highly insulated windows and heat-recovery ventilators.
Photo credit Princeton Architectural Press, original photo on Houzz.
Following Passive House principles, the architects made the resulting exterior envelope 16 inches thick, with a value of R-70. From inside to outside, there's 2x6 wood framing (2x12 framing at the roof) with blown-in fiberglass insulation (drywall is mounted on the interior face of the studs, plywood on the exterior side), then EPS (foam) insulation, and finally corrugated metal siding mounted on furring strips.
Uniquely, instead of using wood studs, the walls and roof are framed with truss joists (TJI members) that are normally used as beams. Triple-glazed windows with argon filling are the last ingredient in creating a superinsulated exterior.
Windows are minimized, such that joints between window and wall assemblies are reduced. The windows are also located to take advantage of the sun (south is up on the floor plan, for reference, so the street elevation faces north), bringing as much light as possible into the double-height space that comprises almost half the house.
The architects boast that "a single mechanical unit ... quietly circulates air throughout the house," thereby reducing "electrical consumption by approximately 70 percent compared to the typical Syracuse home."
A blower door test was performed to determine the levels of air infiltration at the exterior. In the test, a fan is attached to the front door to differentiate between indoor and outdoor pressure, and an assessor walks around the building with a smoke stick to see where any gaps occur. (It's great to see such low-tech testing at a time of highly technological green building.)
The team then made fixes toward gaining Passive House certification—to date, only 52 projects in the U.S. are certified, and only two in New York state.
Photo credit Princeton Architectural Press, original photo on Houzz.
The two-bedroom, two-bath house was bought by Maggie Maurer (shown here) and her boyfriend Peter Waack. Maurer, a mother of three, is actually a Building Performance Institute–certified building analyst, meaning she is living in one of the best examples of what she devotes her working hours to.
Photo credit Princeton Architectural Press, original photo on Houzz.
The TED House
Architect: Onion Flats
Energy consulting: MaGrann Associates
Who lives here: Steven Morris and Sara O'Mahoney, a young couple who own a bicycle shop in the city
That's interesting: Onion Flats won the competition, then completely redesigned the house after taking a Passive House certification training course.
Photo credit Princeton Architectural Press, original photo on Houzz.
Like the R-House next door, the TED House is designed per Passive House standards, but that did not happen until after Onion Flats won the competition, right before the project was going in for permits, in fact.
As the architects put it, "After our Passive House training, we were embarrassed by such a wimpy shell" of R-19 in the walls and R-30 in the roof. They changed from batt insulation and R-1 windows to closed-cell spray foam, densely packed cellulose, a zip-panel air barrier, 4-inch EPS insulation, a metal panel rain screen and R-10 windows.
Photo credit Princeton Architectural Press, original photo on Houzz.
While the cost for the shell went up over their competition entry, it resulted in reduced mechanical needs. Or, as they describe it, "TED has the equivalent of a fur coat, rather than a windbreaker, standing between it and the harsh Syracuse winter." This keeps out the cold but also keeps the heat in, requiring very little heat to be generated.
The floor plans illustrate one way that Onion Flats sees the house being added to—a bedroom off the stair could turn the two-bedroom, two-bath into a three-bedroom house.
As the photo above attests, the house is striking for the dramatic three-story space that extends from the kitchen to the loft below the solar chimney that caps the house. Warm air and humidity are exhausted at the top of the house, taking care of the interior's cooling needs in the summer.
Steven Morris and Sara O'Mahoney, who own a bicycle shop in the city, purchased the house with the help of Home HeadQuarters, a housing provider that gave them down payment assistance and tax incentives. They say their house is "cheaper than our apartment was—and it's a thousand times nicer." Note the trays above the kitchen doors, where the couple is growing some food through the help of the glass transom.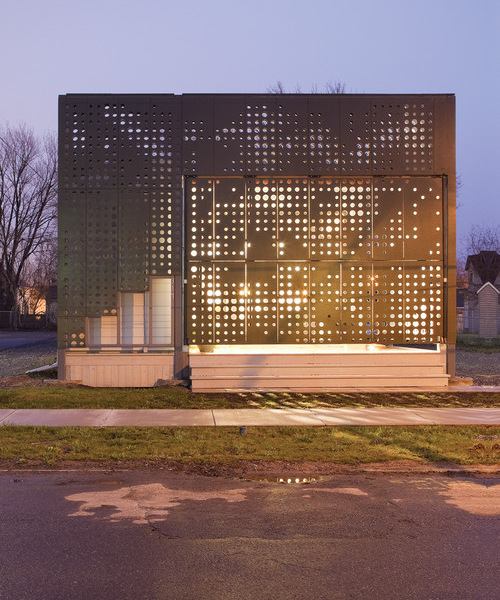 Photo credit Princeton Architectural Press, original photo on Houzz.
Live/Work/Home
Architect: Cookfox Architects
Environmental consultant: Terrapin Bright Green
Who lives here: John and Kathy Miranda, a semiretired couple
That's interesting: The home is envisioned as a mixed-use model for incorporating work into urban and suburban houses.
While a lot of modern and contemporary residential architecture is criticized for not appearing homelike, the architects of the Live/Work/Home made the conscious decision to design a house that could be mistaken for a commercial building. In their decision to integrate work into the residential program, they hope to, as they say, "attract new residents and uses, helping to repopulate the urban neighborhood."
The retractable front screen can maintain privacy and filter sunlight, but it could also serve as a means of signaling when the work portion is open for business.
Photo credit Princeton Architectural Press, original photo on Houzz.
Rather than combining parcels, as done on similar projects, the architects worked with one lot, meaning that the resulting single-story plan is a linear one. They found inspiration in vernacular longhouses, specifically the Haudenosaunee one in the Syracuse area. An external corridor extends from the front porch (previous photo) to the back porch. Hinged panels, perforated in tree-like patterns like the front facade, can be opened and closed to let in light and maintain privacy.
The plan is described by the architects as a loft, such that the main open space could be opened up entirely or, as is shown here, partitioned with casework for bedrooms.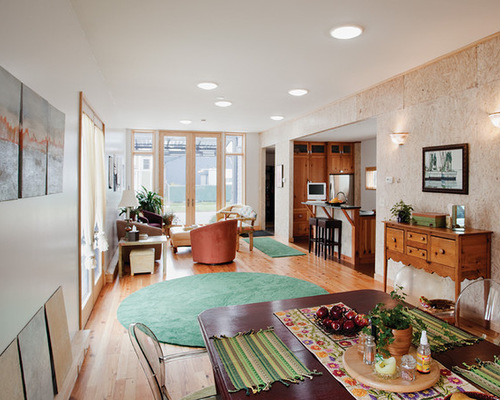 Photo credit Princeton Architectural Press, original photo on Houzz.
Keeping with the $150,000 budget, the house is finished simply. A wall faced in oriented strand board separates the loft space from the service areas—storage, kitchen, bathroom, laundry. Additional natural light enters the house through solar tubes. Their orientation across the ceiling echoes the perforated panels of the exterior.
The exterior walls behind the perforated walls are made from structurally insulated panels that combine with the insulated glass and reflective roofing to create an efficient envelope, if not as tight or superinsulated as the other two houses.
The flexible zone at the back of the loft is accommodated by sliding panels that also echo the exterior perforated screen. Note the tracks on the floor and the ceiling that allow for as much area to be open or closed as the owners want.
John and Kathy Miranda are semiretired. They bought the Live/Work/Home after living in an apartment in downtown Syracuse and love its design.
In addition to the three houses discussed here, the handsome book—part of the New City Books series—presents the other four finalists, and it includes essays by Mark Robbins and Michael Sorkin, mentioned earlier, and by architectural historian Susan Henderson.
What is most valuable about the book is the way it extends from the competition in 2008 to the recent occupancy of the houses; it doesn't limit itself to one aspect of the process. This big-picture presentation goes hand in hand with the big idea of realizing houses from a design competition whose timing coincided with the housing crisis and the doubt it created.
Related articles