Our modern appliances use a lot of energy, and washing machines and dryers are among the biggest culprits. But there are also plenty of ways to minimize that energy drain by using more efficient appliances, running them less often and making other lifestyle tweaks.
Install energy-efficient appliances
Getting an Energy Star washing machine can save not only energy, but water—up to 3,000 gallons a year, according to the organization. The machine design employs sensors and spray action to avoid filling the tub with water every time, regardless of load size.
Similarly, an Energy Star dryer uses sensors to shut off automatically when clothes are dry. If you use a clothes dryer, make sure you clean the lint filter after every load, and separate the heavy items, such as towels or blankets, from lighter ones to enhance the drying efficiency. You can also choose to run any dryer on a low-heat setting.
Do laundry less frequently
If you don't have an energy-efficient washer, plan your laundry days so that you can throw in enough clothes to fill the machine each time. This will prevent water waste. Plus, many clothes, such as blue jeans or sweaters, don't need to be washed as often as you may think—try switching to after every third wear.
Use the cold-water settings
Heating water for the laundry cycle just adds another layer of environmental impact to the process. Wash everything in cold water. Your clothes will get just as clean, and you will reduce energy consumption by about 90 percent.
Rethink your detergent
The phosphates present in many conventional detergents can end up in our waterways, where they affect marine ecosystems. Look for green detergents with labels that say "biodegradable" or "phosphate-free." You can also make your own detergent or fabric softener.
Line-dry your clothes
You probably already do this for some of your delicate clothes—why not for all of them? You can use drying racks indoors, or if you have yard space, string up a clothesline and let them dry in the fresh air. If you skip the dryer step altogether, you could be saving the yearly equivalent energy consumption of a refrigerator, clothes washer and dishwasher combined.
On Fridays, USGBC shares green home-related content curated from around the web. If you see a great article on aspects of environmentally friendly home living such as green building, renovation, energy use or cleaning, please send it our way.
If you have a backyard garden, you know how great it can be to have access to fresh fruits, vegetables and herbs that you've grown yourself. But if you live in an urban environment, you may not have that much individual space. Did you know that community gardens—also known as urban farms—are popping up more and more in today's cities?
Benefits of such a garden include providing healthy, fresh food options in low-income areas, teaching environmental stewardship to youth and creating a sense of community among neighbors as they work together to make the garden grow. In addition, gardens can help reduce the heat-island effect and rainwater runoff; attract butterflies, bees and birds to the area; and recycle organic materials through composting.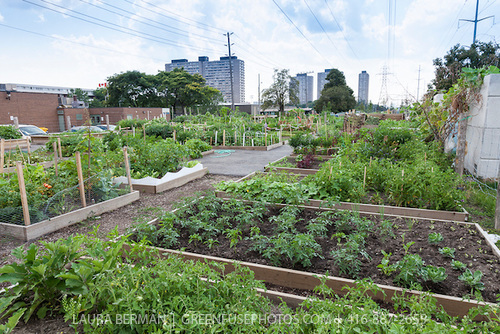 Different kinds of gardens work for different neighborhoods. You might organize plot gardens where each family is responsible for a different segment. On the other end, a cooperative or communal garden is one large space managed by all participants. Whatever kind you choose, you'll need to select a site, determine who will be involved and create a gardening work schedule.
Encourage kids to get involved. Meeting neighbor families, working on a long-term project and learning about the intersection between cities and nature in a tangible way can be both educational and rewarding for them. It's also a great family activity!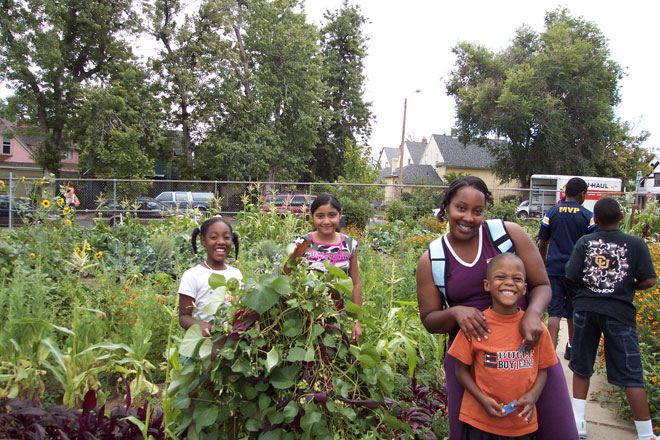 A few youngsters enjoy the scene while helping out at a community garden in Denver. Used with permission by Colorado Arts & Sciences Magazine. Photo credit: Denver Urban Gardens Staff, 2005.
Resources:
This article was originally published on Houzz on May 27, 2016, as "How to Use Trees Inside," and is presented here with permission. Read the original article.
Trees are nature's perfect architecture. Besides being beautiful, they provide shade and shelter, and change with the seasons. Hanging out in treehouses in childhood was perhaps our way of getting close to these perfect living structures. Lucky for us, we can keep trees close to home even as grown-ups. It's possible to bring trees indoors as integrated design elements, either by using existing mature trees or with new plantings. Here's what to consider whichever way you choose.
Existing Trees
The first way of integrating trees into the design of the home is by designing new construction around existing mature trees. A licensed building architect is the professional who ultimately creates a tree-focused home design, but the architect may consult with a certified arborist, landscape architect or landscape contractor to ensure that the trees are healthy and not damaged during construction. Protecting existing trees and integrating them into the building of a new structure is a collaborative effort among the homeowner, architect, contractor and tree experts.
Photo by ANX/Aaron Neubert Architects; original photo on Houzz.
First, evaluate. Some species of trees are simply less sensitive, and more resilient to stresses and changes in their environments. One such tree is the California sycamore (Platanusracemosa), shown here as a mature specimen that has been partially enclosed by new construction. Whether or not a specific tree can be safely used this way is based on a number of factors. Trees suitable for integration into a building need to be evaluated by an expert. A certified arborist can analyze the tree's existing health, age and current growing conditions to determine how likely the tree is to survive the construction process. An arborist will likely need to remain involved to monitor the tree's health on a regular basis.
Utilize them for their artistic and cooling properties. Oftentimes a homeowner wants to go through the extra effort and expense to integrate an existing tree because there is something special about it. The tree could have an unusual character or form that would translate well in the home. Additionally, trees can provide substantial cost benefits. Travis Price of Travis Price Architects is experienced with integrating trees into residential buildings. He cites the value of trees for their cooling properties by saying, "Shade is the most cost-effective British thermal unit in the world." Existing trees that are preserved and integrated into the architecture of the home can help with the summer cooling costs because the trees shade and cool the house.
Know exactly where the roots are. As with any construction near existing trees, it is important to protect the root zone from damage. A general rule of thumb considers the critical root zone as determined by the tree's trunk diameter or by the drip line measured from the trunk to where the branches extend. However, this calculation is not precise enough when building close to an existing tree. Instead, air-spade technology can blow soil away to reveal where the major roots occur. Using that information, a precise mapping of the roots can inform the exact locations of deck and foundation pilings as well as other structures.
Protect the roots. It is critical that the roots are not damaged or disturbed during the home's construction. Root injury resulting in tree mortality can occur when there is mechanical damage to the roots or when the soil surrounding the roots is compacted. In this photo, a platform foundation set on pilings allows for minimal site disturbance so that the tree roots are protected from harm.
Provide water. Constructing a home around existing mature trees typically results in decreased access to normal rainfall because of a new roof, foundation or other structural piece that redirects rain away from the roots of the tree. Here, the home floats above the ground on pilings, and the tree trunks are surrounded by glass with an opening to the sky. This doesn't provide the roots underneath the platform with much access to rainfall. Instead, a timed irrigation system waters the roots under the home to ensure that adequate water reaches the trees.
New Trees
Homes can be designed to have indoor planting areas for growing new trees inside. This essentially sets up a container condition because the soil is encapsulated by the building foundation. It can work beautifully so long as the tree receives the essentials: air, water, soil and sunlight. It's also important to consider the tree's growth habits, requirements and ongoing maintenance.
Provide enough soil. The challenge with planting trees inside is the limited soil volume. A tree grown inside is essentially akin to a container plant, even in the larger sizes. The weeping fig (Ficus benjamina) pictured below is a common indoor plant—and street tree in warm climates—that can live in a relatively small soil volume. This makes it an ideal indoor tree. Also, it's evergreen and very low-maintenance.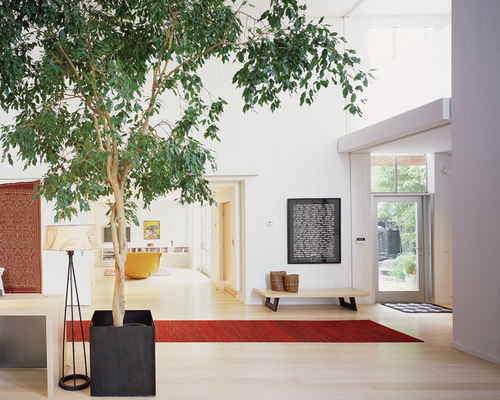 Photo by Kuth/Ranieri Architects; original photo on Houzz.
Provide steady light. Trees will grow best when provided with bright light. The light can be indirect or diffused, but it should be consistent for the tree to grow and thrive. Consistency is important because regular bright light exposure will keep the tree from growing gangly and will produce consistent foliage. [Try] a fiddleleaf fig (Ficus lyrata) growing near a large and bright expanse of windows.
While not a tree, [a] clump of bamboo makes a pretty addition to a well-lit stairwell. The stones provide a nice finish on top of the soil.
Pick the right species. Trees that work well as long-lasting interior plants have a number of traits:
Interesting evergreen leaves: Pick a species that has showy or textured leaves that won't drop all at once. The big leaves on fiddleleaf fig or Indian rubberplant (Ficus elastica) are good examples.
Small stature: Choose a tree that won't outgrow its space by knowing its mature height and spread when grown in a container. For example, the weeping fig can reach massive height and spread but will have limited stature when grown in the confines of an indoor planting. Other trees that maintain a small size in a container include Japanese maple (Acer palmatum) and Norfolk Island pine (Araucaria heterophylla).
Low maintenance: Stay away from trees that produce messy fruits, or need to be constantly fertilized or pruned. Of course, you also want to be mindful of plants that have poisonous parts and opt for nontoxic ones if you have kids or pets.
Related articles:
On Fridays, USGBC shares green home-related content curated from around the web. If you see a great article on aspects of environmentally friendly home living such as green building, renovation, energy use or cleaning, please send it our way.
Looking for ways to cut down your carbon footprint? Try reducing your water use in the kitchen.
Ensuring households have access to a clean water supply is an energy-intensive process, says the Natural Resources Defense Council (NRDC), and if we employ water-saving techniques in our daily routines, it will help save energy because less water will need to be treated and pumped to end users.
In the United States, the average family of four uses approximately 400 gallons of water per day, according to the Environmental Protection Agency (EPA).
Plus, using less water keeps more money in your pocket—the EPA says the average family spends $1,100 per year in water costs. In case you were wondering, that's approximately a month's rent for many city dwellers.
From the Green Home Guide experts to you, here are five ways you can lower your kitchen H2O use:
1) Tune up your kitchen sink faucet.
If your sink faucet is leaking, make sure to fix it right away. According to the EPA, more than 3,000 gallons per year of water can be lost from a leaky faucet that drips at the rate of one drip per second.
Also, consider installing a faucet aerator, which is fairly inexpensive and helps limit the amount of water used by mixing it with air.
2) Compost your food, or use your garbage disposal only when necessary.
Garbage disposals are a quick way to trash food waste, but they require plenty of water to properly operate. Composting the food helps cut down on water use in your kitchen. Learn how you can create a composting station in your home.
3) Rinsing produce and defrosting food—there's a better way to do it.
While prepping for a meal, use a large bowl of water to peel and clean your vegetables instead of running them under water. For frozen foods, use your microwave or refrigerator to thaw them.
4) Do your dishes more efficiently.
Did you know that dishwashers use less water than washing your dishes by hand? The NRDC says that hand-washing your dishes uses more than 25 gallons of water per load, compared to as little as three gallons with an Energy Star-rated dishwasher. (Make sure that you also only use the dishwasher when it's fully loaded.) But if you prefer washing dishes by hand, fill a small tub with as little water as possible.
5) Keep a designated water pitcher or bowl on your kitchen counter.
If you're waiting for the water to change temperature, don't let it go to waste—collect the excess water in a water pitcher or bowl that you can use to water any houseplants or the garden.
This article was updated in October 2017.
LEED (Leadership in Energy and Environmental Design) homes are green homes, and they are transforming the residential market and people's lives around the world. LEED homes are built to be healthier and safer by providing cleaner indoor air. They use less energy and water, leading to monthly savings on utilities, and maintain their value over time. More than 370,105 residential units have earned LEED certification as of October 2017, and both certified single-family homes and multi-family projects are selling faster and for more money than comparable, conventional homes.
"Since 2005, the green share of new single family residential construction has grown dramatically—increasing from 2 percent in 2005 to 23 percent in 2013. This 23 percent market share equates to a $36 billion market opportunity," according to a study on green labels in the California housing market.
Green homes create value
Nationwide, the typical household spends about $2,150 on residential energy bills each year, but LEED-certified homes are designed to use about 30 to 60 percent less energy. Over the seven or eight years the typical family lives in a home, this adds up to thousands of dollars in savings. Levels of indoor air pollutants can often be four to five times higher than outdoor levels, and with people spending an average of 90 percent of their time indoors, the average American suffers from significant exposure to unhealthy indoor environments. LEED residential units provide significant value to consumers through dramatically improving upon these environmental health factors.
Green homes are built to be energy-efficient, ensuring that they can be comfortably heated and cooled with minimal energy usage. They are individually tested to minimize envelope and ductwork leakage and designed to minimize indoor and outdoor water usage.
Green homes are increasingly desirable. More than half of consumers rank green and energy-efficiency as top requirements for their next homes, and LEED certification is a top individual attribute of apartment rentals, second only to location near a central business district.
Green homes can be built for the same cost as—and sometimes less than—conventional homes. Average upfront costs of 2.4 percent are quickly recouped, as a homeowner will save money for the duration of his or her green home's lifespan.
Green homes sell at higher prices and faster than comparable, conventional homes. According to a 2016 report, "What Is Green Worth? Unveiling High-Performance Home Premiums in Washington, D.C.," by real estate appraiser and author Sandra K. Adomatis and the Institute for Market Transformation, high-performing single family and multi-family homes with green features in Washington, D.C. will sell for 3.5 percent more than those without green features.
Green homes are growing
It is estimated that by 2018, the green, single-family housing market will represent about 40 percent of the market, and 84 percent of all residential construction will have sustainable features.
More than 370,105 residential units have earned LEED certification as of July 2017 around the world, and this number continues to rise in countries like the United States., Canada, Saudi Arabia and China. Within the United States, states with the most LEED-certified homes include California, Texas, New York, New Jersey and Georgia.
The 2015 Green Building Economic Impact Study, released by USGBC and prepared by Booz Allen Hamilton, found that the residential green construction market is expected to grow from $55 million in 2015 to $100.4 million in 2018, representing a year-over-year growth of 24.5 percent.
Green homes are healthier and safer
Related videos
&nbsp
---
With summer's arrival, the sunshine and warm weather provide the perfect opportunity to spend some time maintaining your home garden.
On a recent visit to the American Horticultural Society headquarters at River Farm, I discovered the Green Garage®. The aim of the Green Garage is to help gardeners seize opportunities to make environmentally conscious decisions. The garage encourages positive behaviors by showcasing tools, equipment, materials and techniques that are earth-friendly and that also contribute to the creation and maintenance of a beautiful and thriving home landscape.
Here are some Green Garage tips to help you green your home garden:
Be a green consumer
User water efficiently
Recycle and minimize yard and kitchen waste
Practice integrated pest management
Design an earth-friendly garden with site-appropriate plants
Be an informed gardener and keep records
Be part of a green community
Want to learn more? Look for Green Garage tips in The American Gardener magazine.
From lawn mowers to power tools, summer is the season for noisy equipment. There is certainly a lot to consider when you begin home improvements, but how often do you think about protecting your hearing?
You may assume the ringing sensation in your ears after using loud equipment is just an annoyance that will fade with time, but that is not always the case. Not only is it an indication you have come into contact with dangerous noise levels, it could also be a condition that lasts much longer than a minute or two.
Loud noise has the ability to harm your eardrum or your ear's hair cells, which can lead to noise-induced hearing loss and/or constant tinnitus. Tinnitus is the perception of a ringing or buzzing sound even when the sound is not actually present. This can be permanent or temporary, but there is no known cure.
Hearing loss or tinnitus can occur after exposure to noise above 85 decibels, and the sound made by common tools often exceeds this. Many tools reach about 90 to 115 decibels, which can cause damage in a short amount of time. Even using a loud power tool for a few minutes without hearing protection could leave you with permanent hearing damage.
It is always good practice to wear hearing protection when using most tools. Even if they are not high-powered devices, they can easily reach above 85 decibels. Luckily, hearing protection is easy to find and won't break your budget. Disposable foam earplugs are inexpensive and can be found at most pharmacies and hardware stores. For more heavy-duty protection, you can use silicone earplugs or noise-canceling earmuffs. These devices vary in the amount of noise they reduce, so make sure you are using ones appropriate for your needs.
Keep your ears safe and pick up some hearing protection next time you make a trip to the hardware store. Your ears will thank you!
Want to know more about your hearing? Check out EarQ.com for more hearing health education and hearing care providers in your area.
Having a healthy auditory environment is important. The LEED v4 Building Design and Construction: New Construction requirements include an acoustic performance credit. Standards on HVAC background noise, sound isolation, reverberation time and sound reinforcement and masking are included.
LEED for Homes is available for building design and construction projects for single-family homes and multifamily projects up to eight stories—and LEED for Homes projects are now in dozens of countries around the globe.
Organized by region, the data below shows current LEED for Homes registrations and certifications to date outside of the United States and Canada. This data represents projects outside the United States and Canada using the LEED BD+C: Homes and Multifamily Lowrise and LEED BD+C: Multifamily Midrise rating systems.
LEED for Homes: International project data
| | | | | |
| --- | --- | --- | --- | --- |
| Region | Country | Registered Units | Certified Units | Provider(s) Serving Projects |
| Africa | Mozambique | 40 | | Active Energies, Inc. |
| Africa | United Republic of Tanzania | 90 | 10 | Active Energies, Inc., Energy Logic, Inc., Southface |
| East Asia | China, Hong Kong | | 18 | Energy Logic, Inc. |
| East Asia | Republic of Korea | 1 | | |
| Europe | Austria | 1 | | Davis Energy Group, Inc. |
| Europe | France | 1 | | Ecohabitation |
| Europe | Italy | 1 | | Active Energies, Inc. |
| Europe | Montenegro | 1 | 70 | Active Energies, Inc., Guaranteed Watt Saver Systems, Inc. |
| Europe | Russian Federation | 1685 | | Active Energies, Inc. |
| Europe | Sweden | 1 | | Ecohabitation |
| Europe | Switzerland | 1 | | Energy Inspectors |
| Europe | Turkey | 102 | 10 | Active Energies, Inc., Guaranteed Watt Saver Systems, Inc. |
| Europe | United Kingdom and Northern Ireland | 1 | | |
| Latin American and Caribbean | Belize | 1 | | Florida Solar - FSEC |
| Latin American and Caribbean | Brazil | | 1 | MaGrann Associates |
| Latin American and Caribbean | Cayman Islands | 114 | 3 | Green Insight, LLC |
| Latin American and Caribbean | Chile | 15 | | Thornton Tomasetti, Inc. |
| Latin American and Caribbean | Colombia | 1 | 1 | Active Energies, Inc. |
| Latin American and Caribbean | Costa Rica | 1 | | Energy Logic, Inc. |
| Latin American and Caribbean | Haiti | 86 | | Southern Energy Management |
| Latin American and Caribbean | Mexico | 4 | | Active Energies, Inc., ecoMetric, LLC, Southface |
| Latin American and Caribbean | Peru | 2 | | Active Energies, Inc. |
| Middle East and North Africa | Israel | 1 | | Active Energies, Inc. |
| Middle East and North Africa | Oman | 2 | | US-EcoLogic |
| Middle East and North Africa | Qatar | 37 | | US-EcoLogic |
| Middle East and North Africa | Saudi Arabia | 677 | 192 | GreenHome Institute, Sol Design + Consulting, US-EcoLogic |
| Middle East and North Africa | United Arab Emirates | 136 | | US-EcoLogic |
LEED for Homes requires onsite verification which is delivered by a Green Rater and overseen by a Provider. You'll find a link to the Providers overseeing projects in each region is included above; these Providers are based in the United States, but are currently servicing international projects. Search for local Green Raters in your region (use the Smart Filters function to search by Country. Ensure you set the filter type to 'County contains _____', type Country name and select 'Apply').