A healthy indoor environment free from VOCs, formaldehyde, mold and other pollutants not only makes your home more pleasant to be in, it can also help prevent asthma or other respiratory illnesses. Here are four ways to stay on top of indoor air quality (IAQ):
1. Test for potential issues.
If you're experiencing respiratory symptoms and are not sure what the source of the issue might be, take a look at the list of questions published by the American Lung Association. This might help you pinpoint the problem.
You probably already know that smoking is the number one cause of lung cancer. But did you know that radon, a naturally occurring radioactive gas, is number two? It can be found anywhere, and like carbon monoxide, can't be seen or smelled. The U.S. EPA shares links to sources for radon test kits and information on its website.
With mold, if you suspect you may have problems, you can also test for its presence in your home without incurring much expense. If mold is already visible, skip to step two and take action to rid your home of this health hazard. Depending on the severity and type of the problem, such as whether it's just moisture in your HVAC system or you have major flood damage, the solutions may be different, so consult a professional or refer to the EPA's mold guide for homeowners.
2. Be green in your home improvement practices.
One of the best ways to ensure good IAQ is to be careful in how you take care of your home. Using green or even DIY cleaning supplies, minimizing use of sealants and purchasing furniture with low risk of off-gassing can help you keep the air you breathe healthy.
Choosing environmentally sound green flooring and countertop materials will help you manage air quality, as well.
3. Use adequate ventilation.
Keep windows open when using products that have strong fumes—and point floor fans toward the windows to push fumes outdoors even more. In fact, open your windows more often in general, and let the fresh air circulate in your home.
Make sure your ducts are cleaned as needed, to avoid buildup of mold, pollen and fungus. Lessen the need for full professional duct cleaning by doing routine maintenance like replacing air filters and ensuring that joints are sealed.
4. Bring the outdoors into your home.
Building a green wall, setting out plants or growing herbs in your home creates more oxygen, filters out pollutants and may even boost your mood. Making design choices that respond to our biophilia—the human inclination to seek connection with nature—can be as simple as adding some literal green to your living room with a plant or two.
Want to learn more? Read our in-depth article on improving IAQ, from simple to more complex strategies.
Learn about LEED credits related to IAQ.
Home builders and developers, we want to show off the amazing work you did in 2017! If you used LEED in a spectacular way in 2017, consider nominating your work for the LEED Homes Awards.
The LEED Homes Awards recognize architects, developers, home builders and projects that have demonstrated leadership in the residential building marketplace.
Project categories include:
Outstanding Single Family Project
Outstanding Single Family Developer
Outstanding Affordable Project
Outstanding Affordable Developer
Outstanding Multi-Family Project
Outstanding Multi-Family Developer
Project of the Year/Outstanding Innovative Project
The awards also recognize the LEED Homes Power Builders,which USGBC developed to honor an elite group of developers and builders who have exhibited an outstanding commitment to LEED and the green building movement within the residential sector.
In order to be considered as a Power Builder, developers and builders must have certified 90 percent of their homes/unit count built in 2017. Homes at any LEED certification level—Certified, Silver, Gold or Platinum—are eligible for consideration.
To be eligible for an award, the project needs to have been certified between January 1 and Dec. 31, 2017.
Nominations will be accepted until May 18, 2018. Any questions with this form please email Matt Libby.
This article was previously published on Elemental Green as "DIY Planting a Living Green Roof" and is reproduced with permission. Read the original.
One of the most important decisions when building a green home is choosing a roof type. Because the energy efficiency of a home often comes down to heating and cooling, it is of utmost importance that a green home has the right roof to provide insulation rather than letting valuable hot or cold air escape. In addition, a roof that requires frequent maintenance and replacing will contribute negatively to the environment by adding waste to landfills.
Heat-reflecting recycled metal roofing, recycled roof tiles, and other green roof products are all great options for energy-efficient and earth-friendly roofing. But what if your roofing choice could be all that and more? Living green roofs are not just eco-friendly and energy-saving—they come with a huge abundance of benefits that other roof options simply can't compete with. And unlike other roof options, planting a living green roof is something you can DIY-install on your own!
What is a living green roof?
The General Services Administration (GSA) has designed and maintained green roofs for decades, currently maintaining at least 24 green roofs in 13 cities around the country. Green roofs are defined by the GSA as vegetated roofs consisting of "a waterproofing membrane, growing medium (soil) and vegetation (plants) overlying a traditional roof."
This roof system provides numerous eco-green perks. Green Roofs for Healthy Cities (GRHC) lists both public and private benefits to green roof installations: Public benefits of green roofs include neighborhood aesthetic appeal, better air quality, helping landfill diversion and added stormwater management, while private benefits include energy efficiency, natural fire resistance and durability.
Benefits to planting a living green roof
Durability
Properly installed green roofs more than double the number of years typically needed before a roof must be replaced when compared to traditionally installed roofs. A conservative analysis by the GSA puts the average life expectancy of a living roof at about 40 years, as compared to an average expectancy of 17 for a conventional roof. GRHC adds that a green roof protects waterproofing membranes from temperature fluctuations and UV radiation, extending the life of the membrane.
Energy efficiency
A study published by the National Research Council of Canada showed that in the summer months, a green roof will reduce cool air loss by 70–90 percent, greatly reducing the demand for air conditioning. The GSA found similar efficiency figures, stating that green roofs can act as an insulating layer and reduce heat flux (transfer of heat through a building's roof) by up to 72 percent. Using the Green Roof Energy Calculator, co-developed by GRHC with the University of Toronto and Portland State University, you can compare the yearly energy performance of your home as is to your home's potential performance with a green roof installation.
Improved air quality
The plants living on green roofs, especially leafy plants and flowers, can capture air pollution and filter toxic gases from the air. The energy efficiency factor of green roofs also reduces demand for power, thereby decreasing the amount of CO2 being released into the atmosphere.
Noise reduction
Peck & Co's analysis of green roof benefits showed that green living roofs have superb noise insulation, especially for low frequencies. Green roofs can reduce outside sound penetration by 40–60 decibels. Sounds like peace and quiet!
Property value increase
Increased efficiency means increase home value. In addition, green roofs are a marker of the popular green building movement. For this reason, a living roof can help with home sales, lease-outs and lower tenant turnover.
Water retention
On a green roof, rainwater is retained in order to sustain the plants rather than flowing to storm sewers. Living roofs can retain 70–90 percent of precipitation in the summer and 24–40 percent in the winter. To put that into perspective, a green roof with anywhere from 2–8 inches of growth can hold 4–6 inches of water.
LEED credits
According to Green Roof Technology, installing a green roof can add as many as 15 LEED credits to your home, adding resale value in the future.
Curb appeal
A green roof means added biodiversity, aesthetic appeal and more green space for relaxing, stress relief and even gardening.
DIY planting a green roof
Emmanuel from EcoHome.net shows the process he used to DIY install a living green roof at Edelweiss, the Eco-Home Demonstration home. As Emmanuel states, homes in both rural and urban areas can benefit from a living roof.
Emmanuel's is a great example of the perfect roof for a DIY green-roof install—a low-pitched roof for safe walking without safety equipment. The roof features a stone perimeter, which acts as an expansion joint for when the soil freezes in winter.
Watch the video:
For more on DIY green roofs, check out the DIY Green Roof Guide.
For non-DIY green roof options, check out some featured green roof products:
Feature image: The Valdemarin project in Madrid, Spain.
LEED has been a much sought-after certification for commercial real estate projects in Europe for years. The Green Rater European Network (GREN) is working to increase the market focus to include residential projects as well.
Unlike the commercial rating system, LEED certification for homes requires third-party verification in the person of a "Green Rater." Green Raters are individuals who have not only demonstrated an understanding of building science fundamentals, but who have also undergone training, testing and mentoring in the LEED rating system for homes.
If you are a building professional in Europe seeking to certify a single-family home, multifamily building, or even a manufactured home, the Green Rater European Network can put you into contact with Green Raters in your area who will assist and guide your project team through the certification process. They will help you integrate the rating system requirements into your project's planning, design and construction, as well as perform on-site verification of the completed work and conduct performance tests.
During the last 12 months, members of the Green Rater European Network have worked on a growing number of residential projects pursuing LEED certification. In a very short period of time, the network members have shown that LEED can not only work in Europe for residential projects, but that it can also be used on virtually all types of residential construction and in all market segments. Projects completed or in progress cover a wide range, including multifamily, single family, new construction, rehabilitation, luxury and affordable housing.
Here are a few examples:
Holt Haus
The home of American architect Marc Holt aims to be the first home in Germany to obtain LEED certification. The home was selected from one of the builder's standard plans, and with very few modifications, was adapted to meet LEED specifications. Charles Nepps, a GREN member, recently completed the final construction visit and is now preparing the project documentation for certification. The project hopes to achieve LEED Platinum status in the spring of 2018.
Valdemarin
Valdemarin, in Madrid, comprises 10 luxury homes by Spanish developer Caledonian, and is pursuing LEED Gold certification. GREN member Valeria Fiorentino recently completed the project's mid-construction inspection and intends for the project to achieve certification next summer. In addition to Valdemarin, several single-family projects in Spain have recently registered for LEED certification, demonstrating the growing interest in LEED in the Spanish residential market.
Palazzo Novecento
In Torino, Italy, this project involves the renovation of 47 apartments in a historic building, and is seeking certification as a midrise dwelling. Also pursuing certification under the Midrise category is a second, publicly funded project in Milan, which will provide 39 affordable housing units in two buildings. Paola Moschini, a GREN member, is the Green Rater for both projects.
The Palazzo Novecento project in Torino, Italy.
Cal Guerxo
Cal Guerxo, in Catalonia, Spain, involves the complete restoration of a medieval home that is hundreds of years old.The home will be upgraded to modern standards of comfort without negatively impacting the environment. The project is pursuing LEED Platinum certification, as well as Living Building Challenge certification. Valeria Fiorentino, a GREN member, recently performed the mid-construction inspection. This inspiring project intends to demonstrate it is possible to renovate an existing home and to make it a regenerative and truly sustainable place.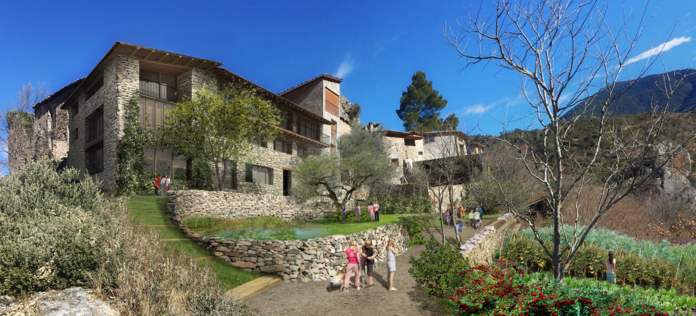 The Cal Guerxo project in Catalonia, Spain.
The variety of projects in different countries pursuing certification demonstrates that LEED is a flexible rating system that can be successfully implemented in very different market places. It also shows the commitment of European residential developers to sustainable construction.
The European Green Rater Network is in the forefront of making LEED homes certification in Europe more accessible, and its members are committed to continue working with SGBC to make the rating system even more user-friendly in their local markets.
Thinking of pursuing LEED certification on your next residential project? Go to the Green Rater European Network website to find out more about the LEED certification process and to find a Green Rater located in your area.
This article was originally published on Houzz on July 16, 2012, as "Green and Clean: Ecofriendly Bath Countertops" and is presented here with permission. Read the original article.
For countertops subjected to splashes and steamy shower moisture, durability is the name of the game—and recycled content adds to their green credibility. Thankfully, neither of these features mean having to compromise on looks. Whether your taste runs toward sophisticated or sassy, modern or traditional, there's a sustainable countertop for your bath.
Photo credit: Lindy Donnelly; original photo on Houzz.
Recycled glass with cement
Vetrazzo. Made of 100 percent recycled glass with a binder of cement, additives, pigments, big and bright chunks of glass, and other recycled materials, Vetrazzo is no shrinking violet. Fun options abound, including "Alehouse Amber," made of recycled beer bottles, and "Cobalt Skyy," made of recycled Skyy® Vodka bottles. As with any cement-based counter, it's porous, so you'll want to follow the manufacturer's recommendations for ongoing sealing.
Heavy cement-based slabs such as Vetrazzo can consume a lot of transportation-related energy, so it's worth being aware of where the product is manufactured. Vetrazzo is fabricated in Georgia.
Cost: $100 to $160 per square foot installed.
Photo credit: Divine Design+Build; original photo on Houzz.
IceStone. Countertops made of recycled glass with cement vary greatly in appearance. IceStone, manufactured in Brooklyn, New York, has smaller glass particles than Vetrazzo and provides a more subtle and refined character. It too boasts 100 percent recycled glass, to which only cement and pigment are added.
IceStone has earned one of my favorite certifications, Cradle to Cradle, due in part to its reutilization potential. Cradle to Cradle's industry-independent approval is given to products that are safe for both people and the planet, and are also designed for a long life cycle.
Cost: $40 to $54 per square foot for the material only.
FUEZ. Manufactured at a wind-powered facility in Portland, Oregon, FUEZ is a mix of low-carbon cement, 100 percent recycled glass and natural aggregate. The company's products offer an unusually broad range of aesthetics, thanks to four different product lines featuring either large or small glass chips, stone or a monolithic colored cement. With 50 different products and options for customization, you're sure to find a countertop that matches your style.
Cost: $20 to $50 per square foot for the material only.
Photo credit: BioGlass Oriental Jade, original photo on Houzz.
Recycled Glass
Bio-Glass. Bio-Glass, made of 100 percent recycled glass, achieves Cradle to Cradle certification and has an ethereal, translucent appearance. A simple but thoughtful application of Bio-Glass elevates this bathroom with its showstopping glow. Beyond beauty, glass is nonporous, so the countertop is more hygienic and needs no ongoing sealing and maintenance.
Cost: $85 to $115 per square foot for the material only.
ThinkGlass. Our Canadian friends are behind the lovely and luminous ThinkGlass, an all-glass countertop made in part of recycled glass. In addition to ThinkGlass' recycled content, the company works hard to green the production line, such as using rainwater to operate their glass-cutting equipment.
Cost: $200 to $400 per square foot for the material only.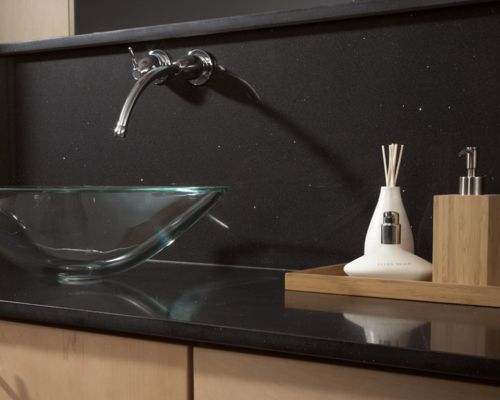 Photo credit: Starlight Countertop ECO by Cosentino; original photo on Houzz.
Solid surface
ECO by Cosentino. ECO, made by the same folks behind Silestone, is the go-to for sustainable solid surface countertops. Most solid surface countertops use a petroleum-based binder, whereas ECO has replaced that binder with a corn oil-based product. And the remainder of their makeup includes 75 percent recycled content from postindustrial and postconsumer sources: porcelain, mirrors, glass, stone and crystallized ash.
Once installed, ECO's kindness continues with a nonporous surface that's hygienic and requires less maintenance over time. And with certification from both Cradle to Cradle and GreenGuard, which certifies building products for low chemical emissions, you can be sure that ECO is the real green deal.
Cost: $68 to $118 per square foot installed.
Photo credit: KUBE Architecture; original photo on Houzz.
Resin
3-Form. My stash of 3-Form's samples, with countless colors, finishes and patterns, is a toy box for design-minded grownups. Their recycled-content, resin-based products are all PVC-free, and GreenGuard has certified the Varia EcoResin, Chroma, 100 Percent and Alabaster lines. The company walks their green talk by working toward zero waste and being carbon neutral./p>
Cost: $28 to $105 per square foot for the material only.
Photo credit: Agrestal Designs; original photo on Houzz.
Recycled glass, paper and cement
Squak Mountain Stone. Squak Mountain's countertop replicates the warmth and natural irregularities of stone with a matrix of recycled paper, glass and cement. This is a stout and durable countertop; however, as with concrete, it is susceptible to staining and etching. Either use extra care or embrace the patina.
Cost: $30 to $40 per square foot for the material only.
Related articles
The U.S. Department of Housing and Urban Development (HUD), through its Office of Lead Hazard Control and Healthy Homes, and in partnership with the National Environmental Health Association, has announced its annual HUD Secretary's Award for Healthy Homes.
HUD recognizes achievements in increasing the health of indoor environments through healthy homes research, education and program delivery, especially in low- to moderate-income communities. The awards, which cover four categories, share results from a range of housing and indoor environmental health programs nationwide, highlighting significant work on the relationship between living environments and resident health.
Awards categories
Public housing/multifamily housing
Policy and education innovation
Cross-program coordination
Research
Get more details from the awards announcement.
Relevant dates
If not already NEHA members, applicants will need to create NEHA user accounts. If you have questions, please contact NEHA.
Multifamily housing is continuing to move in the direction of green building and LEED certification. AMLI Residential, a 2016 LEED Homes Award winner for Outstanding Multifamily Developer, has been building all new construction to a minimum of LEED Silver standards since 2006. In 2016, AMLI's portfolio grew to 25 LEED-certified projects, more than a third of the developer's total properties.
To increase understanding of sustainability goals, AMLI also provides the residents of each of its communities, in several different locations around the U.S., with guides to the green features of their home and the ways in which they can help maintain its performance. The AMLI residential blog even has a category for green living updates and articles.
Erin Hatcher, Vice President of Sustainability at AMLI, shared some of the sustainability features recently achieved through LEED at AMLI properties.
Creating a healthy landscape
At AMLI Wallingford in Seattle, the landscaping design included flowers and foliage specifically selected to attract bees and butterflies. Not just an appealing visual element for residents of the community, the garden areas take concrete action in helping pollinator species that are struggling in the modern urban environment.
Pollinator landscaping in Seattle.
A larger sustainable landscape feature AMLI created recently was the public Marie Sims Park, in Atlanta's Buckhead neighborhood. Adding green space to a developing area and collecting stormwater runoff, the park is situated between two of AMLI's apartment communities, but is open and accessible to the entire neighborhood.
Explore the LEED credit Site Development—Protect or Restore Habitat.
Hatcher cited indoor air quality and energy usage credits as the most challenging for recent projects to attain. "We've learned a lot over the past decade, and the real challenge is pushing ourselves to do more across our portfolio," she said.
At AMLI Piedmont Heights in Atlanta, the company achieved the best blower-door tests they've had to date. "We built with a high-performing building envelope, installed Energy Star windows and high-quality insulation, and issued energy efficiency upgrades almost across the board," explained Hatcher.
Explore the LEED indoor environmental quality credit category.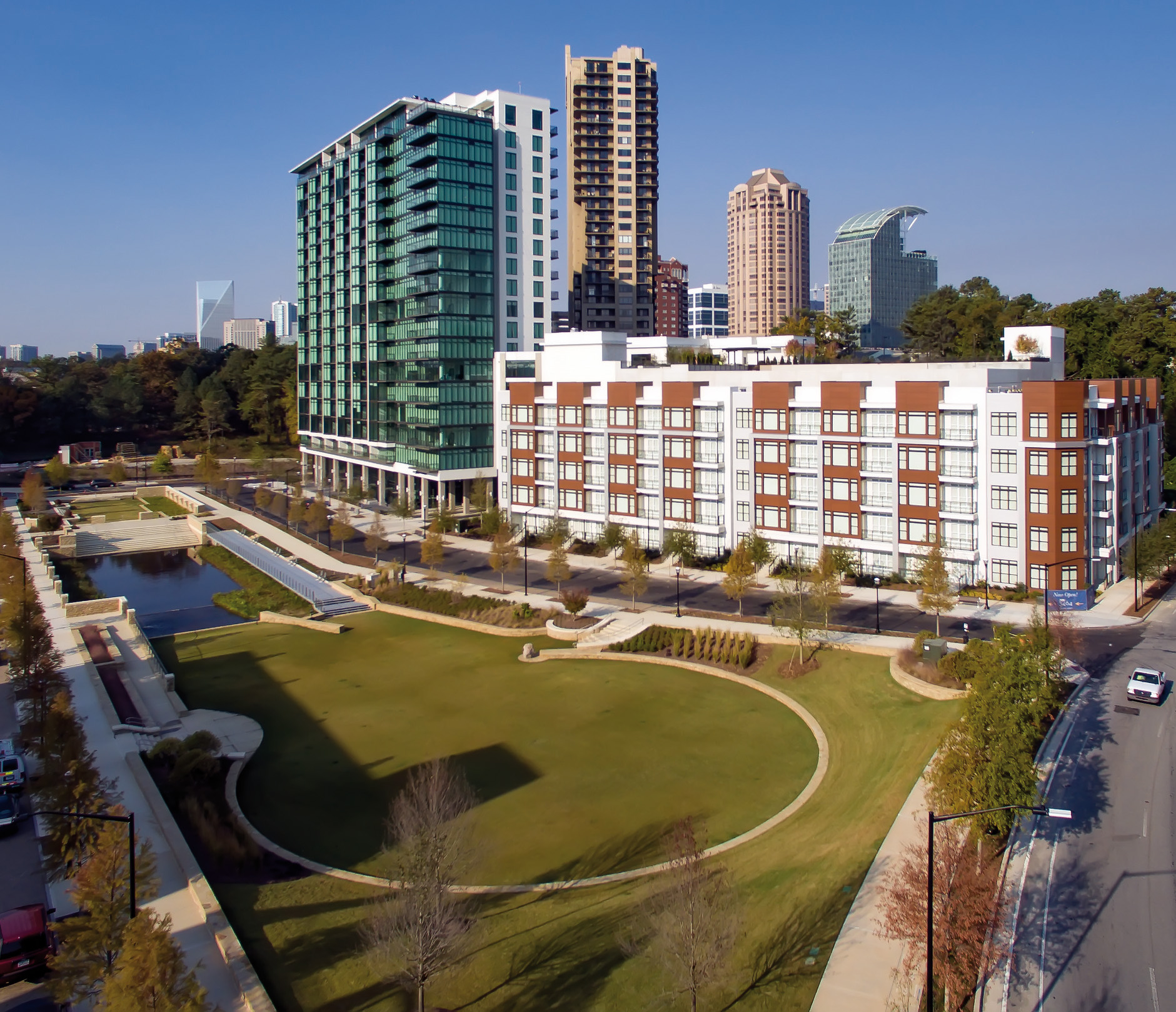 Marie Sims Park in Atlanta.
Healthier homes, lower bills
"Residents can lower their carbon footprint just by moving in," said Hatcher. Through energy-efficient equipment and careful building design, the apartments reduce overall energy use as well as cutting residents' utility bills.
In addition, the company's clean air initiatives in air filtration, building materials that don't off-gas and smoke-free policies help make the communities healthier for their inhabitants.
Advice for LEED project managers
Hatcher's number one tip for those seeking to build a LEED home or residential community is to start aiming for LEED early in the process.
"The extra time allows you to truly engage with people all throughout the scope of the project and find opportunities to work together," she said. "Collaboration is key and is what allows the building to reach its optimal potential. It also helps align everyone on the project's goals so that you can stay committed with a clear vision for the final project in mind."
Last year, John Marshall Custom Homes received recognition as one of two Outstanding Single Family Developers in USGBC's LEED Homes Awards. The firm's "pocket neighborhood" of 15 houses in Davidson, North Carolina, already count 12 LEED Silver homes among them, with others still in process. The community's walkability was a major goal of its design—it is situated within a five-minute walk of the elementary school, park, shops and a public library.
The owner, Rodney Graham, who worked on the project along with his wife Melissa, believes that homes located in walkable locations offer many benefits for residents and the community.
"I recently met with the person who is responsible for monitoring air quality in our county (Mecklenburg County, home of Charlotte), and she said the best thing communities can do to improve air quality is to create walkable communities," said Graham. "With this neighborhood, we've done that. And as I observe our customers walking to and from town, the benefits to the homeowner are obvious."


The company's belief in green building is reflected in its commitment to building homes to LEED and Energy Star standards. As shared on its website, John Marshall Custom Homes places intense focus on using environmentally friendly building tactics such as:
Infill sites
Compact lot design
Passive solar
Efficient use of lumber
Low-VOC materials
Graham's advice for other builders hoping to achieve LEED certification is to just go for it. "Don't get hung up on the costs, which aren't that great. Don't be discouraged by the thought that to be a green home you have to have solar panels, wind turbines and go dumpster diving for materials. Just focus on the energy and water efficiencies and use local resources, and you'll make a positive impact on yourself and the environment (and if you can do solar panels, wind turbines, and scour the landfills for building materials, that's icing on the cake)," he explained.
On January 5, 2018, USGBC published LEED Interpretation 10470, allowing projects in California that pursue LEED v4 BD+C: Homes to be rewarded for energy savings that exceed Title 24-2016.
See a list of additional credits and prerequisites in LEED v4 Homes that are met by projects that meet CALGreen.
Title 24-2016 Scoring Pathway for Homes/Low-rise Multifamily
Single-family and low-rise multifamily projects in California may use either this Title 24-2016 compliance pathway for the Energy and Atmosphere section, or any of the other balloted approaches in LEED v4 BD+C: Homes that demonstrate building energy savings.
The following prerequisites and credits are part of the Title 24-2016 scoring pathway:
The California T24 LEEDv4 Homes and Multifamily Workbook, which must be used to follow this pathway, can be found under the Resources and Tools section in the LEED for Homes Certification Guide.
Credits with Modified California-Specific Compliance Options
EA Prerequisite Minimum Energy Performance
Projects must meet all of the following requirements:
1. All aspects of Energy Star v3 Homes are met by Title 24 2016 compliance, save for two of the following measures, which must be met by all projects:

a) Cooling equipment selection and sizing limits. All installed cooling equipment must be sized within the following parameters.
Compressor type
Single-speed: Sizing limit 90-130 percent
Two-speed: Sizing limit 90-140 percent
Variable-speed: Sizing limit 90-160 percent
b) External static pressure of ducted heating and cooling systems must be measured by a qualified energy rater at contractor-provided test locations
2. If installed, at least one of the following appliances must be Energy Star-qualified (or performance equivalent for projects outside the U.S.) in each dwelling unit:
Refrigerator,
Dishwasher, or
Clothes washer.
3. All duct runs must be fully ducted (i.e., building cavities may not be used as ducts).
Projects in California may use the standard LEED for Homes v4 scoring approaches for the Energy and Atmosphere section, or they may elect to use this ACP, which combines energy modeling to Title 24-2016 Part 6 and EA credit High-Efficiency Appliances.
EA Credit Annual Energy Use
Projects are rewarded for reducing energy usage below that of the Title 24 Energy Design Rating (EDR) of Standard Efficiency, and points are awarded based on the percent savings over this Title 24 Standard Efficiency EDR. This scoring methodology is used instead of the HERS Index.
The Title 24 energy models must be performed by a CEA.
Table 1.
The percent savings over T-24 2016 baseline is calculated using the project's Energy Design Rating (EDR). This information is found on the Energy Design Rating tab of CBECC-Res, as well as on the CF1R-PRF-01 report.

Title 24 savings = Final Proposed EDR / EDR of Standard Efficiency

Points for reducing energy usage below T-24 2016 Energy Design Rating (EDR) of Standard Efficiency

Percent savings

Points

1%

5

2%

6

3%

7

4%

8

5%

9

6%

10

7%

11

8%

12

9%

13

10%

14

13%

15

16%

16

20%

17

25%

18

30%

19

35%

20

40%

21

50%

22

60%

23

70%

24

80%

25

90%

26

100%

27

Plus, earn 1 point for every 4 percent decrease in conditioned floor area compared with the Energy Star for Homes, version 3, reference home (Table 2). Buildings that are larger than the reference home lose 1 point for every 4 percent increase in conditioned floor area.
Projects cannot exceed the maximum number of points in the credit, 27 points. Projects that earn more than 27 points may take credit for exemplary performance in IN c Innovation.
Table 2: Conditioned floor area of reference home, by number of bedrooms
(from the LEED v4 BD+C: Homes credit language)
| | | | | | | | | |
| --- | --- | --- | --- | --- | --- | --- | --- | --- |
| Bedrooms | 1 | 2 | 3 | 4 | 5 | 6 | 7 | 8 or more |
| Floor area (square feet) | 1,000 | 1,600 | 2,200 | 2,800 | 3,400 | 4,000 | 4,600 | + 600 ft2 per additional bedroom |
In addition, Title 24-2016 Homes projects that are zero net energy, as defined by site energy, source energy or TDV, are granted maximum points and don't need to complete the Home Size Adjuster.
For multifamily buildings, home size includes only in-unit space.
This article was originally published on Houzz on November 21, 2017, as "How Tech Can Help You Understand Your Home's Air," and is presented here with permission. Read the original article.
Research has shown that the air inside our home can be more polluted than the air outside, according to the Environmental Protection Agency. Pollution takes a toll on our health, and because we spend a lot of our time—up to 90 percent—indoors, it's worth taking a look at the air quality in our homes. The source of these pollutants ranges from oil and gas to furniture and building materials.
Photo credit: Awair. Original photo on Houzz.
Why measure indoor air quality?
Pollution continues to be a large health risk today, says Christina Dean, technical service and applications manager at Brenntag North America, and the public is feeling the effects of pollution in one or more aspects of their lives.
"Working in an industry as carefully orchestrated as the chemical management and distribution one makes you really mindful of how important it is to minimize your exposure to potential contaminants and airborne particles," Dean says.
"Air pollution can cause skin dehydration, premature aging, sensitivity and a depletion of antioxidants," she says. "While we like to think that air pollution is an outside-the-home problem, the fact is that pollution and particulate matter can be tracked indoors too."
To address this issue, many consumers are turning to technology to monitor the air quality inside their homes.
Using modern technology to monitor pollutants
If you're interested in the pollutant levels inside your home, technology can help. Whether you want a basic device that displays your indoor air quality in easy-to-read numbers, or a more complex system that provides graphic charts and historical comparisons, there's something for everyone on the market.
In the emerging market of home indoor air quality monitors, competition between brands and devices pushes the companies to improve their products, says Indoor Air Quality Association President John Lapotaire. The improvements can be seen in smaller monitors that work better in the home, and in the reliability of the monitors themselves.
"The homeowner equipped with any one of these monitors can have a good idea of the quality of their indoor air and be notified if there are any changes within their indoor environment without the need of a professional," he says. "For many, that ability is a game-changer and well worth the investment."
This is possible because of huge strides made in the consumer-grade indoor air-quality industry, Lapotaire says. That being said, a professional-grade device will be more reliable and comprehensive.
5 indoor air-quality monitoring devices for consumers
1. Awair uses built-in sensors that indicate and track toxin levels within indoor air. It then displays this information on the unit itself or transmits it through the internet, so the information can be ready from nearly any smartphone or computer that can access the internet.
It works by tracking five facets of air quality: humidity, temperature, dust, carbon dioxide (CO2) and chemicals.
Photo credit Awair. Original photo on Houzz.
The results are easy to view on the built-in display (shown here) or via the Awair app, which was developed in tandem with professionals from the Mayo Clinic to offer proven strategies for improving the quality of your indoor air.
Awair also designed its display unit with a wood frame to help it blend into your home's design.
2. Sprimo is a personal air monitor that has built-in sensors to determine toxicity levels in the air around you.
It transmits this information to an integrated smartphone app that uses multiple methods, including colors and numbers, to give you a visual confirmation of the toxin levels in your home or office.
Photo credit: Sprimo. Original photo on Houzz.
Touted as the world's smallest air monitor, the Sprimo device is tinier than the average house key, but it packs a powerful punch.
Not only does it monitor indoor air for pollen, dust, smoke and other toxins, but it can pick up on odor from paint, outdoor air pollution, chemical cleaners, garbage, pet waste and even your dirty clothes, and display their toxicity levels in a brightly colored, easy-to-read graphic.
Sprimo is also easy to use: Plug the device into your compatible smartphone, and you can begin monitoring your indoor air quality immediately.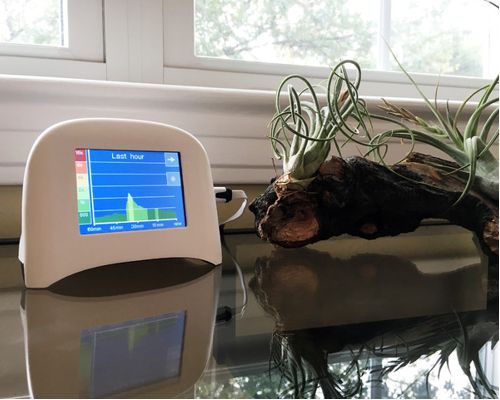 Photo credit: Speck. Original photo on Houzz.
3. Speck uses integrated sensors that detect fine particulate matter within the air around you.
This information is displayed on a large screen on the device itself, but it can also be viewed remotely via the app.
Though all of the products on this list are easy to set up and use, Speck is one of the simplest. Just plug the device into a power source, and the unit begins monitoring—and reporting—your air quality.
Users can see the information directly on the device, or via the internet and Speck's free software package. The built-in Wi-Fi functionality even lets you track data from anywhere with a laptop computer or smartphone.
Photo credit: uHoo. Original photo on Houzz.
4. uHoo detects toxins through a series of advanced sensors that are built into its cylindrical design. Separate sensors exist for chemicals, dust and temperature.
Whereas most of these devices only monitor a few different toxins, uHoo tracks nine: temperature, humidity, PM2.5, volatile organic compounds, carbon dioxide, carbon monoxide, nitrogen dioxide, ozone and air pressure.
Not only does the device let you view this information as it collects it in real time, but uHoo also provides automated reports when your indoor air quality reaches dangerous or hazardous levels.
It also keeps track of historical data, so you can compare levels in different rooms of your house during different seasons or after you've made home improvements.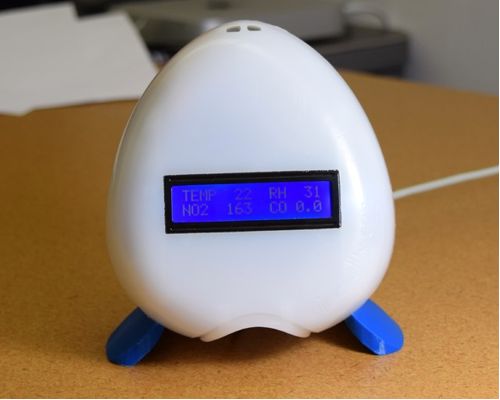 Photo credit: The Egg. Original photo on Houzz.
5. The Egg has built-in sensors that provide real-time readings and are automatically uploaded to the internet.
Pioneered by the development team at Wicked Device, the Egg also features a smartphone app and a dedicated, web-based dashboard to monitor your levels and compare them with others.
Integrated Wi-Fi functionality lets you upload data for historical tracking and long-term analysis.
Apart from its sleek design, the Egg monitors your air quality for six different pollutants: carbon monoxide, volatile organic compounds, CO2, sulfur dioxide, fine particulates and nitrogen dioxide.
Next steps
You can also use the resources provided on the Indoor Air Quality Assocation website to further explore indoor air quality issues, or find a professional who can help you with any air quality issues you're experiencing.
Related links